(Diversions, a new feature on Aquarium Drunkard, catches up with our favorite artists as they wax on subjects other than recording and performing.)
This second installment of Diversions finds us with Daniel Hutchens of Athens, GA's Bloodkin – one of my favorite songwriters, wordsmiths and rock & rollers since I first discovered his music over a decade ago. Following the uber-dark tone of the band's last LP, Last Night Out, from 2005, I feared that may have been it for the band. A powerful record, but a disturbing one, I always likened it to what it must have been like to listen to Tonight's The Night upon it's release without the context (and comfort) of history. Like Neil, Bloodkin, too, have found their way out of the ditch and just released Baby They Told Us We Would Rise Again, a record that, among other things, deals with the long road to redemption. For this edition of Diversions I asked Hutchens to list ten albums that contributed to the forming of his musical blueprint. You can tell a lot by an artists record collection, and even more by the records that got them interested in making music in the first place. Enjoy.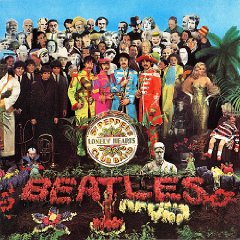 1. The Beatles :: Sgt. Peppers Lonely Hearts Club Band – I know it's pretty much a cliche to mention this record in any "best of" categories or whatever, but that's because it changed so many lives. I was about five or six when I got my first copy. My two older sisters were big Beatles fans, and I became addicted to their stacks of Beatles 45s; my favorites were "I Saw Her Standing There" and "I Want To Hold Your Hand". As a kid I could sing those songs all the way through word for word, and I probably still could.
So one year my sister Sandi asked me what I wanted for my birthday, and I said, "A Beatles record". Lo and behold, my birthday rolled around and Sandi gave me a copy of Sgt. Pepper's——and at first I was pissed! I saw the big drum in the center of the cover, with "Sgt. Peppers Lonely Hearts Club Band" on the head, and I said, "I told you I wanted a Beatles record!" (Apparently I was a bit of a spoiled little brat). But Sandi explained things to me, and pretty soon the record took over my life.
It's weird to think back on how many hours I spent with that record, playing it over and over, gazing at that magnificent cover and the gatefold band photo inside. Yeah, the visual design was an equal partner to the music on the vinyl…plus the lyrics were printed on the back cover! This feature, in retrospect, may have really shaped my life more than I've ever realized until this moment, writing these notes. But I studied those lyrics, and there was something magical about staring at the actual printed words while those words were being sung from the record grooves…for a few years of my childhood, Sgt. Pepper's was my favorite place to be.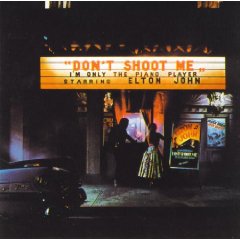 2. Elton John :: Don't Shoot Me I'm Only The Piano Player – This was the milepost for the next musical phase of my youth; a two-or-three year fixation on Elton John and even moreso on his lyricist, Bernie Taupin. For a while there, maybe ages 11 and 12, I wanted to model myself after Bernie Taupin: I wanted to write lyrics and hand them over to some kindred spirit who would compose the music and perform/record the songs. This was before I learned to play an instrument, and began to sing the songs myself. But the lyricist notion was my first inkling of a lifelong "career" or whatever in music.
This record probably isn't the best of Elton John's sturdy 70's pop masterpieces, and in fact in an interview Elton John once called this record "disposable". But I think that's a little harsh. I think the pop hooks on this record are addictive and just plain fun, and for a preteen boy the lyrics were pretty heady stuff, quite cinematic in their storylines (as perhaps hinted at by the album cover). The mysterious bittersweetness of "Daniel"——the raucous schoolboy lust of "Teacher I Need You"——and, for me, particularly the cool decadence of "Elderberry Wine" ("the bottle went round/like a woman down South/ passed on from hand to hand") are all images that got beneath my skin and remain there to this day.
Yep, these songs are all like vivid little B movies: "Have Mercy on the Criminal" describes an escaped convict on the run from the law ("Oh there must be shackles on his feet/And mother in his eyes/Stumbling through the devil-dark/With the hound pack in full cry")…"I'm Gonna Be A Teenage Idol" (supposedly written about Marc Bolan) is another schoolboy's fantasy, this one about being a rock star ("Let me get electric, put a silk suit on/Turn my old guitar into a tommy gun")… "Texan Love Song" is a pretty sharp piece of social commentary but it's also pretty fuckin' hilarious ("Well I'm gonna quit talking and take action now/Run all of you fairies clean out of this town/Oh I'm dog tired of watching you mess up our lives/Spending the summertime naturally high")…And of course "Crocodile Rock" is just a good dose of tongue-in-cheek silliness, dripping in cheese…But the best song on the record is the last one, "High Flying Bird", which really Page 3 does rate way up there amongst Elton John's greatest pop tearjerkers. Which is saying a lot.
Again, this isn't objectively the best record in this guy's catalog, but it was the right one at the right time in my youth, and I think it still holds up as a big old sugary slice of fun; and again, it reminds me somehow of low budget B movies, another of my private passions.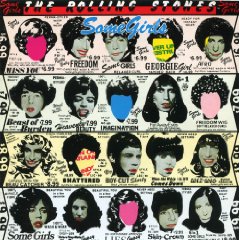 3. The Rolling Stones :: Some Girls – Now this is when the shit got serious. 1978. The year I started playing guitar, and the year Eric Carter introduced me to the Rolling Stones and Bob Dylan (Eric had also introduced me to Elton John…he was always the antenna). The year the Stones released Some Girls and Bob Dylan released Street Legal. The first albums I ever bought by those two legendary names, respectively. And still two of my favorite albums to this day.
Some Girls was, for me as a fourteen year old boy, just a devastating alarm clock. My first taste of the real down n dirty illicit thrill rock n roll can be. My first hypnotism by "The Tangle", as we in Bloodkin have come to refer to it with our current day producer, David Barbe——meaning the sloppy but powerful tangle of two or more electric guitars, blending seamlessly to the point where it's hard to tell who's playing what——just two or more guys playing guitars TOGETHER, so it becomes a beautiful chaotic glow, a sonic pulsation you feel in down in your gut, more than the sum of its parts, more than any of those individual guitarists could accomplish on their own…to my mind, kinda like the sound successor to Phil Spector's Wall Of Sound, but so much more powerful than even that brilliance…'cause The Tangle comes from just sincere musicians feeling the moment, as opposed to Spector's dictatorial pre-fabrication——so maybe The Tangle in fact is more an heir to the legacy of bebop, Charlie Parker etc., those old jazz guys just feeling the spontaneous next note, but still revering the power of the original melody…I dunno. I can't quite put it into words, but I know many members of my generation understand what I'm talking about here. The Guitar Tangle…the cradle which birthed everything from the Stones to Neil Young to Skynard to the New York Dolls to The Clash to Wilco…you get the picture, if you get the picture. If not, well, you're probably not listening to any of these records anyhow, and for that matter you're probably not reading this piece right now. So…
Anyway. Some Girls was the Stones' fierce response to the prevailing musical fads of the day, punk and disco, and it was Ron Wood's first full record as guitarist with the Stones. And Some Girls was the end of my innocence. It made me want to go out and fuck, fight, move to New York City, start experimenting with heroin whilst listening to bootleg recordings of William Burroughs reciting random cut-up sections of Naked Lunch…(the record was I believe actually recorded in Paris, but the subject matter and inspiration is definitely 100% NYC). I mean, this record clued me onward to so many other artists (musical and otherwise), just because of the general vibe of the record, and because while reading various reviews and articles about the record, there would inevitably be references to all things New York City, all the other weirdo artists and celebrities who were floating around up there in that ether, which at the time to me seemed a distant, exotic, foreign country.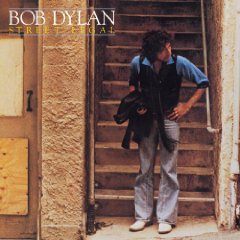 4. Bob Dylan :: Street Legal – Bob Dylan's whole career has been marked by his always changing gears and styles and masks, and often being criticized and even booed during live performances, for his daring, or his tomfoolery, depending who you ask. And this record was no exception. Famously, even some of Dylan's bandmates from the previous Rolling Thunder Revue era thought Dylan was going Vegas, or going big band, or going crazy, or whatever, when he started working up the songs for this record…for instance, the great machine- gun-style bassist Rob Stoner, who had been such an important presence on Rolling Thunder/Renaldo & Clara, said later, "He had in mind to do something like Elvis Presley", meaning "something sell-out" I guess…and so Stoner quit the band before Street Legal ever got started. But Dylan persevered.
The record was recorded fast, I believe over just four days of tracking, and it's definitely no textbook example of production or sound quality. And the arrangements, including horns and gospel-style backup singers, were surely unfamiliar territory to Dylan fans at the time. But to me, this record remains perhaps the great overlooked achievement of Dylan's stellar career, and features arguably his alltime greatest set of lyrics, which of course is pretty stunningly high cotton for me to claim…and of course there ain't no provin' such a wild-eyed claim…but all I can say is, just go back and listen. Goddamn. This record is Dylan in the late rounds, bloodied but possessed, swinging wild for the knockout. Incredible multi-dimensional lyrics working backwards forwards and sideways all at the same time, hypnotic, potent, timeless, in fact time-traveling…oh man…where do I start? Well, maybe with the opening stanzas of the opening song, "Changing Of The Guard":
Sixteen years,
Sixteen banners united over the fields
Where the good shepherd grieves.
Desperate men, desperate women divided,
Spreading their wings 'neath the falling leaves.
Fortune calls.
I stepped forth from the shadows, to the marketplace,
Merchants and thieves, hungry for power, my last deal gone down.
She's smelling sweet like the meadows where she was born,
On midsummer's eve, near the tower.
The cold-blooded moon.
The captain waits above the celebration
Sending his thoughts to a beloved maid
Whose ebony face is beyond communication.
The captain is down but still believing that his love will be repaid.
They shaved her head.
She was torn between Jupiter and Apollo.
A messenger arrived with a black nightingale.
I seen her on the stairs and I couldn't help but follow,
Follow her down past the fountain where they lifted her veil.
Now…what the fuck? These images surely ain't from modern times. And maybe you need to hear these lyrics sung along with the panoramic, trancy music to really get the flavor…and for me, reading these lyrics even now, I'm puzzled…but the point is, I'm also drawn in, tantalized, captured. I'm taking this ride wherever it goes. I'm in.
And the lyrics are kinda like this throughout the whole record——mythic, referencing all manner of ancient symbolisms and occult phrases and Biblical reflections——all tied into this weird tale of broken hearted lost romance and misty nostalgic fare-thee-wells and faces in the mirror all melting into one another chaotically and God-knows-what-all…just a mystic pulse-racing Bosch-like collage splashed across sinister rock n roll beats colored with all manner of other American music, jazz, show tunes, gospel, blues, country…as American a record as I've ever heard.
Dylan goes on to reference all sorts of iconic American figures and songs, not least Robert Johnson, particularly echoing his "Love In Vain" with "Is Your Love In Vain"…and referencing Charlie Patton's (or arguably Son House's version of) "Pony Blues" in "New Pony"…whatever the exact history, these songs of Dylan's on Street Legal are deep explorations of the old mythic blues Lost-Love-paralleled-with-Hellhounds-On-My-Trail theme…"I had a pony, her name was Lucifer"…Dylan followed this record with Slow Train Coming, a distinctly Christian gospel record, for which he won a "Best Male Vocalist" Grammy…and that record is indeed great in its own right, recorded down in Muscle Shoals with Mark Knopfler as co-conspirator…but to me, Street Legal remains a far deeper slice into the mysterious vein of sin and redemption.
The record concludes with another epic piece of poetic sleight-of-hand, "Where Are You Tonight (Journey Through Dark Heat)"…which includes these powerhouse lyrics:
I fought with my twin, that enemy within,
til both of us fell by the way
Horseplay and disease is killing me by degrees
while the law looks the other way
Your partners in crime hit me up for nickels and dimes,
the man you were loving could never get clean
It felt out of place, my foot in his face,
but he shoulda stayed where his money was green
I bit into the root of forbidden fruit
with the juice running down my leg
Then I dealt with your boss, who'd never known about loss,
who always was too proud to beg
There's a white diamond moon on the dark side of this room
and a pathway that leads up to the stars
If you don't believe there's a price for this sweet paradise
just remind me to show you the scars.
I don't know what else I can say to convince anyone. You either hear it or you don't…but
if you just haven't yet, go on and check it out and get down to the heart of the matter.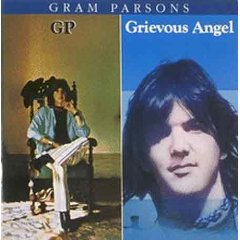 5. Gram Parsons :: G.P./Grievous Angel – Nowadays Gram Parsons is a widely recognized figure in music history, kinda the godfather of alt-country or something. But back in 1980, when I was in 10th grade and discovered Gram via a number of Rolling Stones biographies, he was more of a secret club. When I finally tracked down these two records (they have since been merged into a single CD), got Ê»em home and the needle hit the vinyl for the first time, I was instantly a lifetime member of that club. There's a certain presence to these records, of course enhanced by the cast of superb musicians and the ever-sublime vocal harmonies of Emmy Lou Harris (here making her first appearances on record), but more than anything I believe it's just Gram himself, his spirit sparking and shining all over these recordings…I really do believe at times that a piece of someone's soul can be captured on tape or film, and it springs back to at least a shadow of life every time that record or movie or whatever is played back…and I never believe that more strongly than when I listen to Gram Parsons. In more recent years I met the great American music writer/historian Stanley Booth, who was a running buddy with both Gram Parsons and Keith Richards in the late 60's and early 70's. Stanley told me that he believed Gram and I would have gotten along nicely, and that Gram would have liked my band Bloodkin. Whether that's true or not I'll never know, but it's sure nice to let myself believe. And regardless, I sure feel some strange jolt of recognition every time I play this record…but maybe everybody does. Maybe that's what makes it so great.
I can't count the number of times I've listened to these songs, starting back in those high school days when just about every day after school I'd come home and put on either GP or Grievous Angel and just fall back across my bed and listen, shed the bullshit of the school day, and feel myself actually feeling home, more at home in the music than I was even in my physical house. "She" and "A Song For You" were my early favorites, both of them heartbreakingly sad and beautiful, delivered in Gram's unmistakable, wavering, imperfectly perfect voice. I had been listening to country music since I was a kid and broke into my dad's Johnny Cash collection, but this was the first time I heard country music that I related to so directly, like I related to the Stones etc., like maybe these were the kind of guys I'd like to hang out with. The kind of guys I'd like to grow up to be. And Gram Parsons' music and backstory certainly introduced me to a whole family tree of country ancestry, from the Louvin Brothers to Merle Haggard and beyond…Gram was, and remains, an education and an inspiration. Or as Stanley Booth once wrote, "So here we have Gram Parsons, from Waycross, Georgia, with shoulder-length hair, and dope and pussy on his jacket…Gram Parsons is a good old boy."   Cosmic American Music, indeed.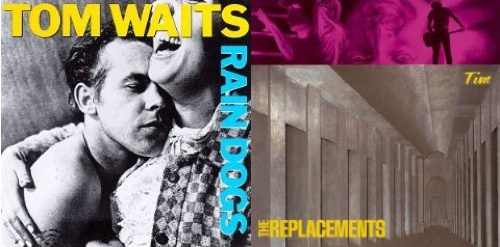 6. Tom Waits :: Rain Dogs & 7. The Replacements :: Tim – These are the two records I bought on the greatest record-buying day of my life. The time was late 1985 and both these records were newly released. I was living with Eric Carter in Huntington, West Virginia, and we had just started up our first rock n roll band, which we called The Wreck. We still listened faithfully to all our old favorites, The Stones and Dylan etc., but there was this alternative music thing in the air, and I was sniffin' it. I was looking for something, needing something, and one fateful day I walked into a record store and found it.
These two records were confirmation of a variety of things I believed, held dear, desperately wanted to prove. Primarily, Rain Dogs demonstrated that at least somebody out there was writing fresh, meaningful, exciting lyrics, mean little shots of poetry unfettered by the rampant stupidity of the music business…and Tim kicked down my door with the furious promise that, yes, you little dumbass, you too really can play in a rock n roll band but also live in a rock n roll band, it can be your life and your mission, there are guys just like you out there somewhere already doing it! I'll never forget that day, long as I live, buying these two records, getting back home and eagerly alternating them on the turntable, one after the other, back and forth, over and over…and knowing my life would never be the same, and just feeling giddy, full of strength and desire and all the things a young man should feel, and suddenly almost unable to contain myself with anxiety to write some more songs, get up onstage and play them for people…these two records allowed me to continue on into adulthood without buckling under social pressures to "get a real job". To some people that might sound like a negative thing…but for people like me, who live and breathe music, if you don't find these kinds of heroes, you're in real danger of eventually putting a fuckin' gun to your head.
I'm not gonna pick these particular records apart track by track, or go any deeper into explanations of their effect on me, because they're the kind of records you either love all the way or you can't stand…kinda like Tom Waits and The Replacements themselves, come to think of it. All I'll say is, after that great day finding these gems in the record store in West Virginia, Tom Waits will always be my beat poet laureate, and The Replacements will always be "my band".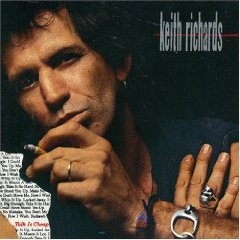 8. Keith Richards :: Talk Is Cheap/Main Offender – I'm cheating here a little bit, Ê»cause these are actually two distinct records, but hey… When Talk Is Cheap, Keith Richards' first solo record, was released in 1988, some critics jokingly referred to it as "the best Rolling Stones record in years". But that sentiment was pretty accurate. During the late 80's and early 90's Mick Jagger and Keith Richards had a bit of a falling out, some of which had to do with the fact that Jagger wanted to follow the musical trends of the day, while Richards wanted to preserve the Stones' roots and authenticity, once telling an interviewer something to the effect of, "We don't have to imitate anybody. We're The Rolling Stones." But Jagger didn't quite see it this way, and went off on his own, releasing a string of (largely lame-ass) solo records. Keith fired back with these two rock-solid offerings, groove-heavy, no- nonsense, beautiful. He put together another killer band for these projects, which included drummer Steve Jordan and guitarist Waddy Wachtel.
For me personally, I remember these records (plus accompanying video releases, and the live show I caught in Atlanta at the beautiful Fox Theatre) taught me how a tough- as-nails rock n roll band can actually extend grooves in a droning, hypnotic way, without succumbing to some kind of spineless "jamband" persona. Previously, my band Bloodkin inhabited territory somewhat closer to The Ramones: 2 or 3 minutes per song max, and then get the fuck out. Which I still have a great affinity for…but these Richards releases expanded my musical horizon somewhat. I also picked up a few of Keith's vocal moves from these records——a few strategies whereby he, as a white guy without massive vocal chops, injected deep substrata of soul into his singing. I still catch myself from time to time copping some of his moves, singing a little bit like Keith circa 1988 or so.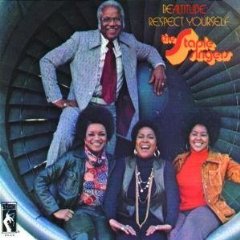 9. The Staple Singers :: Be Altitude: Respect Yourself — Widespread Panic's drummer, Todd Nance, and I are pretty good buddies, so he won't mind (I don't think) my spilling this little fact: he and I have something a little unusual in common. We both cried like babies when we saw The Staple Singers (on separate occasions) perform in The Gospel Tent at Jazzfest in New Orleans. Or maybe it's not that unusual. There were probably countless people who broke down in tears when they saw/heard Pops and his daughters onstage…and I won't use the word "performing", because Pops made that clear that day I saw him in New Orleans: "We're not up here performing. We're up here preaching the word of God."   Wow. That hit me hard. And the music The Staples made that day, and just their gracious, kindhearted presence, which radiated like a small sun from that stage…I just couldn't keep back the tears. I had finally found a church home.
And this record is my personal favorite documentation of that grand old preacher, Pops, and his family. This is a powerful, inventive record, featuring the Muscle Shoals session players, and a fearless dose of unusual guitar tones, moog synthesizers, and other creative touches unusual for R&B records of the day. My church home, still today, every time I hear this record.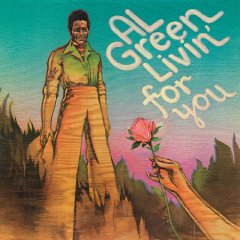 10. Al Green :: Livin' For You –   Years back, the first time I ever heard the song "Let's Get Married", I told myself, "Well if I ever do…that'll be the song playing." So when, in 2006, a girl named Kristy and I took the plunge, we did it in the Elvis Chapel at Graceland. We thought it would be kinda fun, having Memphis as a destination for the wedding, something a little different and memorable.   But immediately after we said "I do", and the music kicked in, it wasn't Elvis. Guess what it was? — Words/ Daniel Hutchens