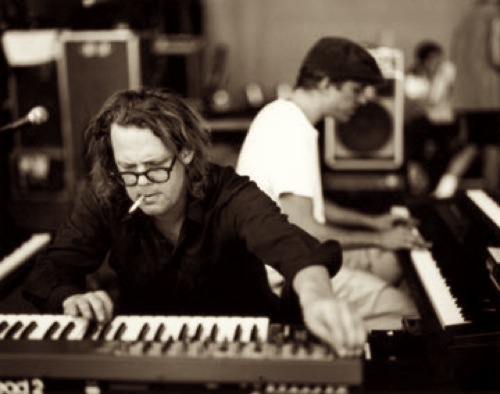 At the time of this writing the immediate cause of Jay Bennett's death is yet unknown.   Yesterday, mid-afternoon, rumors of the artist's passing began flying via email, text messages, Twitter, and message boards.   Some speculated that the Bennett in question was in fact a case of mistaken identity — that of the death of another Jay Bennett, a resident of New York state.   Sadly, by early evening the news was validated – Jay Bennett, solo musician and former Wilco member, from 1994-2001, died in his sleep in Urbana, Ill.
Upon the news of Bennett's death, Jeff Tweedy released the following statement:   "We are all deeply saddened by this tragedy. We will miss Jay as we remember him — as a truly unique and gifted human being and one who made welcome and significant contributions to the band's songs and evolution. Our thoughts go out to his family and friends in this very difficult time." As is apparent to even the casual Wilco fan, the name of the site you are reading is derived from "I Am Trying To Break Your Heart," the first track off the group's Yankee Hotel Foxtrot LP.   A game-changer of an album, YHF propelled Wilco to a whole new level — both artistically and commercially.   The album also served as the last release Bennett was involved with since joining the band in 1994 after the release of their debut album, A.M. A multi-instrumentalist with preternatural instincts in the studio, Bennett's contributions and influence upon the albums Being There, Summerteeth, the Mermaid Avenue sessions, and Yankee Hotel Foxtrot is undeniable.
Last November Bennett released the free, digital-only, LP Whatever Happened I Apologize through Rock Proper, a free online music distributor.   Download the album HERE.   In 2006 I posted the YHF demos that were widely circulated after the band was dropped from their label, Reprise Records, due to their being "[u]nwilling to change the album to make it more 'commercially viable.'" While I rarely do re-posts, this feels like a good time to make an exception. RIP, Jay.
DOWNLOAD:
MP3: Wilco :: I Am Trying To Break Your Heart
MP3: Wilco :: Ashes Of American Flags
MP3: Wilco :: I'm The Man Who Loves You
MP3: Wilco :: Magazine Called Sunset
MP3: Wilco :: Reservations
MP3: Wilco :: Kamera
MP3: Wilco :: Not For The Season
MP3: Wilco :: Alone
MP3: Wilco :: Nothing Up My Sleeve
MP3: Wilco :: Venus Stop The Train
MP3: Wilco :: Rhythm
MP3: Wilco :: Poor Places
MP3: Wilco :: Won't let You Down
MP3: Wilco :: Heavy Metal Drummer
MP3: Wilco :: Instrumental #1
MP3: Wilco :: Instrumental #2
MP3: Wilco :: Instrumental #3
MP3: Wilco :: Kamera (alt. version)
MP3: Wilco :: Magazine Called Sunset (alt. version)
MP3: Wilco :: Alone (alt. version)
MP3: Wilco :: Not For The Season (alt. version)
————
Wilco :: Poor Places (Via: I Am Trying To Break Your Heart)