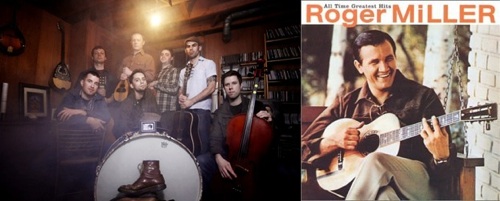 (Diversions, a recurring feature on Aquarium Drunkard, catches up with our favorite artists as they wax on subjects other than recording and performing.)
Below Roadside Graves principles, John Gleason and Jeremy Benson, discuss their introduction, and relationship, with the late great (and vastly underrated) Roger Miller. The band just recently sold out their album release show at Pianos in NYC and will be embarking on a US tour this summer in support of My Son's Home.   Also, look for them in September performing at the Monolith Festival.  

+ + + + + + + + + + + + + + + + + + + + + + + + + + + + + + + + + + + + + + + + + + + + + + + +
John:   In Metuchen, NJ we had the train. The train could take us to New York City, yet we couldn't always afford the trip. Instead, in the evening, we would drive around our suburban town. Jeremy usually drove and I sat in the passenger seat of the Shitflower (Jeremy's nickname for his little yellow and brown '84 Honda). These rides were affectionately called a square. A square consisted simply of driving down Main Street and basically making enough right turns to complete a square to drive back down main street again hoping eventually something would happen. We wanted something to happen, anything, but it rarely did. This was our sad little version of cruising, except there were no drive-ins, no drag racing, no strip, and no one else remotely aware or paying attention that we were passing by. Still, it was an alternative to the only other two options in town: getting drunk at the golf course or getting drunk by the railroad tracks.
Inside the car we discussed our lot in life and the all too familiar and embarrassing common experiences we had shared already. We were nervous, scared, worried, and miserable. We were seventeen.
One night during a square we were listening to a local college station (possibly Seton Hall) and a song came on the radio with the lyrics, Dang me, dang me.   They oughtta take a rope and hang me, High from the highest tree, and a strange voice tailing off the chorus into a nonsensical syllable scat. This was a man who rhymed Purple with Maple syrup (SUR-PLE). We had no idea how to react, it couldn't be cool, it was country, it was goofy, but it stuck.
Years later I discovered who the singer was and bought a collection called   King of the Road by Roger Miller (on Bear Family label). I kept it hidden. I listened to it in private with my father's headphones. Roger Miller was mine.
What would the world be like if everyone was secretly listening to Roger? Perfect. His songs are colorful interpretations of the ups and downs of life. The words and the melodies slide in and out like a mood swing. They provide the backdrop for an average ordinary life. When you listen to Roger you realize you aren't alone in the world, there's at least one more person out there who understands the subtleties of life as it passes by.
Sadly, his songs are sometimes referred to as novelty songs, possibly because he's so clever. You may miss the emotion on a song like, "The Last Word in Lonesome is Me," because it's so goddamned clever. His "genius" isn't necessarily the wit, but the ability to balance the sad and the giddy. He opens the ordinary world and embraces the awkwardness, the nonsense, the jealousy, the absence, and the fine line between giving up and starting over.
We chose to write about Roger Miller because he is an artist that we admire and eagerly want to share. Maybe I'm wrong but I've always felt that he never gets the respect that he so deserves. So if this article can inspire a few more passionate Roger Miller fans we've done our job. Take him on a road trip with your friends or keep him to yourself. But beware, Roger is not a gateway drug, it takes time to inspire new listeners. Feed them Kris Kristofferson and Johnny Cash and then when you think they're ready lay Roger on them. They may laugh at you, curse you, claw at the dial but in time they will understand.
Just recently my wife looked at me while watching me drive recklessly through a thunderstorm turning up and singing "Do-Wacka-Do" and said sweet and honest "Thanks for showing me Roger. I can't imagine my life without him." Notice that I said "wife", I would have never played Roger for her while she was my girlfriend. Girlfriends won't understand Roger Miller, and if they do, well shit you should marry them.
Two of my favorite Roger miller songs are below. Please note that there are no Roger Miller records available on cd. He recorded 19 albums, yet to date there are only collections available on cd and online. Some vary in quality and selection and some do not include the original versions. The best collection is a 3 CD box set simply titled King of the Road: Genius of Roger Miller or try the Bear Family CD collection King of the Road. His records can still be hunted down and I have found about 10 of them at the Princeton Record Exchange over the last decade. This year I hope to make the journey to the Roger Miller museum in Erick, Oklahoma.
MP3: Roger Miller :: Do-Wacka-Do :: A perfect example of what Roger does well, the nonsense and the heartache side by side. The narrator explains simply, "I wish I had your happiness and you had a do-wacka-do…" One can imagine a lonely teenager watching another flaunt his wealth (big Cadillac) and his fortune ("You got Girls in the front, girls in the back") and what really is there do to but wish your places were reversed. The song also includes my favorite Roger scat.
MP3: Roger Miller :: Don't We All Have The Right :: Nestled among his otherworldly and nutty inspired songs are classic country penned ballads like "When a House is not a Home" and "A Million Years or So." On this particular ballad the line, "Don't we All have the Right to be Wrong Now and Then" explains how the narrator is just now willing to admit that he was wrong and that she is not coming back. I'm a sucker for weepy sad country songs with fine lines, especially when Roger sings. You can hear the weariness and disappointment clearly from his delivery before you are aware of the lyrics- "I guess I wasn't so smart after all, I forgot that with love there are two ways to fall."
+ + + + + + + + + + + + + + + + + + + + + + + + + + + + + + + + + + + + + + + + + + + + + + + +
Jeremy:   It took me awhile to get into Roger Miller. I first really connected with his music heading south on the Jersey Turnpike one day towards the Philly airport to pick up an estranged lady friend. I was going about 80, and there was a pickup truck in front of me with a couch in the back; Roger was playing on the tape deck. The truck hit a bump or something, and the couch flew out, headed straight for me…the world flicked into slow motion at terrifying speeds and I swerved out of the way, lucky to miss the sofa. I had that shaken up shit feeling; I was scared and pissed and right then "My Uncle Used To Love Me But She Died" came on loud, clear and direct- a signal beaming at me from the radio perhaps like Cat Stevens heard God in the ocean. The whole moment, perhaps my whole life up to that point (at the very least my approach to songwriting), crystallized around the perfect nonsense of that song- the morbid absurdity and the humor: "my uncle used to love me but she died/a chicken ain't chicken till it's licken' good fried/keep on the sunny side/ my uncle used to love me but she died…"
MP3: Roger Miller :: My Uncle Used To Love Me But She Died
It was love but a secret one; Roger would get tucked away along with the likes of the Bee Gees and Burl Ives when I went on dates. Still, Roger Miller was proof that, as a songwriter, it was better to be clever than smooth, and that "the fool who persists in his folly will become wise." He could somehow be both heart-wrenching and funny- a clown with two masks he's wearing at once, like the character Gelsomina in La Strada, or Bill Murray in just about anything he's ever done. There's a healthy touch of madness to his songs too- a suicide at the carnival kind of feel, like Tom Waits if he wasn't cool.
With 'Rog', there's none of the machismo or tear-in-my-beer clichés that characterize so much country music; all is cowardice, confusion, incredulity, outrage, ineptitude. His songs admit to failure, yet obstinately defy shame with humor and a brilliant claim to stupidity, and, if these means are unavailable, then with death. Here are some brief thoughts on two of my favorites:
MP3: Roger Miller :: It Happened Just That Way :: A life story in three short verses and an upbeat little chorus for each. Family comes and goes, life is hard work, poverty abounds, you're young and walking to school and maybe have zits, and nothing makes much sense:   "I carried lunch in a paper sack/ it was one mile over and two miles back." The arrangement is simple and economic, yet no expense is spared.
MP3: Roger Miller :: One Dyin' and A Buryin :: This is a mostly spoken song with a catchy chorus. For the guy in this song, she's gone and no form of self-deception or distraction will help him get over it. He thinks he's smart because he knows his plan to end his suffering will work, but he also knows he's doing the most "foolhardy" thing he can… smart, stupid, and sad. "Well I think I finally found me a sure-fire way to forget/ It's so simple I'm surprised I hadn't done thought of it before yet."
Download:
MP3: Roadside Graves :: Far And Wide
MP3: Roadside Graves :: Ruby
————
Purchase: Roadside Graves – My Son's Home
+ Download DRM free digital music via eMusic's no risk 25 Free MP3 trial offer.
—————————————————————————————————————————–