It has to be intimidating – building a legacy. The shadow that Uncle Tupelo has cast across the alt.country genre for the past 20 years is an enormous one, no matter what your opinion about their music. It's Jay Farrar who seems to have lived most in the wake of his former band, at least critically. New projects from Farrar are still – though not nearly as often – dragged through the comparison process against that of his former bandmate, Jeff Tweedy. But Farrar has also been consistently developing his style – perhaps in more subtle ways than Tweedy, but evolving none the less.
Farrar's first work after the dissolution of Uncle Tupelo was Son Volt's debut album, Trace.   In a bizarre set of events that seem scripted for film, both Son Volt and Tweedy's new band, Wilco, had their debut records produced by the same man – Brian Paulson. The albums were released within about 4 or 5 months of one another and comparing them was a favorite sport for alt.country fans. Almost universally, Son Volt's Trace was judged the better of the two. It opens with one of Farrar's stone-cold classic songs, "Windfall," and then takes off on a dusty, sepia-toned examination of America. "Drown," the first single off of the record, actually got quite a bit of play on alternative rock radio stations that year – peaking at #10 on Billboard's Mainstream Rock Tracks chart. It was a spectacular debut — appearing so focused and confident, the question of who was the true genius songwriting force in Uncle Tupelo seemed to have been answered barely after it had been asked.
Less than two years later, Son Volt's sophomore effort, Straightaways, would drop to lukewarm reviews. I'll insert my subjective voice at this point to say that I've never understood the heat that this album took. It's a strong second album that follows the exact path, more or less, of its predecessor and has some of Farrar's best songs – "Back Into Your World," "Been Set Free," "No More Parades" and the dynamic "Caryatid Easy." But the very comparison that had benefited Son Volt so much on their first album, hurt them critically here. The previous fall Wilco had released the amazing Being There and while Tweedy suddenly sounded reinvented, Farrar seemed to be treading water. Despite releasing an incredibly solid record that any band working in an alt.country vein would have given their drummer's right arm to put out, Son Volt was drubbed critically.
Within another year and a half, Son Volt's third album, Wide Swing Tremolo, was released. Taking a much thicker and more rocking approach to their music, the album focused on some of the poppier aspects of their sound – the melodic Byrds-ian guitar especially – with the result being another extremely strong album that was, somewhat unfairly, accused of being an inferior product. Trace's legacy, and even Farrar's work in Uncle Tupelo, was creating a set of expectations that were crippling to the band. It's the curse of coming out of the gate with an amazing debut.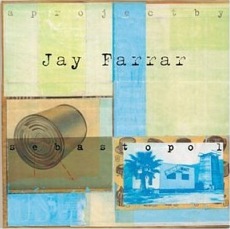 After the release of Wide Swing Tremolo and the subsequent touring, the band went on hiatus, though it wouldn't be until 2001 that Farrar would release his first official solo release, Sebastopol. This caused a buzz of gossip that the band had officially broken up, though all involved denied this. Sebastopol shared some elements with the last Son Volt album – small, instrumental segues of noise and atmospheric sounds and music – and a big, thick sounding band. Hiring musicians such as Superchunk's drummer Jon Wurster and the Flaming Lips' multi-instrumentalist Steven Drozd also helped created one of Farrar's most unique sounding records to date. Two years later he would put out his second solo record, Terroir Blues, a much more dark and experimental record which would revisit the instrumental tracks and even included multiple versions of several songs, giving different takes on each. Creatively, Farrar really seemed to be at a peak, and in June of 2004 would release the Stone, Steel and Bright Lights live LP showcasing both solo and band-backed material from the two non-SV albums out on the road.
2004 also gave fans of Son Volt a huge reason to hope for the band's return. The original lineup of Son Volt reunited for the first time since going on hiatus to record a cover of Alejandro Escovedo's "Sometimes" for the Por Vida Escovedo tribute in order to help raise money for Escovedo's mounting health bills related to his battle with Hepatitis C. The song was one of the undoubted highlights of the tribute record and word soon came that Son Volt was, in fact, reuniting to start recording together again.
But this wouldn't be the Son Volt everyone was expecting. In fact, the only original member returning would be Farrar himself, and in 2005, Son Volt version 2.0 would release their first album, Okemah and the Melody of Riot. The album would gather some of the best critical reviews for Farrar since Trace and also would mark a shift in Farrar's songwriting as he became much more overtly political than he had been in the past. Songs like opener "Bandages and Scars," with its echoing of the album title's reference to Woody Guthrie and the biting, subdued satire of the Bush-bashing "Jet Pilot," Farrar crafted a new version of the band that would echo the band's past while setting one foot firmly forward in style.
In 2006, Farrar would team up with Varnaline's Anders Parker to create the group Gob Iron and their album Death Songs for the Living. Gob Iron dug back into the traditional folk leanings that had been so dominant on Uncle Tupelo's March 16 – 20, 1992 album and using instrumental pieces that trade off with sung tunes. It was a strong record that returned Farrar to his roots in a stunning fashion and showed his ability to work well with all sorts of musical partners.
In 2007, Son Volt would release their fifth album, The Search, an album that really opened up the template by adding keyboards as a permanent fixture to the band's sound as well as punching up songs with horns. While Farrar's songwriting and style has remained constant at its core, it was obvious that his attempts to take that basis and augment it in new ways has become a clearer focus for his work in Son Volt.
Son Volt's latest album, American Central Dust, finds yet another version of the band – now with guitarist Chris Masterson and keyboardist, guitarist and long-time Farrar live-collaborator, ex-Blood Oranges member Mark Spencer coming aboard. The album is more subdued than The Search, but the themes of the album haunt an area that seems to see the times as standing on the edge of a cliff – with the only path being to forge something new in an untested direction. It's an album as unsure as it is hopeful and continues the critical winning streak of this version of the band.
Sixteen years on from the last Uncle Tupelo release, Jay Farrar has created a body of work that is rich, deep and worthy of discovery and re-discovery.   His musical evolution has been due to his own exploration – as opposed to Jeff Tweedy whose musical maturation has taken place largely within the collaborative setting of Wilco. The result for Farrar has been a more subtle oeuvre, but one that is without question in its songwriting prowess. words/ j neas
Previously: Jay Farrar :: The Aquarium Drunkard Interview