"As a producer, it really is all about taste. I'm not the greatest piano player in the world, but I've got damn good taste. I'll sit down and go taste with anybody." — Jim Dickinson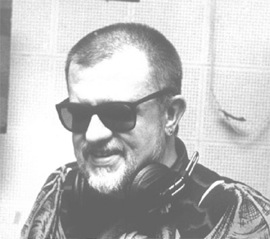 When writing about music, so many of the words used are focused on the people in the spotlight – the folks with whom we most naturally identify. But the music that we let shape our lives would, at times, mean very little without the contribution of the side players and the producers – the people who truly give the music its nuance and sheen. One man, who wore both of those hats, was Jim Dickinson who died on Saturday at the age of 67.
It's terribly sad that Dickinson would pass at the end of a week we spent discussing one of his most popular works – producing the Replacements' Pleased to Meet Me – on this very blog. There are those of us – myself included – who until recently, or even up until now, would only know Dickinson for his work with the 'Mats and his work that inspired them to work with him in the first place, his production on Big Star's Third. His work started, as most do, with actual performance. In the late '60s, Dickinson was part of a house band at Atlantic Records called the Dixie Flyers that worked with artists like Aretha Franklin. He would also play piano on the Rolling Stones' "Wild Horses" and on the Flamin' Groovies' "Teenage Head." Not a shabby resume in the least.
His production credits are equally impressive – aside from the Replacements and Big Star, he also produced records from Green on Red (The Killer Inside Me), Mojo Nixon, Screamin' Jay Hawkins, Mudhoney (Tomorrow Hit Today) and played on Primal Scream's Give Out But Don't Give Up and Rocket From the Crypt's RFTC. He remained active in creating new music, playing in a band called Snake Eyes with Reigning Sound's former drummer, Greg Roberson. Two full albums were recorded and slated for a release, though Dickinson's recent health problems had delayed that. But Dickinson's life in music certainly was passed down to his children – sons Luther and Cody make up 2/3rds of the North Mississippi Allstars.
Jim Dickinson's style is part of a fading tradition in music. As the dynamic voices and minds that concocted some of the great, popular and riveting music of the '60s and '70s begin to leave us, we truly begin to bid adieu to an important, formative aspect of rock music. As we (arguably) get set to enter rock and roll's seventh decade of existence, we're going to star to lose more and more of the people who had such indelible effects on the shape of the art. And the best way to remember, to pay tribute, is to keep listening.   words/ j neas
+ Download DRM free digital music via eMusic's 25 free MP3 no risk trial offer
——————————————————————————————————————————