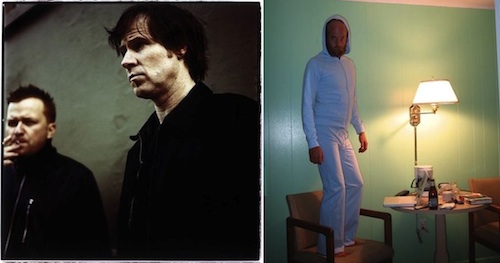 I missed Soulsavers' show at the Troubadour the other night, but did manage to catch the majority of their live studio session Thursday morning on KCRW (great set if you can find it; I imagine it's floating around by now). The group is presently performing select dates around the U.S. touring behind the release of their third full-length, Broken, the second LP to feature Mark Lanegan as co-conspirator/vocalist.   For Lanegan fans, Broken lines up with some of his very best work, and may be his most interesting collaboration yet. Like its predecessor, 2007's It's Not How Far You Fall, It's the Way You Land, the recording is dark meditation involving a cast of familiar characters including Jason Pierce, Richard Hawley, Gibby Haynes and, once again, Will Oldham.
Here Oldham, under the guise of Bonnie "Prince" Billy, lends his talents as both vocalist and songwriter…in an interesting way. Prior to Broken's release, Oldham contributed vocals to the non-album single "Sunrise," (penned by Lanegan).   Conversely "Sunrise's" b-side is an old cover of Oldham's days recording under his Palace Brothers moniker, "You Will Miss Me When I Burn," here sung by Mark Lanegan.   Switcheroo.   "You Will Miss Me When I Burn", it should be noted, is itself, included on the LP proper.
The Palace original is culled from 1994's Days In The Wake LP with a 2004 redux version off the Nashville session-player inspired Sings Greatest Palace Music collection.   In this instance Lanegan, accompanied by a piano, channels both the cadence and devastating atmosphere of the Palace original.
Download:
MP3: Soulsavers :: You Will Miss Me When I Burn (Palace Brothers)
MP3: Palace Brothers :: You Will Miss Me When I Burn
————-
Amazon: Soulsavers – Broken
+ Download Soulsavers via eMusic's 25 free MP3 no risk trial offer
——————————————————————————————————————————