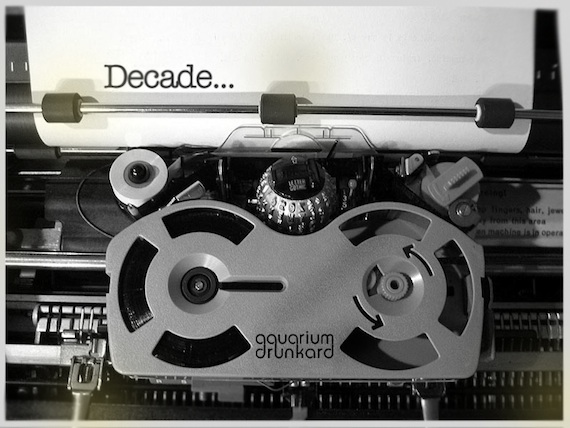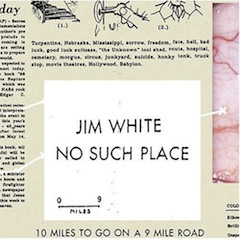 No Such Place is an album I have come back to over and over again this past decade. Its fusion of varied production (and producers), Southern Gothic story telling and haunting lyrics have caused me to examine its face closely and in different detail over the years, re-reading its specifics and yielding different results each time. But first I want to tell a story about Jim White.
The second time I ever met Jim, in 2002, he recommended a book – Blood Meridian by Cormac McCarthy. He called it his favorite McCarthy book and its dark, violent, nihilistic facets seemed to reflect the tone of the places White's mind had been over the years leading up to the recording of his first two albums, the second of which was No Such Place. Flash forward to 2008. Cormac McCarthy has since become one of my favorite authors, and upon getting to sit down with Jim for an interview, I tell him about this and ask if Blood Meridian still retained its high place in his personal favorites list. No, Jim mused, it didn't. McCarthy's novel Suttree, a much more wandering and gently comic book, had taken its place. This, he reckoned, reflected a change in his own outlook over the years – a sense of happiness that had been obtained, and he talked about his own unfamiliarity with happiness and the need to develop a vocabulary for it.
I tell this story because of how No Such Place becomes a mile-marker in a life, rather than just a record. The album defines Jim White then, rather than now, just as a person's identification with and embrace of it might help define their own state of mind. It's undoubtedly true that if we break apart the art created by musicians, each album would stand as a snapshot of their life at that point. So can they also be mirrors of ourselves.
No Such Place is an album that embraces a dark duality – it is fractured, yet whole; morbid, yet whimsical; celebratory, yet elegiac. The fractured nature comes from the album's total of four different producers, but whether it's through the strength of White's songwriting or his gift in the studio, the album doesn't sound like the work of so many different visions. It holds a cohesive sonic narrative, from the dusky drums of "Handcuffed to a Fence in Mississippi" to the swirling echo of "The Love that Never Fails," the album follows a singular tone. His characters kill numerous people ("The Wound That Never Heals") and lament their personal failings for others ("The Wrong Kind of Love"), but they also revel in a resigned embrace of who they were born ("God Was Drunk When He Made Me").
"The smile upon her face betrays the sorrow in her heart / like the testimony of a fun-house mirror that some fool broke apart. / Girl, listen here, / you're just a leaf caught in God's sacred hurricane." The themes of fissures and fractures, of helplessness and hopelessness, return again and again throughout the album. Looking too far into the album's depths is risky. "Here's a busted compass. Look, the needle standing still. / Some folks hate to lose their way. / Me, I pray to God that I will."
White would emerge a different man on his two official follow-ups later in the decade, though the ghost traces of his early records are still very much with him. Like the surface of the Moon, untouched by wind and rain, No Such Place is a document of things past and is worth searching for the proof of what was there. Not to lose our way within them, but to follow their lead out of the darkness. words/ j neas
MP3: Jim White :: The Wound That Never Heals
MP3: Jim White :: Ghost-Town of My Brain
———————