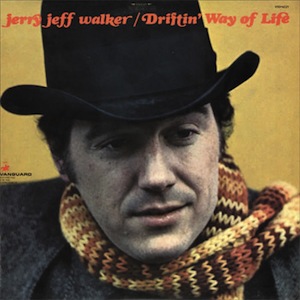 It kind of amazes me that nobody seems to know the man behind one of the world's most well-known songs. Not that this is too uncommon, it's just that Jerry Jeff Walker's music is so damn good for the heart it's a mystery why he never became a household name.
Walker wasn't technically native to Texas, hailing from Oneonta, New York, but he knew he was home when he landed in Austin. Before this album's release, JJW was a member of Circus Maximus who worked the Greenwich Village scene and released two psychedelic/folk-rock records more than worthy of investigation. His next official release yielded a song that would give the Nitty Gritty Dirt Band a top ten hit and become one of the most recorded tunes of all time, "Mr. Bojangles."
In his 4 decade career Walker has released a lot of albums, but before the boozy, gonzo years to come and outlaw country sound he would help to define in mid-70s Austin, one album stands out above the rest: a gorgeous folk-country gem the equal of any Dylan or 60s troubadour piece, 1969's Driftin' Way Of Life.
Unlike most of his later records, all the songs herein are Walker's, and among the first he ever wrote. Any JJW record has to come out swinging, and the title track kicks it off accordingly. "Driftin' Way Of Life," is a kicking little number that sets a stage for something much sweeter. "Morning Song To Sally" is a lovely little lovesick gem from the depths of Jerry's soft side. "Ramblin Scramblin'" is more of a snicker than a laugh, but works along side the old-fashioned "Gertrude," haunting road ode "Old Road" with just voice and harmonica, and the psyched up "North Cumberland Blues." Only thing better than a ballad like "No Roots In Ramblin'" is the album's closer, which somehow gets the whole story straight in just a few lines, "Dust On My Boots."
If you do the math right, and cross check it with his 1999 biography, Gypsy Songman
(highly recommended read), you find Jerry really was drifting – all over the States from NYC to New Orleans, writing these songs and performing them night after night. High on the success of "Bojangles" this record was a contractual obligation to Vanguard but recorded right in the prime. Jerry: "After so many years of hitchhiking and nights spent on the streets or on borrowed couches, my existence had become a warm Manhattan apartment, a vintage Corvette in an expensive parking garage, whiskey and music all night, enough money and enough fame to keep it going endlessly." The years of roaming gives the album's theme credence and a taste of Driftin' might be all it takes to inspire you to ditch the doldrums and get out on the road. Don't pick up that book if you are wishing to hold a steady job.
The group sounds like classic Nashville, a good solid band trading backgrounds between the verses. "The album had a real strong country feel. There was no question that in 1969 my music had taken a definite turn, and it was an extremely comfortable sound for me. I felt like I was headed home." Some notable touches include the tasteful electric piano and swirling steel on "Shell Game" and flatpicking from the underappreciated David Bromberg. According to Jerry he was "the reason man created stringed instruments. David touched them with a lover's fingers and they moaned that true love right back at him. Wood and wire and flesh spoke."
JJW's deep, familiar voice is like a drug. When you hear it cut through the shuffle you can't help but smile: Jerry you old scamp. He sings to you like an old friend. A one-of-a-kind songman, one of my personal favorites; bits of story, sadness, humor, irreverence, experience, straight up fun, and just some damn pretty songs. Get Driftin'. words/ b. mcgrath

MP3: Jerry Jeff Walker :: Shell Game
Only the good shit. Aquarium Drunkard is powered by our patrons. Keep the servers humming and help us continue doing it by pledging your support via our Patreon page.