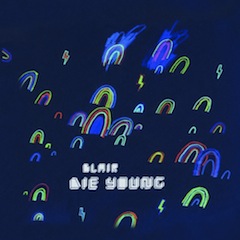 Die Young is an intimidating title for a debut full-length. It casts a lot of weight about its small frame – a twelve song package of deceptively airy and sprightly vocals spun around a churning, rhythmic and engaging set of pop that takes its cues from a host of 90s indie and classic rock and roll signatures. Blair's music recalls a bevy of influences without feeling indebted to any one.
That deception is a fun artistic trick. Die Young is a record whose poles seem crossed – its surface a shimmering, mostly sunny sounding record with lyrical themes far deeper and more grey than they appear at first glance. "Hello Halo" seems absurdist at moments, its lyrics almost purposefully nonsensical (the title phrase, "kittens, rainbows") and disconnected from any meaning. But there's a knowing wink, too. "Don't know what I'm saying," is the repeated line that follows. The subsequent songs are full of mixed emotions and uncertainty. "Kamikaze" qualifies its certainties with maybes ("maybe I've got something up my sleeve") only to accept the muddled nature of outcomes ("it's worth not feeling okay"). "My Turn" talks of the hunter becoming the hunted. She winds up howling at the feet of her "Wolfboy" rather than vice versa.
Musically Blair echoes the early days of Liz Phair in the minimalist structure of some of her songs. It's an interesting comparison to make, but it makes sense also as she came of age in Phair's peak as a musician. Within this structure though are moments as scattered and diverse as the Southern shuffle of "Wake Up Shake Up," the girl group shimmy of "Paris France" and the closely cropped haze of "Rampage." The title track even follows the loping, punctuated delivery of Suicaine Gratifaction-era Paul Westerberg. Die Young never abandons its tone and the album keeps a cohesive feel. It always seems to be going somewhere, even if the destination is as uncertain as the lyrics' narrator.
Die Young seems to worry about a death of spirit and self as opposed to a physical death. Its moments of hesitance are cloaked in the beauty of how we know best to express ourselves, like a closely honed mixtape ode to our insecurities. words/ j. neas