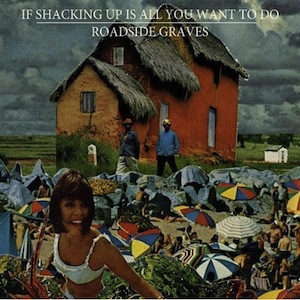 This Tuesday Autumn Tone (AD's label) is digitally reissuing Roadside Graves debut LP, If Shacking Up Is All You Want To Do, with an additional six bonus tracks. This comes out exactly one month before the band's upcoming EP, You Won't Be Happy With Me —due out March 23rd. Below, Graves' primary vocalist, John Gleason, waxes on the band's debut eight years after its initial release. Catch them at SXSW. – AD
"Our first full-length record was recorded in 2002 on the first floor of an old Victorian house I rented in Hightstown, NJ. The windows were insulated with t-shirts. We huddled together in the wood paneling of the living room and recorded the record in three nights.
I lived next door to my landlord and each morning there were messages on the answering machine asking if I could please turn my record player down.
The record is an odd collection of songs. Biblical Joseph spies on Mary through a hole in the basement. A boy pleads with his girlfriend not to commit suicide for the sole reason that he would then be lonely. A man sets the dinner table while his wife is an automobile accident. Listening back now it seems natural. There was no intended audience. We had played in an indie-pop band for years and had recently been infatuated with old country and folk records the songs were written and recorded with the hope that our friends and possibly our families would be amused. Even the label, War and Oats, was fictional. It's a collection of quirky songs from a band attempting independently to find its sound and to appeal to listeners who felt as awkward and strange as us. We were still so unsure of ourselves, still are.
If Shacking Up Is All You Want To Do.., was named after a line in Fleetwood Mac's "Go Your Own Way" and it accurately describes the alienated, misinformed, criminal, pathetic and lonely characters on display in the songs. These are people who are in helpless situations, but unaware and at times hopeful in their ignorance. Write from what you know. "Jesus is a Friend of the Family," if not found immediately offensive, is really a story of how a family welcomes religion into their home on their own terms, without having to be told the rules. Allowing room for faith without the bullshit.
Most of the lyrics were written on weekly Academy bus rides I took to Atlantic City to meet my father at the craps table. Typically I'd lose and then crouch down in back of the bus under the reading light and attempt to redeem myself.
The success of the record remains in how it spread. A Texan who worked in NJ during the winter at a Christmas Tree Farm brought the record down south and made copies for his friends in Longview, TX. A few years later, we found ourselves playing a hopeless show in Shreveport, LA where the headliner had canceled and had been replaced by a kid pool full of free Pabst and a jello like doorman who rapped in French. It was the kind of bar where three people walk out of a single restroom stall. Half way through our first song twenty Texans strut up to the front and begin singing along and requesting songs from Shacking Up. It was enough. And it was probably the first time we realized that we may be a real band, at least to a few." – John Gleason
MP3: Roadside Graves :: Jenny Jump
MP3: Roadside Graves :: Lot Lizards
———————
+ Download Roadside Graves via eMusic's 25 free MP3 no risk trial offer
____________________________________________________________________________________