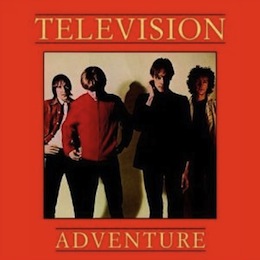 I was never quite sure what to make of people's outright indifference towards, or ignorance of, Television's sophomore album Adventure. Here you have a legendary band's follow-up to an unquestionable masterpiece debut (Marquee Moon), and the most common reaction I would receive when discussing it was either an admission of having never heard it or of finding it underwhelming when compared to its predecessor.
Put me squarely in the camp of those who have always loved Adventure. It was the perfect album to follow a perfect album. It both retains touches of the debut's cache of detached cool and ennui, making it seem familiar, yet also steadily chips away at that exact veneer. A more moving record than Marquee Moon; Adventure's lyrics seem more lived-in and worn—more honest and warm. When Tom Verlaine sings in "Carried Away" that "last night I drifted down to the docks…I felt the old ropes grow slack," he seems fragile and temporarily corporeal, likely to depart this plane at any moment. This is not the street-smart smirk of "Venus." This is a vision of meaning, of experience. It's no wonder that a friend of mine heavily considered performing the song at his mother's funeral.
Adventure opens with one of the most genuinely catchy songs of Television's career, the proto-R.E.M. jangle of "Glory." The album has its share of poppier moments like that: the wistful, chiding Greek chorus vocals of "Careful;" the strutting, angular sing-along of "Ain't That Nothin'." These songs are positioned at key intervals throughout the album, giving the record an ebb and flow of energy that wasn't as readily obvious on the heady Marquee Moon.
The studied nihilism of the 70s punk scene, so integral a lyrical presence through most of its greatest works, is here washed away in a baptismal of reflection. From "Days" and its gentle admonition of the oncoming of time to "The Dream's Dream" and its rendering of the very nature of existence and reality to the aforementioned "Carried Away" and its rejection of the moorings of body and place; that a singular album of modern music, clocking in at a swift 37 minutes, could channel so much in so little is nothing short of astounding.
When I think of the people who have shrugged this album off, I can only wonder if it is because of its subtlety. Adventure is an apt title. It is a trek through internal monologues, inane dialogues, beastly violence and quiet moments. And like most great journeys, there is a lot of downtime. But it's in these details that the true revelations live. We should all be so lucky to experience such an adventure. words/ j neas
(Look for L'Aventure, the follow-up to last year's Ram On LA, this coming Tuesday on AD….)
MP3: Television :: Glory
MP3: Television :: Carried Away
——————–
+ Download Television via eMusic's 35 free MP3 no risk trial offer
____________________________________________________________________________________