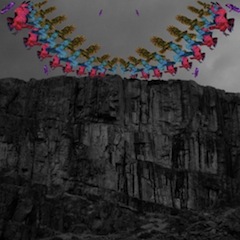 Covered in kudzu and swathed in a blanket of humidity, spanish moss, feedback and reverb exists Futurebirds. Here, at this intersection, we find a synthesis of the two extremes of Neil Young's yin and yang.   It's at this crossroads, on this plane that Futurebirds meld the sweet, lilting, pedal steel and harmonies of the Stray Gators with the raucous, buzzing, distortion of Crazyhorse.
Futurebirds debut, Hampton's Lullaby, is forged from a South that has as much to do with the worldview of Silver Jews' David Berman as the inhabitants of William Faulkner's Yoknapatawpha County. Building on the bones of their self-titled 2009 EP, Hampton's Lullaby invokes an absurdist, cornbread-fed, psychedelic dream state rooted to reality in colloquial storytelling. If you buy into the belief that we are all the summation of our shared influences then it's no surprise that this band, hailing from Athens, GA, equally incorporates both the psych-tinged sounds of the Elephant 6 collective and the southern gothic, Fables of The Reconstruction era, R.E.M. into their sonic palette. It's this exact tightrope, this subtle dance, that informs their work and that drives their aesthetic—be it on wax or in a live context.
Hampton's Lullaby is out today via Autumn Tone Records. The band is presently touring the U.S. and heads back out on the road this fall. Don't sleep on seeing them live. You'll thank me later.
MP3: Futurebirds :: Johnny Utah
MP3: Futurebirds :: Battle For Rome
——————
Purchase: Futurebirds – Hampton's Lullaby (Digital Only)
Purchase: Futurebirds – Hampton's Lullaby (Digital/CD)
+ Download Futurebirds via eMusic's 35 free MP3 no risk trial offer
____________________________________________________________________________________