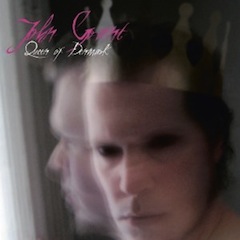 A sound that at once invokes the 70s art pop of Todd Rundgren, the pastoral folk of Heron and, at times, the vocal phrasings of Nina Simone, the twelve songs John Grant presents on Queen Of Denmark wholly create a world unto itself.
His first release since leaving the Czars, Queen of Denmark finds Grant's rich baritone paired with the perfect foil in Midlake who here act as his backing band.   Those familiar with Midlake's work on their Trials of Van Occupanther LP will at once note the stylistic underpinnings gracing Denmark's 51 minutes. Allow me to to indulge cliché for a moment and state that the pairing sounds nothing short of pre-destined.
With an atmosphere and tone that ranges from pop culture whimsy (Sigourney Weaver and the Aliens franchise)—and a fascination with outer space—to heartbreaking lyrical bloodletting, Queen Of Denmark at times reads like one man's journal after staring into the eye of the abyss and back again. Sounds heavy, no? It is, but thankfully the album doesn't allow itself become fully consumed and mired under its own weight. Grant, like the darker work of Elton John/Bernie Taupin, knows, and respects, this balance between the light and the dark.
A record of poise and depth, Queen of Denmark will more than likely not find itself gracing the pages of the buzzy, hype driven, blogs and media outlets in 2010—and it is all the better for it. May I introduce a new cult classic.
MP3: John Grant :: I Wanna Go To Marz
MP3: John Grant :: Leopard And Lamb
———————
+ Download John Grant via eMusic's 35 free MP3 no risk trial offer
____________________________________________________________________________________