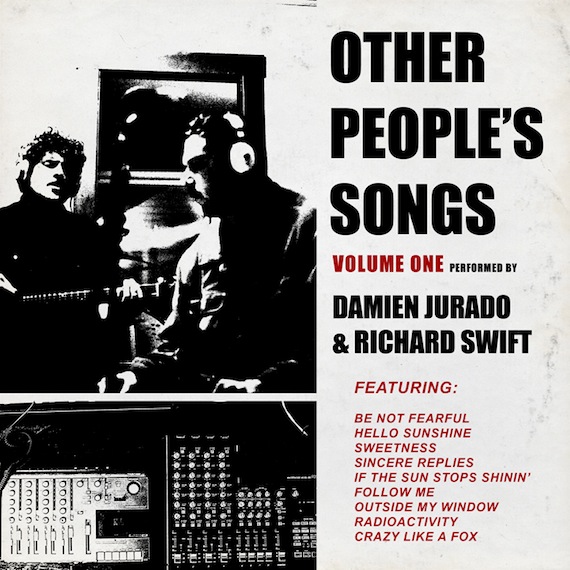 Last week via Tumblr Damien Jurado and Richard Swift dropped Other People's Songs Vol. 1, a free, 9 track, digital download featuring the pair covering some of their favorite songs. The tracks range from Bill Fay and John Denver to Kraftwerk and Yes. "Other People's Songs Vol. 1 is a collection of covers recorded on the weekend of August 21-22, 2010 (with the aid of a four-track cassette recorder and a Coles-4038 ribbon microphone)." AD caught up with Swift and asked him to run down the tracklist with his thoughts on each selection—read below and download the collection HERE.
____________________________________________________________________________________
Be Not So Fearful (Originally by Bill Fay):: This is the first thing we recorded in this session. Josh Ottum and Chris Colbert were in my studio mixing Josh's new record, so we decided to set up operations in the kitchen/dining room of my house. We used a four-track recorder and a Coles ribbon mic for the entire weekend, trying to keep things as immediate, and simple as possible. For this song in particular, Damien played guitar and sang in one room (the living room), while i played drums in another (the kitchen), there was a room between us (the dining room) which is were the microphone was placed. The ribbon mic we used records in a "figure 8" pattern, which means it records both what's in "front" of the mic, and what's "behind" the mic in equal parts. This made it possible for Damien and I to layer vocals and instruments (at the same time) to the limited number of tracks. Many times Damien would sing background parts while i'd be doing a drum overdub, or i would play tambourine and wood block while he was whistling… you get the idea.
Hello Sunshine (Originally by Relatively Clean Rivers) :: I'm not going to name-drop Jeff Tweedy's name, because I'm better than that, but a "certain singer/songwriter who plays in a band i once toured with" turned me onto this band a few years ago, and I've been obsessed ever since. You can hear a distinct similarity between this song and Wilco's equally hypnotic "You Are My Face". We decided to leave out the seagull/oceanside sound fx found in the original, but we were temped… There's a really great guitar riff/noodle that weaves throughout the original, and neither Damien nor myself are capable such "tasty-riff-dome" at this time. Like I mentioned before, guitarist Josh Ottum was in my studio mixing, so naturally, his talents were enlisted. He learned the entire set of guitar parts in 12 minutes and started recording on the 13th. Amazing.
Sweetness (Originally by Yes) :: Damien suggested this one, I think it's a childhood dream of his to cover it. He stretched his voice to places I've never heard it go before, and it is amazingly earnest. I never thought I'd sit down and figure out a Yes song, much less think, "Oh man, this is actually really simple once you get your head around it." There are no tricky chords necessarily, although there is a strange key change in the middle breakdown. The arrangement is what shines musically most for me, and with all the forward movement in the song It was particularly fun playing bass guitar.
Sincere Replies (Originally by Oh! Calcutta! Original Broadway Cast) :: I can't remember where I first heard this song, but I thought I'd be fun because of the playful nature of the vocal parts. Plus it's just fucking groovy right?
If The Sun Stops Shinin' (Originally by Chubby Checker) :: Damien had a hard time singing the lead vocal for this, mainly because he kept cracking up over the lyrics. The song includes words and phrases that "sad-artist-types" like Damien Jurado aren't accustom to singing. Words like "horsies" and phrases like "love your life, love everything… make peace in this world" are funny and corny to debby-downers like us.
Follow Me (Originally by John Denver) :: John-fucking-Denver.
Outside My Window (Originally by The Fleetwoods) :: This is a song we listened to quite a bit when recording "Saint Barlett" and also when making the "Arkansas" video. It's a quite song, and there's a lot of tape hiss on the recording… you don't hear that very often these days, so I find it charming in a way. This might be my personal favorite on the record.
Radioactivity (Originally by Kraftwerk) :: I think this might be Damien's son's favorite song… that sticks in my head for some reason. We were going in a more "electronic" direction on this initially, and then decided to go in this smokey / Lee Hazelwood-esq direction instead. Damien really wanted to highlight the beauty and simplicity of the song itself, so we had to strip it from it's normal electronic context. I was also impressed that Jurado sang the last verse in German, a language he's never spoken.
Crazy Like A Fox (Originally by Link Cromwell & The Zoo) :: We've presented the songs in the order we recorded them. That of course makes this the last song we recorded and a seemingly fitting way to end a 2 day experiment. Damien sang the lead as I played piano. I then overdubbed drums while Damien played tambourine. I played bass on track three, and that was it. Three instruments and a voice in MONO.   words/ richard swift
MP3: Damien Jurado & Richard Swift :: Be Not So Fearful
———————
+ Download Richard Swift & Damien Jurado via eMusic's 35 free MP3 no risk trial offer
____________________________________________________________________________________