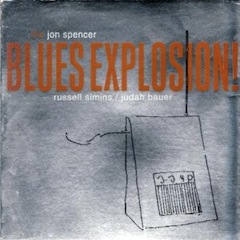 "Either be hot or cold. If you are lukewarm, the Lord will spew you forth from His mouth."
Truer words have never been spoken. Jerry Lee Lewis said that shit, as writer Mike Edison quotes the Killer kicking off his liner notes for the 2010 reissue of the Blues Explosion's Orange.   Or should I say "Orraaange." Named as an homage to the mid-60s stage backdrop that flanked James Brown's concert antics, the album was the Blues Explosion's coming out party—both in terms of reaching a much wider audience—and, well, the fact it actually feels like a party.   Released in 1994 amidst a tepid market full of post-Nirvana alt.rock tripe, Orange made no bones about where it was coming from. Having shed the last last remnants of his Pussy Galore persona, Spencer, as ringleader, incorporated all manner of showmanship funk into his act; from the aforementioned Jerry Lee Lewis, and Vegas-era Elvis, to a punk, theremin-wielding, shot-calling Bobby Byrd.   Or, more appropriately, it could be said that Judah Bauer and Russel Simmins were the Bobby Byrd to Spencer's James Brown, as both are indispensable to the final product.
As I noted in the piece on Now I Got Worry, the Blues Explosion were a welcome hot shot in the arm of rock & roll; a very welcome reprieve from the both the naval gazing indie rock of the time and the bloated mess that was "grunge." In short, this was making-a-deal-with-the-devil styled rock & roll. And it was a hell of a lot of fun.
In addition to the Stax/Volt influence that runs throughout the course of the LP it is interesting to note the subtle influence of the first decade of hip hop that underscores the music. Nothing blatant to be sure, but in terms of attitude, bravado and style it is clear the band were paying attention, if not taking cues from, what was happening in the boroughs of NYC and beyond.
I've got my tickets for the Blues Explosion's show tomorrow night at the Troubadour…do you?
The Reissue: Coupled with Orange proper, the 2010 reissue adds a bonus disc comprised of the 1995 Experimental Remixes EP that assembled a disparate group of musicians to remix several of the album's key tracks. As relevant as this disc sounded when I picked it up upon its release it now mostly serves as a curio for those interested in a sliver of the mid-90s music zeitgeist. Also included in the 2010 reissue are b-sides, live versions, and "Showgirl" which was originally released via In The Red Records as part of their singles club series later compiled on Jukebox Explosion.
MP3: The Jon Spencer Blues Explosion :: Flavor
———————
Related: The Jon Spencer Blues Explosion :: Now I Got Worry (Reissue)
+ Download Jon Spencer Blues Explosion via eMusic's 35 free MP3 no risk trial offer
____________________________________________________________________________________