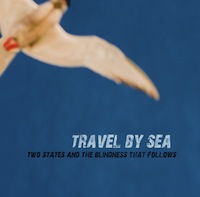 What began as a songwriting experiment spanning two states, a hi-speed Internet connection, and a shared love of dark folk music, has since morphed into a living, breathing band.   Witnessing Travel by Sea's growth over the past four years has seen the project, between co-founders Kyle Kersten and Brian Kraft, steadily take on attributes that only come from performing live.
As a duo, the 1st two albums Travel by Sea released were the streamlined, exceptionally efficient, work of Kersten and Kraft. In short, Kersten would draft a song's skeletal structure and lyrics at his California home, uploading the results to Kraft—in Colorado—who would then flesh out the material in his home studio. Despite the technology, the results felt incredibly organic and homespun. This manner of working has been augmented in the past 18 months with new members as TBS are now a working/gigging band. This interplay and collaboration between the additional players has seemingly driven Kersten to experiment more on the front-end, taking more chances in tone and delivery.   Lyrically, Two States is as sharp as ever and Kraft's ear for understated production is still intact giving the LP a polish that fittingly leans more toward a matte finish than glossy.
Another very solid notch on a belt for those interested in South San Gabriel, Songs: Ohia and weeping pedal steel.
MP3: Travel by Sea :: Eventually
MP3: Travel by Sea :: The Road
——————
+ Download Travel by Sea via eMusic's 35 free MP3 no risk trial offer
____________________________________________________________________________________