Last June, over a round of drinks, my friend Matt excitedly told me the tale of his label Light In The Attic's upcoming release; that of the reissue of Jim Sullivan's U.F.O. Light In The Attic often reissues the lost and forgotten LP, but in the case of U.F.O. it was the very performer who was lost, as Sullivan had literally disappeared some 35 years before. They say that truth is often stranger than fiction, and Matt, along with his wife (filmmaker Jennifer Maas), were headed out on a six-week road trip to dig up anything they could on the Sullivan mystery. I made him promise to tell his tale here on AD prior to the record's November 16th release. Below are Matt's words, plus the footage they shot on the road this summer. – AD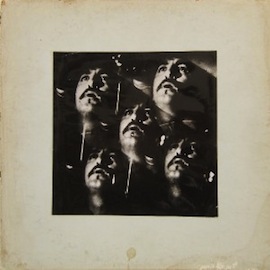 Justin asked me to write something about my recent adventures involving our upcoming reissue of Jim Sullivan's 1969 album U.F.O. It's certainly been a surreal journey. A friend and I run a Seattle-based label called Light In The Attic. We reissue old records, most of which never got their proper due back in the day. The reissue business is fraught with Byzantine twists and turns and other bullshit that I won't bore you with in detail. In short, every release is a saga unto itself, inevitably marked by numerous hair-pulling obstacles — everything from legal wranglings with grumpy old copyright holders to artists suffering from years of failure and schizophrenia — each of which impacts a project's timetable. By the time we finally release a title, the process might have taken several years. Along the way, we tend to find ourselves in strange situations with interesting folk – some still with us: Sixto Rodriguez in Detroit, Kris Kristofferson in California, Lou Bond in Memphis, Betty Davis in Pittsburgh, PA. Some no longer with us: Karen Dalton and Serge Gainsbourg. Jim Sullivan is an entirely different story.
In March 1975, Jim mysteriously disappeared outside Santa Rosa, New Mexico. His VW bug was found abandoned, his motel room untouched. Some think he got lost in the desert. Some think he fell foul of a local family with alleged mafia ties. Some think he was abducted by aliens. By coincidence — or perhaps not — Jim's 1969 debut album was titled U.F.O. and released in tiny numbers on a one-off private label called Monnie Records. A couple years ago I stumbled upon a vinyl rip of the album on Waxidermy, a brilliant site dedicated to far out underground or private press records. I was hooked after hearing the first few seconds of track one, "Jerome". I've have been obsessing over Jim and his music ever since.
I soon found out that I wasn't alone. Dozens of music heads posted about the album blowing their minds. Half-way down the Waxidermy page, a man by the name of John Rankin posted about his old friend Jim and how Jim's wife Barbara was his secretary at Capitol Records in Los Angeles in the late '60s. This is where things took an unexpected left turn.
John Rankin on May 22nd, 2008 @ 1:29 am
I was thinking about my friend Jim Sullivan and decided to Google his name. I found this site and not much more. Jim's wife Barbara was my secretary at Capitol Records (1968-69). I tried to get him signed but they thought he was too much like their new artist James Taylor at the time. I left Capitol and played bass for Jim in bars around L.A. for maybe a year on and off. Many years ago I heard that he had disappeared. I think it was in New Mexico. He was pulled over by a trooper because he was driving funny (swerving). The trooper found that he was just tired and told him about a motel just up the road. When they looked for him, they found his guitar on the bed and his truck still parked where he put it. But, no Jim. This is the story I was told by a very reliable source a very long time ago. I would like to hear from anyone who might be associated with Jim Sullivan. I have some good stories and memories. By the way, he was in Easy Rider I was at his house the day after they finished filming.
While reading John's post, I'm listening to the album for that magical first time, one of those music moments that you live for but seldom find. The site lists the album credits, including monster session players like drummer Earl Palmer, keyboardist Don Randi, and bassist Jimmy Bond. How did a little private press LP afford these Wrecking Crew giants, the Los Angeles sessioners that backed the likes of the Beach Boys, Sinatra, Mamas & the Papas, Phil Spector's mighty hit machine? This doesn't quite add up. You tend to not hear private press records that are such mammoth productions because private press recordings are just that, private, super limited works that couldn't afford or never desired to shell out thousands on a recording session. Whoever put this thing together was clearly not fucking around.
The dark, eerie strings and psych-ish mix (with Earl's drums way upfront) recall David Axelrod's finest work. Sullivan's voice is deep and expressive like Fred Neil with a weathered and worldly Americana sound like Joe South or Gene Clark. Pop songs that aren't happy — but filled with despair. Almost as if the aforementioned Axelrod or Memphis great Jim Dickinson were running the show. What the fuck was this?
The next posting on Waxidermy is from Jim's sister-in-law Linda, who stumbled upon the blog. Linda confirmed Jim's role in Easy Rider along with his mysterious disappearance in New Mexico. My mouth dropped once again, and goosebumps followed, especially after reading her last sentence.
Linda C on June 14th, 2008 @ 11:10 pm
I'm Jim's sister in law. He was in Easy Rider, the commune scene wearing his "Lions" cowboy hat. He was an extraordinary writer and guitarist. He taught me a little guitar when I was in high school. After years of having some small successes and seeing some of his music stolen, he became a troubled soul who developed a drinking problem. He did disappear in New Mexico as John Rankin said. I still listen to his albums with tears in my eyes.
I immediately reached out to Jeff Hassett at Waxidermy who kindly put me in touch with Jim's family, and thus began a long quest to uncover the genius of U.F.O. and what went down in March '75.
I nervously put together an email for Jim's family and send it off. 24 hours later the phone rings, I look at the caller ID and see "Chris Sullivan", trying to stomach if this is Jim's son Chris calling and/or some long lost relative who shares my last name. I begin to explain how we hope to reissue the album and exactly what we plan to do. Turns out Chris already has our releases of Karen Dalton and Jamaica to Toronto. This is the first and probably the last time that will ever happen. Chris and I hit it off like we are family. I spend the next few months trying to piece this together. It feels like an impossible feat. Jim's wife Barbara and son Chris are incredibly helpful but lost contact with Jim's old manager, friends, and bandmates. I'm told that manager Robert "Buster" Ginter is the missing link to finding the original master tapes, explaining how U.F.O. came to fruition, and solving the issue of why the same record was released twice on two different labels, Monnie Records and Century City (the latter being sadly re-mixed and losing the dark, intoxicating spirit of the Monnie, Axelrod-sounding LP). Who knows, maybe Ginter could lead me to Wrecking Crew bassist Jimmy Bond who produced and arranged the album.
The next few weeks are spent calling every Robert, Bob, and Buster Ginter in America. I remember talking to a librarian in Massachusetts and some ski bums in Colorado where Chris thought Ginter might be living. No dice. But… I do find Ginter's two daughters who are incredibly kind and enthusiastic, with fond memories of camping trips with Jim and family. They also fill me in on the sad news. Their father died seventeen years ago in Oregon practically homeless and in a bad state hooked on drugs and alcohol. Bob's father, Robert Sr. managed some Hollywood heavy weights during the '50s and '60s, while Bob Jr. managed up-and-coming actors like Harry Dean Stanton. From what we could gage, Junior burned the candle on both ends and things began to unravel as the mid-70s rolled around.
Around this time I was beginning to lose all sense. The more I listened to the album, the more I couldn't simply pull away. I became fixated on songs like "So Natural" – something about the lyrics, Jim's delivery, and drummer Earl Palmer left me continuously mesmerized on each repeated listen. Like songs "Jerome", "Highways" and "U.F.O.", the lyrics of "So Natural" were another eerie reminder of the foreshadowing on U.F.O. of what was to come in Jim's life. In many ways, the album painted a vivid picture of Jim's life five years later. Whatever happened to Jim in the New Mexico desert, there's no question that it was one hell of a vanishing act on someone's part.
Thankfully talented Memphis music writer Andria Lisle comes on board to write the liner notes for the re-release and lend a helpful hand in deciphering this maddening search.
Andria interviews Wrecking Crew member Don Randi. The man doesn't remember a thing. He doesn't even remember Jim, the record, or the songs. The search continues…
Our next prayer was finding Wrecking Crew man Jimmy Bond. He may have played on a zillion sessions from Nina Simone to Randy Newman, but he rarely produced. Therefore I figured there was a small chance that he may recall a thing or two. And his name was James E. Bond III. What I wasn't expecting is how long it would take to find Bond. How hard could it be to find a man who played on half my record collection?
After eight months, and what felt like hundreds of phone calls, e-mails, letters, faxes, and hiring a private detective who simply forwarded me the same info I already had, I finally located Bond. Well, kinda. I located Bond's apartment in Los Angeles. I left message after message, and no response. I sent packages, which got returned. Weeks later, while in Southern California I drove by his place, rung the buzzer, and nothing. I returned months later and gave it another shot. No answer again. I buzz the neighbors who nervously open the door. They inform me that Bond moved out a few months back with no forwarding address. I anxiously hand him a letter for Jimmy and beg them to somehow get the letter to the man.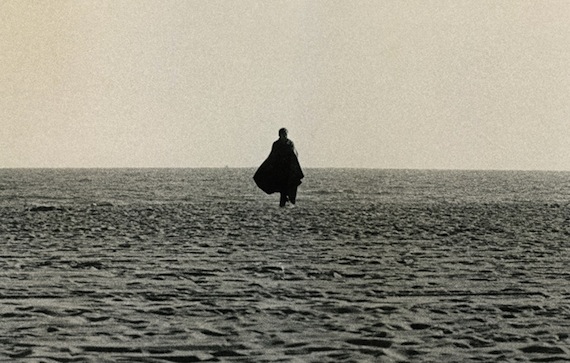 As I walk away and look back towards the building, I realize that Jimmy's apartment unit number is 0003 (the catalog number of the Monnie LP) and the building number is 370 (the month and year that the Century City LP was released). When I'm working on a project like this I constantly look for signs. Something to tell you to keep calling, keep digging, or maybe just the opposite. Years ago I never was much with superstitions but this job has changed that. The unit number was the thing that tripped me out the most — not two zeros and a three, but THREE zeros and a three.
Well, the neighbor soon came through (bless his heart) and located a working number for Jimmy's son, whom I soon learned rarely checks his voice mail. One week and 10 calls later, Jimmy Jr. calls back, and within minutes I have a meeting with Jimmy Sr. for the following day. Jimmy greets us with a warm smile and tells us to sit. He's lying in bed. He's in good spirits, but feeling a bit weak and bed ridden at the moment. I nervously ask him about Jim Sullivan. Sadly, he doesn't remember a thing. Not even Sullivan's name. I show him the album cover — nothing. I tell Jimmy about Sullivan's story — how he made this record with fellow Wrecking Crew alum Randi and Palmer; how Sullivan recorded a single for RCA and an album for the Playboy label following U.F.O.; how Sullivan mysteriously vanished in March '75 in New Mexico, never to be seen or heard from again.
Neither Jimmy nor his family had any recollection of any of this. But the moment I start playing the record Jimmy's eyes immediately light up. He was in poor health, and 41 years had passed since recording the LP, but Jimmy sat there intently, taking in every little thing, his eyes sparking up upon each change. Then he choked up. Was it hearing Palmer's sublime percussion? Sullivan's mellow vocal delivery? His own galloping bass? Something had clicked. I asked, 'Jimmy, do you remember it?' 'Of course,' he replied. 'I remembered it after the first three bars.' His memories of the time were few, but it didn't matter. We sat listening to all 10 tracks — all glorious 29 minutes. I had goosebumps the entire time.
As my obsession grew, I travel down to San Diego to meet Jim's wife Barbara and son Chris, who are as warm hearted, supportive and kind as you could ever wish for. They show me dozens of photos of Jim and articles about his disappearance. I drive to Calistoga in Northern California to meet U.F.O. Executive Producer Al Dobbs, who Andria Lisle miraculously located. Our lead: Al owned an antique store. It went under years ago but Andria worked some Columbo-style action and found a phone number. Al is another extremely enthusiastic soul, and like the Sullivan's in time becomes a good friend. Outside Napa, CA around midnight, we meet Al at a Waffle House or some late night eats place that I can't remember the name of. Al has a briefcase full of 25-pages of old contracts involving Jim's music from back in the day, along with the original album cover photo (!) and an eerie shot of Jim walking in the desert in California. Our minds are blown.
As things progressed and after more trips visiting the Sullivan's and Al in California, I knew I had to get to New Mexico in hopes of retracing Jim's last known whereabouts. Soon I am driving east with filmmakers Jennifer Maas and Mel Eslyn who decide to document the journey.
Santa Rosa, NM is a small town located two hours east of Albuquerque along Route 66. It's more like the Texas Hill Country than the vast open desert I previously envisioned. The last census reported a population of 2,744.
We pull into town and check into the La Mesa Motel. It's where Jim checked in on March 5, 1975. Like the rest of Santa Rosa, the motel looks like time stopped around 1955. The sheets look clean, though. We snap a few photos, and talk about what we know regarding Jim's first few hours in Santa Rosa. Jim left Los Angeles in his Volkswagen Bug sometime between noon and 1 p.m. on March 4. In the early morning hours of March 5, he was pulled over outside Santa Rosa for swerving. He was taken to the local police station for a sobriety test, which he passed. He was swerving from fatigue caused by the taxing 15-hour drive. Jim checked into the La Mesa Motel, but police reports later indicated that the bed in his room was not slept in, and the key was found locked inside the room. Some reports stated that the key was the lone item found in the room, while others mentioned that Jim's guitar was also found. Jim's friends and family often said that if Jim was planning to disappear, the one thing he would never leave behind was his guitar. It's one of the many things about his disappearance that don't add up.
The next stop is the ranch where Jim's car was found — the last place he was reported seen. The ranch lies southeast of Santa Rosa, about 20 miles outside of town in the middle of nowhere, and was owned by local family the Gennettis. For half an hour, we drive on a dirt road, seeing only a smattering of houses for much of that time. The temperature is well into the 90s, and the sun is bearing down. Parts of the drive are beautiful, with vibrant red rock formations followed by spots where you can see for miles.
We know that after he checked into the La Mesa, Jim stopped by the liquor store, bought some vodka, and drove around town. Somehow he ended up at this ranch. The story goes that Mrs. Gennetti saw Jim's headlights from her house and drove down with two ranch hands to see what was going on. She asked Jim if he had a problem. He replied, "No, do you?" We've also heard that he knocked on the Gennettis' door and Mrs. Gennetti answered, but she only spoke Italian and didn't understand what Jim was saying. So he walked off. When the police found Jim's car it was locked and the engine was dead. A number of things were found in the car, including Jim's wallet, guitar, clothes, reel-to-reel tapes, cassettes, silver appointment book, and a box of LP's of Jim's 1972 self-titled album on the Playboy label. The car was towed on March 8. There have been a number of rumors over the years that the Gennettis were part of the Chicago crime family.
Jim's family traveled out to join search parties looking for him, the local papers printed missing person stories, but the search proved fruitless. Around the same time, the local sheriff retired and the Genettis moved to Hawaii.
Over breakfast the next day, Jennifer picks up a copy of the Guadalupe County Communicator, Santa Rosa's local newspaper. An article about a local murder from the 1930s immediately sparks our interest. Jennifer suggests giving the newspaper a ring. An hour later, I'm on the phone with the paper's publisher, M.E. Sprengelmeyer, asking if he's familiar with Jim Sullivan, and if he has access to the paper's archives from the time of Jim's disappearance. M.E. bought the paper about a year ago, so he recommends I speak with veteran reporter Davy Delgado, a Santa Rosa native in his fourth decade as a newspaperman. M.E. is also an old hand in the newspaper business. After losing his job as the Washington D.C. correspondent for the Rocky Mountain News, M.E. moved to Santa Rosa and bought the paper. It's an inspiring story. M.E. and Davy, along with a secretary, are the only folks that work at the paper. Circulation: 2,000. Santa Rosa's population: 2,700.
We pack the car and drive down to The Communicator. M.E. kindly greets us, and soon after, Davy comes out and says hello. They are wonderful people. It's another reminder why a newspaper is such a significant part of a community. Within seconds, Davy tells us to get in our car and follow him. We have no idea where we're headed, but we dutifully obey. Three blocks, and 90 seconds later, we're standing at a local lumberyard and hardware store. Davy knocks on a side door. We wait for a few minutes, and out comes Sammy Chavez, who greets us with a smile and a handshake. Sammy was working on the roads near the Gennetti ranch the day when Jim's car was discovered by the police 35 years ago. Sammy, now in his 50s, recalled driving past the Volkswagen Bug on the way to work and thought it strange that Jim's car was sitting in the middle of the road. When he came back through hours later, all the doors were open. Police had been searching for clues, but nothing turned up. For more than two years, search parties were regularly convened by a number of agencies — the New Mexico State Police, Santa Rosa police, and a number of volunteer groups.
Next up is a visit to the archives of the Santa Rosa News — giant bound books containing decades of the newspaper. Drooling with anticipation, we find the book from 1975 and begin searching for articles about Jim. We start in early March, when he disappeared.
We find an article with the headline "Possibly Sullivan?" about authorities finding a badly decomposed body buried in a remote area eight miles west of Las Cruces. They believed it might be Jim. The man appeared to have been dead less than a month, was between the ages of 30 and 40, measured 6-feet-2 and 180 pounds, had a tattoo on his right forearm, and wore a mustache and short beard. We flip through more pages and notice the headline "Not Sullivan." Santa Rosa Police Chief Joe Eddie Martinez had gone to Las Cruces to see the body, and said that while it bore some resemblance to Jim, it wasn't him. More articles are found.
Months later and the plot certainly thickens at each and every turn. I'd need another 20,000 words to put this sucker to bed and you've got to get back to work. We did uncover further stories from a wide array of subjects — psychedelic, barbed wire toilet seats, Harry Dean Stanton enjoying Thanksgiving dinner at the Sullivan's, Texas oil money the size of Texas, the Blue Hole, Jim playing the Jose Feliciano show circa the late 60s/early '70s, and those 5-Hour Energy drinks really do the trick.
Jim's manager Robert "Buster" Ginter later stated that during the early morning hours of a long evening Jim and Buster were talking about what would you do if they had to disappear. Jim said he'd walk into the desert and never come back.
Aquarium Drunkard is powered by our patrons. Help us continue doing it by pledging your support via our Patreon page. For heads, by heads.