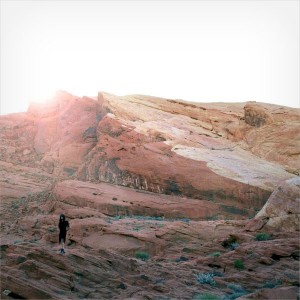 Out of all the bands that released shoegaze-influenced material in 2010 Tamaryn's The Waves can stand tall alongside influential peers like Slowdive and Mazzy Star. All three of these acts are anchored by mesmerizing, swampy vocals that not only float they add light to those reverberated sonic worlds. However, Tamaryn's emotional resonance is something different. Hope Sandoval and Rachel Goswell (of Mazzy Star and Slowdive, respectively) are known for their angelic lullabies that tip-toe around a tune where our San Franciscan jewel sings like she's luring the listener through peaks and valleys in 110 degree heat. There's a sense of distance and isolation created by the classic purveyors of the genre, and Tamaryn have that nailed down too, but The Waves also feels like an intimate, one-on-one experience.
"Choirs of Winter" and "Love Fade" both begin with rich analog tape delay and bright percussion. They allow producer and multi-instrumentalist Rex John Shelverton's guitar to frame a stage for Tamaryn's towering delivery. "Sandstone"'s introductory guitar melody is gorgeous…introduce the bass and galloping drums…even more gorgeous. As the track builds with slices of echoed chords you feel practically immobile. Tamaryn's vocals dance playfully around the guitar notes like she's christening a haunted carousel. There's no hiding the fact that these are sounds and concepts that have been tested before, but a track like "Sandstone" invigorates the genre.
Additional musical comparisons seep through the surface. "Dawning" has an energy and style that brings to mind Fleetwood Mac, mainly due to Tamaryn's ability to extend her voice and climb to specific octaves with a tone that recalls Stevie Nicks. "Coral Flower" and album closer "Mild Confusion" sound like lost outtakes from Verve's A Storm in Heaven. Both of those artists feature such a perfect pairing of guitar and vocal talent that I can't imagine hearing any other vocalist making it work. Tamaryn and Shelverton also share that musical connection that allows them to take simple ideas and turn them into gold.
At the tail end of last summer I took several trips through the desert for a few micro-vacations. The idea was to swap one heated playground for desolate scenery. It successfully provided loads of space and vast ranges of mountain and colors that only represented grays and browns — a real feeling of escape without a familiar face in sight. Tamaryn's The Waves became the perfect driving companion. It's an amazing debut that pushes even more heat upon your body, the kind that only a desert climate can muster. Here's a thought: Try leaving your oven door open long after you've finished a prepared meal. Stand right in front of it while blasting this record. Yeah, it's something like that. words/ s. mcdonald
MP3: Tamaryn :: Sandstone
MP3: Tamaryn :: Dawning
——————
____________________________________________________________________________________