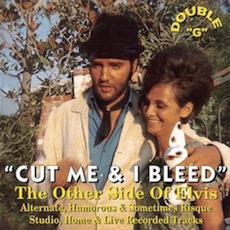 One on my favorite Elvis albums, even though it's a bootleg, is Cut Me & I Bleed released on Double G Records. The album is a collection of alternate studio, home, and live rehearsal recordings that present "another side" of Elvis. Pedestal removed, Cut Me & I Bleed chooses to present "The King" in a raw, more human, and often explicit manner, one that often eschews the family friendly image constructed by the Elvis foundation.
Of all the tracks (22 in all), the real gem of the bunch, and a personal favorite, is Presley's stripped down rendition of Percy Mayfield's "Stranger in My Own Home Town" (studio rehearsal version, July 24, 1970). I can't think of a more appropriate song for Elvis to cover at this time in his life. Set amongst friends in a rehearsal jam session, Elvis gives one of the rawest, grittiest, yet honest and soulful performances I've ever heard from him.
Riffing on the blues, we hear, "I came home with good intentions about five or six years ago, but my hometown won't accept me just don't feel welcome here no more."
What makes the song so powerful is Presley's voice, attitude, and his interaction with the other musicians. It's included in this set of songs as after Presley performs a more traditional rendition of "Stranger in My Own Home Town," he then continues the jam with a few more verses, adding a few choice words and a personal touch all his own.
I won't spoil it for you here, but Elvis fans will want to listen to this track with urgency. words/ m hayhurst
Only the good shit. Aquarium Drunkard is powered by our patrons. Keep the servers humming and help us continue doing it by pledging your support via our Patreon page.