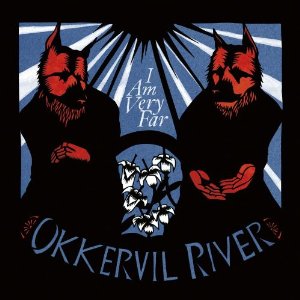 We need a myth. So insists Will Sheff on the track of the same name, and he's right. We need a myth, a narrative, something upon which to plot the flags planted in each new territory of our understanding. Some way to compare 'this' to 'that.' A way of understanding the world, even when the world seems to frustrate our understanding. "We Need a Myth," one of many high points on I Am Very Far, begins with the simultaneous strumming of forty-five nylon-stringed guitars that buzz like the praise of forty-five earthbound acoustic angels. Sheff unwinds his lyrics and the song builds upwards into the kind of shoutalong, big-time sophistipop that Sheff and his band, Okkervil River, have been making for nearly fifteen years. Only it's not the same kind of song; it's much bigger, grander, and more explosive than anything Okkervil have ever before attempted. And it's undeniably theirs.
For bibliophilic rock critics, the going myth on Okkervil River is that they're a versatile band of folk rockers as interested in character development and plot structure as they are string charts and guitar tones. Sheff's lyrics are littered with dialogue and setting and are printed in paragraph form in the liner notes; it's doubtful that any other pop writer's songbook contains so many commas. Last year, the group flexed serious muscle backing Roky Erickson on the excellent True Love Cast Out All Evil, shifting between gentle country-folk and squalls of feedback with equal aplomb. In a tidy narrative twist, Sheff was nominated for a Grammy for True Love's liner notes. So goes the myth. Okkervil River: lit-rockers.
It's tempting to declare that I Am Very Far marks Okkervil's attempts to rewrite the way their own history is told. Sheff's lyrics here lack any kind of narrative cohesion–the larger narratives about fame and its attendant problems being left to Lady Gaga–and story songs are hard to come by. When he does tell a tale, as in the first-love lullaby "Your Past Life As a Blast," he loads his scenes down with nearly impenetrable imagery; "Cash will be inside our kisses, someday, maybe, baby when I'm gold," coos the narrator to his newfound paramour. Most of the record is sung from this place somewhere south of rationalism, where words seem to derive more power from their feeling than from their meaning. They bob along beneath the record's surface, swelling and deepening the music and emerging into clarity only to deliver sharp emotional climaxes, confirming what we thought the music had been making us feel. The desperate drive of Sheff's voice and the guitars and drums and strings that converge triumphantly in the climax of "We Need a Myth" are folk music borne upwards; when the singer shouts out over the din, wondering "if all we're taught is a trick / why would this feeling persist?", the visceral tension between reservation and exaltation that's been building for four minutes crushes into light, leaving us with no choice but to agree.
Because I Am Very Far isn't bereft of narrative; its narrative is simply played out in the uneasy relationship between chaos and tranquility inherent in the music itself. On The Stage Names and The Stand-Ins, Sheff told us stories about the dark corners of fame, specific songs about specific people. He sang in clear tones. The stories told across I Am Very Far are impressions of complex human emotions–the fear of love, the desire to be okay–that have to be demonstrated, incarnated, before they can be named.
Sheff, who produced the record, paints his soundscapes with the same precise hand he's always used for his lyrics. Mossy supporting vocals are hung behind the groove like tapestries furnishing a museum wall. Serious air-raid guitars call people out of hiding. Lines of flash-pot iambs pop from Sheff and Nicole Atkins' duetting mouths over razor-burnt guitars and parade cymbals at the climax "Hanging From a Hit," perfectly rhymed and staccato, falling up stairs. That's a cassette tape being fast-forwarded and rewound in the solo of "Piratess," and that's Brian Cassidy's guitar mimicking the tape's squeals, note-perfect and nauseous.
With I Am Very Far, Okkervil River haven't escaped their myth, nor have they redefined it. They've pulled away from their erstwhile counties and are calling our attentions elsewhere. The sounds are varied, giant, polyglot, perfectly placed to tell the story they're trying to tell. And yet, they are the sounds of the same world still. words/ m garner
MP3: Okkervil River ::Wake And Be Fine
———————
_____________________________________________________________________________________