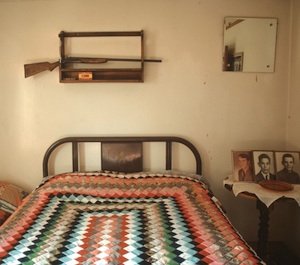 You wouldn't be wrong to categorize North Carolina's Mount Moriah as "Country Rock," but might I suggest the term "Southern" be used instead. While the songs are often set in motion by electric guitars that lead down country roads, Mount Moriah garnishes their sound with a faithful declaration of spirit. Be it Heather McEntire's sorrowful psalms, the haunting organ on "Lament" or the weeping violin on "Old Gowns," theirs is a requiem with a palpable sense of place. It's the sound of a band reflecting on, and embracing, the musical roots that entangle the region they call home.
The collaboration of Heather McEntire (Bellafea) and Jenks Miller (Horseback), Mount Moriah formed in part to explore their mutual interest in rural American music. Here, on their eponymous debut, the band has enlisted a veritable who's who of North Carolina musicians to lend their talents. From the Cook Brothers (Megafaun/Gayngs), to the Bowerbirds and Old Ceremony, Mount Moriah is something of a North Carolina "super-group."
Lyrically, one of the strongest tracks on the album is "Only Way Out." Layered upon Miller's often ethereal guitar, the subtle twang of McEntire's voice sings about love and loss; an honest portrayal, in plain terms, of a delicate love gone awry. "Love is something that will lead you, not something you can choose;" a mournful acknowledgment that will continue throughout the record.
While somber themes may set the mood, it's the instrumentation that allows you to absorb unscathed. Paired with McEntire's candid offerings, Mount Moriah provides a retreat that demands constant revisitation. Set to a Southern pace, with Southern sounds, Mount Moriah places themselves before the congregation for all to hear. words/ m hayhurst
MP3: Mount Moriah :: Only Way Out
——————
_____________________________________________________________________________________