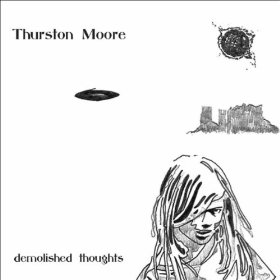 For all the legacy of Sonic Youth's noise-laden, avant-garde beginnings and the continued examination of it through their later work, founding member Thurston Moore's solo albums have always been a touch more pop leavened. 2007's Trees Outside the Academy was even downright gorgeous in many spots, taking his music in softer directions than it had previously gone. But earlier this year Moore released the Suicide Notes for Acoustic Guitar EP, a slab of sonic noise that was pure feedback and static. It seemed out of line for his recent solo work, but the title became a clue for what was to come.
Demolished Thoughts finds Moore working almost exclusively across the record with acoustic instruments and the results are some of the most beautiful work of his career, with or without his bandmates. The album is also of a piece in a way his records haven't always been. Musical themes get revisited across songs from front to back; not in ways that seem devoid of ideas, but in ways that seem to build upon one another. There's very little, if any, percussion here and the album feels akin to some of the 70's singer-songwriter focused albums by the likes of Tim Buckley. Not in sound so much as style – this is a songwriting focused record that builds an amazing mix of sounds in order to support the singing, not to overshadow it.
Credit for the album's whole-piece sound doesn't go simply to Moore in this case though. Enter Beck, an artist whose reputation as a producer is slowly building following his work on Charlotte Gainsbourg's 2010 album IRM. There's no doubt that these are Thurston Moore songs—nothing else sounds like a guitar played by him, acoustic or electric – but whether it's the prominent use of string sections on tracks like "Benediction" and "Orchard Street," or the just-into-the-red levels of the guitars on "Circulation," the production is as much a part of what makes the album work as the songs themselves.
As much as it sometimes seems like it ought to be easy to predict what a Sonic Youth related project would sound like, Moore has constantly adjusted his work in ways that project the restlessness of his writing. In the same way that his band has reinvented themselves in consistent and small, but important, ways, Moore's work continues to refine and explore the spaces it has hinted at before. This is subtle, yet grand, musical adventurism. words/ j neas
MP3: Thurston Moore :: Benediction
MP3: Thurston Moore :: Circulation
———————
_____________________________________________________________________________________