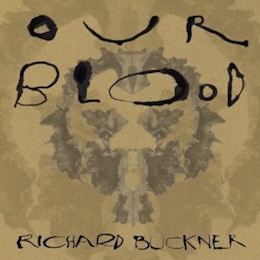 Richard Buckner always felt like an artist you had to meet half way. His songs weren't always easy, but if you made a little effort, the payoff would be generous. It'd be easier not to try, though. That's possibly why one of the best songwriters of the last 20 years has lingered in cult status. I'm not sure Our Blood will change that part of it, but it's the most effortless experience he's given listeners to date. And even in catalogue as unyieldingly consistent as his, this is possibly his finest work since Bloomed.
The Buckner voice is there, as ever. And, as ever, it's the thing you're drawn to first, and last. It breathes countless states of being into his songs–fragility, resignation, hope, confusion, love. But there's a confidence to his delivery that brings the words to us more forcefully than before. It isn't bravado or even a decent self-esteem, though. It's the confidence of urgency, of immediate need–when you've neither time nor concern enough to deal with uncertainty. There's a desire, absent of panic, to close in on something remote, to people and feelings and answers to questions that lead to more questions.
"How'd you know where to go and when to stop to look ahead?," he asks in "Escape." "No one's ending up with what they thought they'd figured out."
In Buckner fashion, he routinely finishes lines at the start of the following verse, sometimes full moments later. The result is multi-pronged string of logic, where depending how you choose to turn his phrases, the words can mean different things. Like a picture drawn just so that at fist glance it looks like one thing, but a second look shows it's something else. All the while it's both.
A blend of old keys and an organ, notably on "Traitor" and "Thief," drive his persistence throughout. Electronics twinkle here and there, adding an ethereal sparkle over guitars, acoustic and electric alike. The blend certainly isn't lavish or orchestral, but it's full enough–as full as music can be allowed around Buckner's voice. Its rich texture softens, or possibly brightens, the mood for an artist whose contemplative nature previously could hint of despair if you weren't careful; that is, if you didn't try to see it otherwise, if you didn't meet him half way. This time, you don't have to. words/ j crosby
Related: Richard Buckner :: The AD Interview
MP3: Richard Buckner :: Witness
MP3: Richard Buckner :: Escape
____________________________________________________________________________________