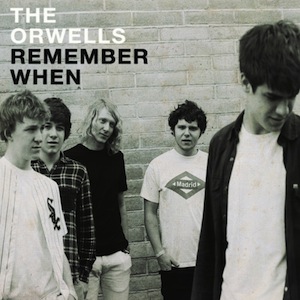 You almost don't want to believe it, it seems so perfect. Five kids from suburban Chicago, wrapped in scuffed-up jeans, writing punk songs about going to the mall, dedicating their work to the girls who work at the go-kart stand, right-out rejecting the Winnie Coopers and the soccer practice and the daytime trips to Steak and Shake. You have to tell yourself: we've heard this before. It's a story as old as rock 'n' roll, or as old as the suburbs themselves, which is the same thing. Give your gym coach the middle finger, choke the neck of your guitar: make rock 'n roll music. How many more garage bands do we need? Can we still squeeze the last drops of teenage angst from that old tapestry?
Yes, we apparently can. Or, actually, Elmhurt, IL, teenagers The Orwells can, and do, unleashing a torrent on Remember When, their full-length debut. The album drips with basement sweat and suburban anxiety, shoving past hallway traffic and into teenage liberation, full of the same cocksure swagger that powers fellow Chicagolanders Smith Westerns. But where that group's debut broke away from its lo-fi rumble into pouty glam, The Orwells double down. They're not breakneck enough to be the Sex Pistols, but just as that group scrambled early rock structures, they perform the double irony of playing like they're covering the Stones covering someone else: indifference on top of naive devotion that seems less and less naive as the record plays out.
Put differently, The Orwells know what they're doing. Like anyone else who's grown up with Internet access, the Orwells are savvy to the past sixty years of music history, and Remember When often sounds like it was recorded with both eyes fixed on the spot where the road forks into the twin paths of burning out and fading away. For much of the record, the group are content to pummel away. They punch back and forth like Jagger sashaying someone off his cloud in "In My Bed." "Mallrats (La La La)" is perfect pop-punk, right down to its three-minute run time.
But then, resting uneasily in the middle of Remember When's back half is "Never Ever," built on one of those great Pavement-gone-serious riffs and singer Mario Cuomo's slowly peeling wail. "We've got this fear of aging," he sings, "We're living in a daydream…Tell me what we're chasing." The steady draw of the guitars chokes off the vigor that defines the album's earlier tracks, but the pallor it lends the final three tracks makes it more compelling; "Like No One Else," which follows, is scuffed-up jangle pop, and though they group-sing "My old baby's got me down / She don't like it in this town," it suddenly feels like a genuine bummer, the way people grow apart. The production, too, is suddenly clearer, and Cuomo's vocals seem more focused, unflinching as he spells out "Midnight / Twelve-oh-oh and the children die" in "Ancient Egypt." Once you know the truth, it's hard to go back; it's even harder when you're the one revealing it.
As the record spins again, "Never Ever'"s melancholy works its way out of nearly every track. It's not that rocking becomes impossible—the groove in opener "Lays at Rest" stays so wide open you could camp in it—but when you cut against your own young-man's-game, it can't help but seem like a mask. Suddenly, the slow-burning "Halloween All Year" sounds like a mid-century prom anthem as peered at backwards through sixty years of disappointed expectations. This is a story that's been told a thousand times, too, admittedly, and it's more or less what Drive-By Truckers' Mike Cooley was singing about when he warned us that "rock 'n' roll means well, but it can't help telling young boys lies." Knowing that, wigging out to the sounds of nervous teenagers seems like a kinda foolish thing to do. And yet, when the kids are this good, you do it again anyway. words/ m garner
MP3: The Orwells :: In My Bed
MP3: The Orwells :: Under The Flowers
Purchase: Vinyl / CD / Digital