(Sevens, a recurring feature on Aquarium Drunkard, pays tribute to the art of the individual song.)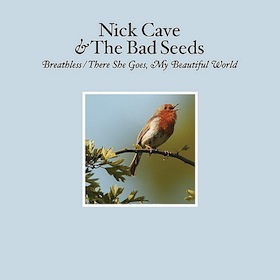 There is no taxiing towards the sky here. It begins with the click of landing gear retracting, then accelerates immediately into a litany of wildflowers and trees: "The wintergreen, the juniper/The cornflower and the chicory."
They teach you in creative writing programs not to write about writing, because writing about writing, and writing about writer's block especially, is inherently boring, the acme of navel-gazing. (Here's holding out hope for writing about writing about writer's block.) But Nick Cave didn't go to creative writing school, which explains away some of his bad habits. "There She Goes, My Beautiful World," from 2004's Abattoir Blues, is an enacted demand for inspiration badgered up from Cave to his muse. That handful of plants he tosses out at the song's beginning, along with a slight compliment ("All the words you said to me/Still vibrating in the air") form faint praise, masking the tantrum of desire and ambition that is to come. The Bad Seeds, accordingly, sit back through the first verse, staying in the pocket but playing like they think they might be able to talk their way out of it. Warren Ellis coaxes a few dour notes out of his violin just as this thing begins to putter upwards, just enough of a counterpoint to let you know that this trip will not be without its tragedies.
Cave is typically at his best when he's at his loosest. Picture him jive-walking through his library, as he seems to do in "We Call Upon the Author,"  from Dig, Lazarus, Dig!!!, tossing out his opinions on the volumes therein. But hear him here strangle out the names of his artistic heretofores: Nabokov, St. John of the Cross, Johnny Thunders. Leaving aside that this is a hall of hagiography only Cave could curate, it's strange and thrilling to hear him moan about the various ailings–some self-imposed, some not–that could have kept them from their art, the unspoken implication that he himself has nothing, is nothing, himself.
Flummoxed, crosseyed and frustrated, he and the Seeds explode into a massive chorus. It's not clear whose beautiful world we're talking about here, or, for that matter, where it's going. Is he extolling the world as it is–look at my baby, there she goes–or is he lamenting it as it spins out of control? Every time the chorus comes back, the answer seems to have shifted.
What's sure is that we're shooting for the sky here. "Send that stuff on down to me!"  Cave demands, "Send that stuff on down to me!"  The song keeps pushing itself upwards: chorus bested by post-chorus, bested by another post-chorus, augmented and punctuated by gospel choir. Amazingly, against all odds, the Bad Seeds keep things between the lines. They scribble furiously, though, guitars and violin merging in a babbling tower of sound. In the frenzy, Cave's full ambition begins to slip out: "Give me everlasting life!"
And then they all begin to power down, and things begin to get truly complicated. Cave seems to give himself over to the drudge of work ("If you've got a field that won't yield, well, get up and hoe it"), demolishing the myth of inspiration. He cuts against his own petitions, dismisses the muse from her duties. But the song has its own logic by now, its own momentum, and the chorus has to come back again; as though suffused with and overwhelmed by the song's natural realization and the unnamed hand that guides it, he flips and begs for anything, for the pleasure of peeling grapes to feed it. The band come unleashed, swollen with the song's gathered power, and Cave's voice, backed by the choir, sounds like it's come unclenched. That beautiful world–there she goes–is the song itself.
Maybe. "There She Goes, My Beautiful World"  is its own fertile field, ready to be hoed and plowed and plunged into. It never really seems to settle into any one answer, it never quite articulates the space between the work and the inspiration that enriches that work. But there's something about the fact of everyone, all of those voices chanting the same thing at the song's end, like a hail of desperate prayers. And then that ending, the way that the whole turbulent song settles down in a shimmer of tambourine and resolution. It's never quite clear how much of the song is built up and how much of it has come down, whether the two ever meet in the air. But there is, eventually, no crash. words/ m garner