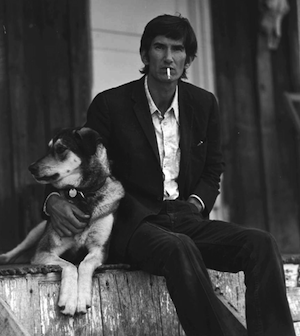 There's a collection of unreleased Townes Van Zandt recordings from 1971-72 coming out in a few weeks. I haven't heard a note of it, but I'm going to go out on a limb and call it one of the best releases of 2013. The years 1968-1973 were Van Zandt's peak period, with classics pouring out of him at an astonishing rate. The albums he released during that time — Our Mother the Mountain, Townes Van Zandt, Delta Momma Blues, High, Low and in Between, and The Late Great Townes Van Zandt — contain the tunes that made Townes one of the greatest American songwriters of the 20th century. But the albums themselves are a famously mixed bag, with overblown production often obscuring Townes' brilliance. That's why recordings like this one, made at the University of Minnesota's Whole Coffeehouse in late 1973, are essential listening.
With nothing but an acoustic guitar for accompaniment, Van Zandt plays a marvelous, hour-long set to what sounds like a crowd of 40 lucky human beings. For a guy whose battles with the bottle were legendary (and made for an unpredictable onstage career), his focus is laser sharp here, every syllable perfectly placed, every fingerpicked guitar line cutting to the quick. With a profoundly sorrowful "Tecumseh Valley," the unbelievably bleak "Nothing," and his enigmatic, bottomless "Pancho and Lefty," the mood is dark, world-weary. Townes attempts to lighten the mood with a satirical talking blues but even that is a little harrowing, and the traditional "Molly and Tenbrooks" is perky musically, but it's still about the gruesome death of a racehorse. The guy couldn't resist a sad song. words/ t wilcox
Download: Townes Van Zandt :: Live – Minneapolis, MN, 1973
1. Radio Intro 2. I'll Meet You In The Morning 3. Hobo Bill 4. Where I Lead Me 5. Broke Down Engine Blues 6. For The Sake Of The Song 7. Nothing 8. Molly and Tenbrooks 9. Talking Thunderbird Blues 10. Pancho and Lefty 11. Mr Mudd and Mr Gold 12. Tecumseh Valley 13. The Ballad of Ira Hayes 14. (Quicksilver Daydreams Of) Maria 15. Tying Ten Knots In The Devil's Tail
For heads, by heads. Aquarium Drunkard is powered by our patrons. Keep the servers humming and help us continue doing it by pledging your support via our Patreon page.