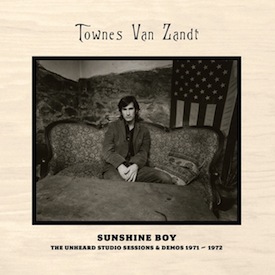 Though he made plenty of them over his career, Townes Van Zandt was not particularly interested in studio recordings. He was a songwriter first and foremost, a performer second, and a record-maker a distant third, preferring to let producers and session men do the heavy lifting when it came to laying down his songs on tape. While this might have worked for some — Bob Dylan created great art out of a kind of anti-record making — well, there's a reason that the most beloved Van Zandt album is a solo live LP. Townes' classic era studio albums aren't complete disasters — how could they be with those songs? — but they're certainly not the masterpieces they should be.
Sunshine Boy, made up of previously unknown tapes, doesn't entirely rewrite history, but it does offer an alternate, generally preferable view of Van Zandt in the studio in the early 70s, when perfect songs were pouring out of him like water from a tap. Not to say everything here is stripped down: dig the country funk title track, with its lashing wah guitar, or the Memphis soul horns on "Where I Lead Me." Interesting detours, to be sure. But the real highlights of the collection come when Van Zandt is backed by either the sparest of instrumentation, or is simply left alone to accompany himself on guitar, as he is on much of the second disc. The brutal "Diamond Heel Blues" further shows that the songwriter had as much of an affinity for Robert Johnson as he did for Hank Williams. His brilliant cover of the Rolling Stones' sardonic "Dead Flowers" re-imagines the tune as a bittersweet lament. The solo, impeccably rendered "Tower Song" gives this stunning composition its proper due. And "Pancho & Lefty," Van Zandt's masterwork, is finally stripped of those pesky mariachi horns. Sunshine Boy may not supplant Live At The Old Quarter as the man's great statement, but it comes close. And that's a breathtaking thing. words/ t wilcox
For heads, by heads. Aquarium Drunkard is powered by our patrons. Keep the servers humming and help us continue doing it by pledging your support via our Patreon page.