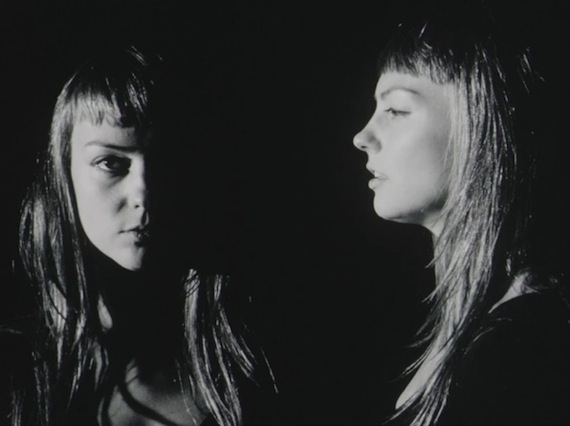 Like the Biblical angel, the Siren of Greek Mythology is often portrayed as a winged human with an arresting voice. The former might use the gift of song to guide a weary traveler through a harrowing pass towards the Promised Land; the latter, to wreck a sailing ship straight into the jagged rocks guarding the shoreline. When Angel Olsen sings, she straddles the line between shimmering beacon and dark temptress. Will Oldham remarked in an interview that a part she sang on "Time to Be Clear" from Wolfroy Goes To Town raised "a mixture of apprehension and satisfaction at the same time."
Oldham took the Chicago-based chanteuse on tour with him back in 2010, enlisting her talents in both his backing band and the opener, the Babblers, a punk rock tribute to Kevin Coyne and Dagmar Kraus' 1979 album, Babble. The following year, Olsen lent her voice and her instrumental prowess to the aforementioned Wolfroy album. 2011 also saw Olsen release her first solo record, Strange Cacti, via Asheville NC's Bathetic Records. It's a peculiar and rewarding batch of songs that invokes the black and white Kansas of Judy's Garland's Dorothy.
Auarium Drunkard recently caught up with Olsen via the World Wide Web. It came as no surprise that when prompted with questions about ideal touring partners and favorite records  she mentioned Francoise Hardy and Candi Staton. Not only does she strike a resemblance to the former, especially on the cover of "Comment Te Dire Adieu", Olsen feels the touch of both of those luminaries on her second LP,  Half Way Home, released by Bathetic last year to much acclaim. Listening to that record, one might also hear the influence of Nick Drake or  In My Own Time-era Karen Dalton. But it's all Olsen when it boils down to it.   As for the Angel-Siren debate: following her singing might cause you to crash a time or two, but it'll lead to salvation in the end.
Our conversation after the jump. . .

Aquarium Drunkard: So I read that you like eating sandwiches in the morning. What's your favorite?
Angel Olsen: That was a lie, though I think it appropriately explains a lot about me. I do love a good turkey avocado situation on rye.
AD: I also read that Angel Olsen…trips. Are you clumsy or do you enjoy vision quests?
Angel Olsen: I am clumsy at times, and vision questing at other times. It may be difficult to decide which is which. Give me a few years, I'll report back.
AD: Your first name does not belie your voice. When and where did you learn to sing?
Angel Olsen: My name was given to me. I forget sometimes what it means–probably nothing at this point. I learned to sing from listening to recordings at home growing up in St. Louis. Of course I sang in choir and stuff like that, but I never broke out in a full on solo or anything.
AD: Half Way Home has received glowing praise. Does that put pressure on you as a songwriter and a performer or does it just add fuel to the tank?
Angel Olsen: I think it came as quite a surprise that anyone cared. I think that it sounds very different than my first recording, and you know..much much cleaner. I'd say it's something I did that I'm happy with and though I continue to play these songs, I'm writing about other things now and moving on from this period.
AD: It's definitely more "produced" than Strange Cacti, though the rough-hewn passion of your debut carries over. What drove the decision to ramp up production the second time around? Were you ever worried it would take away from the songs?
Angel Olsen: I don't think that it was over-produced, rather that it was revealing me, revealing my words, revealing my mistakes even. I think these songs deserved a higher quality. I wanted to make things clear, and to have more music involved in my singing this time around.
AD: Tell me about these videos for Half Way Home's "Tiniest Seed" and your new song, "Sweet Dreams."
Angel Olsen: Randy S. Hunter is an old friend and shot the music film for "Tiniest Lights" not long after Strange Cacti was out. During the summer, awaiting Half Way Home's release, I would get together with Randy and also our friend Zia Anger to talk about film and ideas. I was working on a number of things and Zia asked me to narrate her unreleased film Always All Ways, Anne Marie. We found a synchronicity between the subject of her film and also the record I was to release-so we played around with the idea of using one or two of my songs, when the time came for release.
As Randy was preparing to depart for Austria they approached me about doing something–a a 16mm for "Tiniest Seed." During the fall, after tour, I went to Zia's and Ashley Connor, Zia and myself worked on it with instructions from Randy about timing and lighting and so on.
"Sweet Dreams" was less involved and more about running freely and creating vibes. We asked Zia's girlfriends to be involved, and they were excellent, all of them, they WERE the vibes!     We shot both in two days.
AD: Sweet Dreams" is from your new Sleepwalker 7," which came out via the Japanese Label, Sixteen Tambourines. It's certainly the most upbeat fare you've ever recorded. Do you see your music moving in the direction of "Sweet Dreams" or did you just feel shaking a leg this time around?
Angel Olsen: I think my form; my writing is bound to change in a lot of ways. I'm working with a band for/with my music now and it's allowing so much to change within even my quiet, less upbeat stuff.  I'm not sure where it's going, if it's going to be all fuzzed out guitar stuff from here on out…but I enjoy doing different things–keeping an open mind about music making.
AD: You grew up in St. Louis. Was the City Museum around while you lived there?  I've always been told to visit that place. What caused the move to Chicago?
Angel Olsen: THE CITY MUSEUM IS THE BEST PLACE EVER. I wish they had performances there, it would rule so hard.
I was 19 when I moved to Chicago. A lot of my friends were leaving and going to New York or going to Michigan or wherever for school. People were departing and the music scene (or what I knew of it) wasn't really welcoming at the time. I heard great things about Chicago and met a lot of musicians before my move. I think it was one of the best decisions I've ever made.   And you know St. Louis is still where I'm from, and I guess I just needed to step away from it to really appreciate it.
AD: Your principal label, Bathetic Records, and your management, Minimize / Maximize, is based in Asheville, NC. What's your connection to that fine city?
Angele Olsen: Jon Hency/Bathetic used to live in Chicago. I met him briefly before he moved and we stayed in touch, of course. Music. Talking. Talking about music. Exchanging. He and Mark Capon-who is Minimize/Maximize – joined me during my November tour along the east coast. We ended the trip in Asheville. (By then we were flatulating and eating sandwiches and smelling each other's situations quite a bit.)   Asheville reminds me of home. It's a special place for sure.
AD: I saw that you are scheduled to play some shows with Water Liars and that a full tour is in the works with Villages. Both are great acts. You've gotta be pretty excited about that? Villages is a label mate. How did the pairing with Water Liars work out?
Angel Olsen: Justin of Water Liars contacted me to do a few shows and we'd been acquainted through mutual friends for a while. It's awesome to be touring with the Bathetic family (Villages). I'm looking forward to many SICK vibes.
AD: The first time I saw you perform was at the 40 Watt in Athens, Ga in 2010.  But you weren't Angel Olsen, you were Angela Babbler, rocking out in adult-sized, head-to-toe pajamas, touring with Will Oldham. How has his approach to touring and to music in general affected yours? I'm in the middle of reading his interviews with Alan Licht, and I'll admit that it's hard not to get caught up in his point of view.
Angel Olsen: Babbler jams and jammers were and are still amazing. I'd suggest getting a pair. You can order them on Skymall. I believe that's where all the answers to the universe lie. I mean, if you're on a plane, it's life or death you know? Skymall is there for you.
It was incredibly challenging and fun and amazing to work with Bonnie "Prince" Billy and The Cairo Gang. Psyched and blessed that it took place in my life. I couldn't even begin to tell you. You had to be there.   I think my approach is definitely different. I can't say how, but it probably is and for several reasons. However, I personally feel that I've learned a lot from travelling and performing with that group.
AD: If you could duet with any living person, who would it be?
Angel Olsen: Oh man. It's difficult to say… probably a legend, for sure, for sure. Definitely has to be a woman…Probably someone who still eats sandwiches. Maybe would split one with me? Perhaps…in the morning?
AD: Pick three records; one for the morning, one for the afternoon and one for after dark.
Angel Olsen: Morning jams: The Chi-Lites – Greatest Hits   // Mid-day jams: Candi Staton – I'm Just a Prisoner   // Evening Jams: Everly Brothers – All They Had To Do Was Dream. words/ j steele