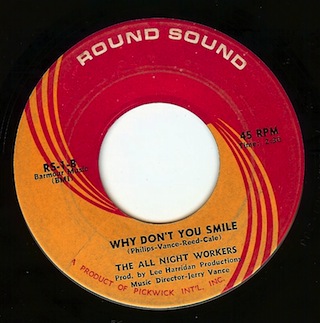 A blueprint for the nascent VU.
In the early 1960s,  just prior to the formation of the Velvet Underground, Lou Reed worked as a staff writer for the rip-off, cash-in label Pickwick Records. Concerning his time spent with the label, Lou himself was quoted as saying "There were four of us locked into a room and they would say, 'write ten California songs, ten Detroit songs'. These releases would largely head straight to the bargain bins with titles intentionally designed to confuse the buying public. In 1964 Pickwick thought they had a hit with Reed's bizarre song "The Ostrich", which was cut under the guise of "The Primitives" with Lou acting as lead vocalist. Of course it went nowhere, as a dance imploring participants to step on others heads wasn't going land radio or discotheque plays. (a shame, no?)
Far more interesting and indicative of the common Velvet Underground sound (i.e. the big drone) is found on 'Why Don't You Smile Now" – the first ever songwriting collaboration between Lou Reed and John Cale. I first heard the track as recorded by Spiritualized in the early '90's while working in an indie record shop, devouring as much music as my sixteen year old head could take. As a precocious kid who read every scrap of info on liner notes and beyond, I was perplexed by this Reed/Cale credit on an amazing song I'd never come across before, even on the few Velvet Underground bootlegs I had at the time. It wasn't until several years later that I heard the original via a 5th generation or so cassette that I'd   scored from a trade.
As for The All Night Workers, they were a working band based out of Syracuse, NY – which just so happens to be home to the university Reed attended. The group were an excellent choice to cut the track, doing it up in a fabulous faux Righteous Brothers kind of way. But listen a bit deeper and you'll detect the characteristic Velvets drone achieved through electric guitar feedback and electric viola single-bowed-notes, courtesy of Mr Cale.
At the same time as this record was recorded and released (summer, 1965), Lou Reed, John Cale, Sterling Morrison and percussionist Angus MacLise were holed up in New York City recording the first VU demos (as heard on the Peel Slowly & See box set). Reed and Cale soon left Pickwick for good. words / d see
Aquarium Drunkard is powered by our patrons. Help us continue doing it by pledging your support via our Patreon page.