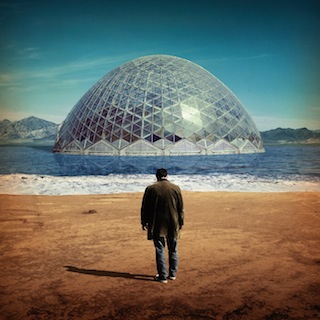 For most of his career, Damien Jurado's records have been low key, sturdy things. There were stylistic outliers, sure — the crashing indie rock of 2002's I Break Chairs and the minimal electronics of songs like "Big Decision" from 2005's On My Way to Absence — but for a good, long stretch, Jurado albums were demure, subdued things. They were good, often great, but in 2010 Jurado teamed with songwriter/producer/mage Richard Swift for Saint Bartlett. Something changed. Suddenly there were flashes of dreamy pop, of mystic rock & roll. Things got even freakier with 2012's Maraqopa, incorporating loping psychedelia.
Which brings us to Brothers and Sisters of the Eternal Son, recently released by Jurado's longtime label, Secretly Canadian. Every freaky tendency Jurado and Swift have hinted at with their collaborations blooms fully here. It's gorgeous, a maximalist statement, re-imagining Larry "The Father of Christian Rock" Norman's Only Visiting This Planet as a late night caller to Coast to Coast AM. At times the record sounds like a Beach Boys LP recorded with Lee "Scratch" Perry or a lost document by Crosby, Stills, Nash, Morricone, and Fay. It feels like the kind of record Jim Sullivan would record as the follow-up to UFO were he ever to reappear from wherever he vanished to.
Picking up where the lore detailed by Maraqopa left off (there is, fittingly, a song called "Return to Maraqopa") the album features a wide cast: Silvers Timothy, Donna, Malcolm, Katherine, and Joy. These characters are searchers, mystics awaiting the return of Christ. Like the book of Ezekiel, it would appear extraterrestrials are involved. Jurado's faith has always been one of the blocks on which he built his stories, but here he replaces the familiar — cheating spouses, hungry dogs, brothers weighed down by mental illness — with the fantastic and cosmic. "Keep a close eye for the ship in the sky, resurrection-size, do the numbers align," he ponders in "Metallic Cloud," recalling the Flaming Lips at their most soulful, with Swift's trademark background vocals swelling in the background. "Silver Donna" is deeply and powerfully funky, and closer "Suns in Our Mind" is vibrant and ecstatic, a galaxy removed from the austere folk of his past and the deepest into the void his "Space Age Mom" has ever drifted. Occasionally, Jurado harkens back to the bare folk he made his name with, like on the stunning "Silver Joy," but even then the album feels like it was recorded somewhere between a dream and waking light.
Swift makes for Jurado's strongest collaborator. The duo's work together is freewheeling, embracing the same spirit that made their Other People's Songs EP — featuring interpretations of songs by Yes, John Denver, Kraftwerk, Chubby Checker, and others — so compelling. The Latin rhythms, the noodling guitars, the endless echo; Swift brings his bag of tricks to Jurado's songs, shading and coloring his words, but never overshadowing them. Swift and Jurado have made great records together, but this is their best.
As a bonus, the album is available with a bonus set of recordings, Sisters. It recontexualizes key songs from Brothers and Sisters, rebuilding them with sparser materials: Jurado's voice, acoustic guitar, the accompaniment of a choir, the Sisters of the Eternal Son, and the echo of the Freemond Abbey in Seattle, Washington. The recordings don't feel like merely supplemental material. There's a palpable magic carried over from the proper album, a magic that seems to have taken hold of Jurado. 17 years after his debut, Waters Ave. S, Jurado sounds more enchanting — and more enchanted — than he ever has.
words/ j woodbury
Damien Jurado :: Silver Timothy
Related: Richard Swift & Damien Jurado :: Other People's Songs Volume One