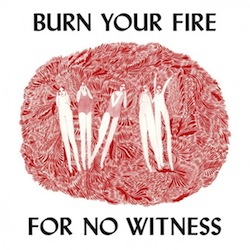 Last January,  Angel Olsen  released the  Sleepwalker  7" on Japanese label Sixteen Tambourines. That single's A Side, "Sweet Dreams," was three minutes of moldy basement rock 'n roll replete with distorted guitar vamps and Angels' passionate yowl. The track cut a decidedly different path than the pastoral leanings of her previous releases. When asked if it indicated a new direction for her musically, Angel seemed uncertain. "I'm not sure where it's going," she answered. "[Or] if it's going to be all fuzzed out guitar stuff from here on out…but I enjoy doing different things—keeping an open mind about music making."
Olsen's penchant for musical exploration is one of the primary reasons  Burn Your Fire For No Witness  is such a big step forward. Alongside veteran producer John Congleton and a new band featuring Joshua Jaeger (Drums) and Stewart Bronaugh (Bass & Guitar), Angel confidently pushes her sound further into uncharted waters.   "Forgiven/Forgotten" delivers a defiant declaration of love upon a pedestal of noisy guitars and driving drums. "Hi-Five" and "High And Wild" are chock full of beer-swilling, big hair honky tonk brilliance, with Olsen and her band channeling a vibe similar to  After the Gold Rush-era Crazy Horse. "Lights Out" is an eerie roadhouse slow dance; sublime phaser and neon reflecting off the disco ball.
None of this sounds out of place. Both Jaeger and Bronaugh prove to be believable players; able to extract the visceral tones of  Half Way Home  and more. Congleton skillfully accompanies Olsen down these paths of discovery; helping her find a stronger dose of catharsis than was available in the pharmacy of the first two records. "Dance Slow Decades" is practically a controlled substance. Listen and breathe the smoke from the blanket in Jaeger's kick drum. Taste the metal throbbing off of Bronaugh's bass strings. Feel the arm hair shudder with each wave of shimmering guitar.    The album is busting with these episodes of therapeutic expanse. Congleton is capable of opening capillaries that were before unknown.
That being said, Angel demonstrates on album opener "Unfucktheworld" that all she really needs is a guitar and her vocal chords to make the rain fall. "Hey," she's saying, "I'm gonna try some stuff, but don't forget that I can do this on my own." "White Fire" observes Olsen singing alone in a coil of electric guitars, a despondency in her subdued vocals. "Enemy" brims with self-doubt, her at-times otherworldly voice tethered by the human experience. In the face of the sweeping moments over the course of Burn Your Fire, this isolated vulnerability also allows Angel's emotion to resonate deep within the marrow of the listener's bones.
Olsen walks the line between defiance and despair throughout the album. "I lost my dream I lost my reason once again," she cries on "Unfucktheworld," only to later admonish in a brief moment of clarity that "I am the only one now." "Hi-Five" drunkenly congratulates loneliness, while "Stars" sees Olsen choking with anger over her lover's disrespect.  Eventually she finds closure. "What's so wrong with the light?" Olsen wonders on "Windows," a question she has pondered since  Half Way Home,  when she asked, "how will we ever know the light inside ourselves?" That was an inner peace; "bright, clear." It signified hope on  Strange Cacti, and here it takes on various meanings for Olsen, such as the reassurance in knowing she has "one good thought strong in [her] mind." It's the white fire of youth and the sunshine illuminating the "dark and narrow path." Perhaps it's the glow from her own funeral pyre. Maybe Angel has spurned her own advice and is fact burning her fire for all to see. Now here she stands a Phoenix; cast out of the shadows more powerful than ever, ready for whatever direction life decides to pull her next. words /  j steele
Angel Olsen :: Dance Slow Decades
Previously: Catching Up With Angel Olsen :: The AD Interview