The Black Swans' Jerry DeCicca returns to AD, this time looking back at Richard Buckner's debut long-player, Bloomed. Originally released in 1994, the remastered album was reissued earlier this month via Merge Records, also marking its first appearance on vinyl. DeCicca, in his own words, below, including his conversation with Buckner, after the jump. – AD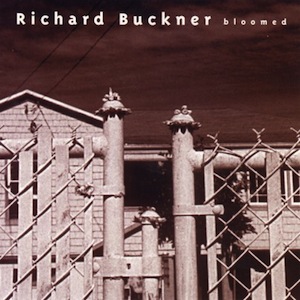 When I was 15, I bought a fake ID from a guy named Spike. It said my name was Thomas Buchanan because I wanted to sound tough. I didn't smile in the picture. Its out-of-state-ness got me into Ohio clubs all the way to legal. I remember the last time a door guy called me "Tom" because it was the first time I saw Richard Buckner. A few weeks later, I saw Townes Van Zandt. It was a heavy summer.
Buckner's first record, Bloomed, had just been released, but I hadn't heard it yet. Back then, I'd go see anyone that wrote their own songs and lived somewhere I didn't. Buckner was compelling on stage, his voice pretty and slurred, and I loved the way he made his acoustic guitar rattle. He talked a lot about his songs in a way I haven't heard him do since. "Surprise, AZ": inspired by a newspaper article about a mother and son that died in a car accident and their bodies were driven back home in boxes beside one another and this song was their imagined conversation. The other stories I don't recall.
Within the next year I became a superfan, obsessed, and found ways to travel to see him wherever I could. Often times he was opening: Son Volt, Freakwater, Alejandro Escovedo, Kelly Willis. With each album, Buckner made everyone else that was doing what I wanted to do someday sound boring. Greg Brown once wrote a song called "Mose Allison Played Here" about a shithole club in Albuquerque. The last gig there, before it shut down, was The Dirty Three and Calexico. Afterwards, while people were trying to set fire to the walls, I bugged Joey Burns about Buckner. He sat me down in his rented Cadillac and we listened to a rough mix on cassette of Since (RB's third album) that he then gave to me because he's a nice person and I was a drunk kid that was annoying him because I couldn't wait for its release.
Bloomed was originally released in 1995 by Dejadisc, a Texas label that housed other songwriters that believed in albums as art: Ray Wylie Hubbard, Michael Hall (now one of the best music writers in the country), Elliott Murphy, and others. It was produced by Lloyd Maines, a phenomenal pedal steel and guitar player that made Joe Ely and Terry Allen hum, among others. If you haven't heard Bloomed, Merge is giving you another chance with bonus tracks (demos, live cuts), a greatly improved mastering from the other time it was reissued, and the album's first vinyl edition.
Richard Buckner isn't just my favorite guitar/words maker of the last 20 years, he's my favorite record maker. All his albums, beginning with Bloomed, widen with listens and time. Buckner has never once tried to nudge commercialism or follow a trend. He creates his own world, uncompromising, creating within his means, and pushing boundaries of how we think about sound and song. He also avoids the silly and gross compass that guides most musicians: genre. He's about the trip, not the destination. And everyone I've ever met that loves his music feels the same way.
This reissue has given me the opportunity to ask Richard some questions–things I wanted to know from a long time ago, things I thought then that may or may not be true. As usual, he knows better than to tell you too much. Our conversation, after the jump…

AD:  The first time I heard your music was when you were on your first cross-country (self-booked?) tour supporting  Bloomed. I remember several things. You played two long sets, you played harmonica and you talked a lot between songs, explaining the stories behind them. I can still recall your introduction to "Surprise, AZ".  I don't think I've heard you play harmonica or talk that much on stage since. Is my memory correct? What do you remember about that tour?
Richard Buckner: I don't remember trying a harmonica out in front of people.  I've attempted it at home but the harp-holder contraption gets caught in my hair or I bang my teeth on the instrument or I run out of breath. It may've happened, though. Stranger things have. Most recollections go immediately to my default setting: "abyss of shame".
AD: The second time I saw you play, you were touring with Son Volt when  Trace  was first released. I remember you played "Emma" but not the other songs on this reissue. How many songs did you originally record for  Bloomed?
Richard Buckner:  I recorded just the twelve that appear on the original release.   It's as much as we could do in the 4 days that I was in Lubbock for the session.   "Emma" was finished after the other songs on  Bloomed  were written, but before the next batch of songs started gestating, so it fell between the cracks. It appeared on the re-issue because it seemed, stylistically, to live better in that grouping as a well-meaning step-child.
AD: Lloyd Maines produced and played on  Bloomed. The other players include Ponty Bone and Butch Hancock. That's quite a few Texas legends right there, some of the heavies that defined Austin. Is  Bloomed  the record you wanted to make at that time?
Richard Buckner:  I didn't have a vision for the sound of  Bloomed. At that point, the songs had been played for years in various incarnations. I didn't have a real plan at all. I had heard about Lloyd from other musicians he'd worked with.   I felt lucky when he decided to work with me.   After I got to Lubbock and put the guitar & vocal live performances on tape, the only ideas I had were for a trilling mandolin somewhere and a percussion suggestion.  I left the rest in Lloyd's hands.  I'm glad I did. Plus, he allowed me access to a talented gang of musicians. Lloyd made the record I didn't know I wanted to make.
AD: After the gig with Son Volt that night, the 21 year old version of me asked you two questions: are you making the next record with Lloyd Maines and what's your favorite new record? In a ten second burst with a smile, you told me you wanted to get away from the Austin scene and you told me how much you loved the first Sparklehorse record. This was the peak of the alt-country, No Depression scene. It seemed you were chasing something very different than most musicians in that world. What do you remember about that time period?
Richard Buckner: The songs on Bloomed began as an acoustic set I played as a street musician in San Francisco. Though I played the songs later with a full band, the Lubbock session represents them as I'd originally heard them.   I would have more specific ideas about sonics and musicians as I was writing the songs that would appear on the next few albums.   JD Foster was instrumental in helping me navigate that path.   We made a lot of my next record in Austin, Lloyd included, so I don't think I was necessarily trying to escape an Austin scene, because I wasn't a part of one, as much as trying to escape a manufactured genre scene.
AD: Bloomed  always reminded me of poets like Robert Browning, where you hear just one side of a conversation. The one thing all your records seem to have in common is they sound like someone more concerned with sound and language and emotions than the traditional song craft that usually bogs down the man-and-guitar combo. Is that accurate?
Richard Buckner:  Stories can appear linear, but we don't recognize them that way as the individual moments are happening. They live on a jagged, evanescent turf. I think that sound, language and emotion manipulate these moments and place them into a certain frame, allowing them to grow particular personalities. In this way, the same collection of words and melodies, recorded any number of times, could mean something completely different depending on how they're dressed and released back into the chaos. All meaning can shift with a slight mood swing or a bad phone call. Live, they change nightly. Also, "craft" is one of the words I've X-Acto-knifed out of my dictionaries, along with "forgiveness" and "justice".
AD: When you first started touring, I went to all your gigs in the Midwest. Then, once I got a band together, I opened for you quite a bit. Now, I'm interviewing you. Do you think I might be the first Buckner-head?
Richard Buckner:  I wouldn't put that on a resumé, but we could hold hands in private.
Richard Buckner :: Blue And Wonder
Jerry David DeCicca is the producer of records by Larry Jon Wilson and Ed Askew as well as the singer/songwriter for the Black Swans. His solo debut, Understanding Land, is being released June 2 worldwide and features guests Will Oldham, Kelley Deal, and the legendary Spooner Oldham.
Previously: Richard Buckner :: The Aquarium Drunkard Interview / 2011