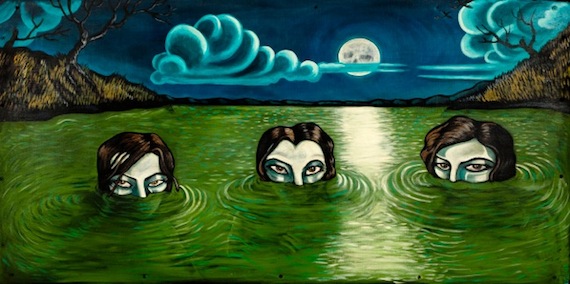 There are certain musical landmarks often brought up in conjunction with Athens, Georgia's Drive-By Truckers: Lynyrd Skynyrd, Neil Young and Crazy Horse, the Muscle Shoals Rhythm Section, R.E.M. But on the road to the Truckers' excellent new album, English Oceans, songwriter Patterson Hood found himself contemplating a comparison no artist wants to make.
"We'd been through so many damn personnel changes," Hood chuckles over the phone from Milwaukee. "I thought, 'Has this become some kind of Spinal Tap joke?'"
Recorded by a leaner, meaner Truckers — Hood and Mike Cooley on guitar and vocals, backed by Brad Morgan on drums, Matt Patton on bass, and Jay Gonzalez on guitars and keys — English Oceans is their best in a decade, a potent distillation of exactly what makes the band tick: soulful boogie, distorted rave-ups, and the dual wits of Hood and Cooley. The record didn't come easy.
Following 2011's R&B-indebted Go-Go Boots, it became obvious that the band had reached a breaking point. Bassist Shonna Tucker departed, following the lead of guitarist Jason Isbell, who'd split a few years earlier. Cooley was in the midst of a terrible bout of writer's block, and the core band was road worn. Making music requires a sense of humor, Hood says, but beneath the surface of his Spinal Tap reference existed a real fear: "I always said the last thing I want to do is keep doing this past the point that it's over. To be an embarrassment to what we used to do."
The band needed some time, so it took the time. The band kept playing shows, but Hood and Cooley played solo, too. Hood released Heat Lightning Rumbles in the Distance, and Cooley issued The Fool On Every Corner, a live album that found the songwriter getting comfortable playing on his own. The band reconvened to pour over the tapes of their seminal 1999 live album, Alabama Ass Whuppin', which they reissued in 2013. It was listening to those tapes that led Hood to reevaluate what he was after.
"I really fell in love with the rawness of [Ass Whuppin']," Hood says. "We were so unbridled and sloppy. I couldn't sing worth a shit, and my playing was out of tune and wonky…but the passion and immediacy was really refreshing to me. We knew when we made another record [we wanted to tap into that]. We're not that band anymore, we're not those people anymore — but there was a spontaneity and immediacy to how it was done, and I wanted to do that."
The Alabama Ass Whuppin' tapes served as a reminder, and the time to hit reset worked for Cooley, who contributes about half of the English Oceans tracklist. His songs — like "Primer Coat" and "First Air of Autumn" — are some of his most insightful and tender, and his roaring opener, "Shit Shot Counts," is among his finest rockers.
"Coming out with a strong rock & roll number to begin with — after all this time off — it was the obvious choice," Cooley says. "Everything else fell right in behind it."
For Cooley, the time off was spent writing without the kind of pressure that comes with a schedule. "I spent almost every bit of those three or four years working on the songs. It took almost every bit of it to write those songs. I needed ideas that I knew were good enough to make this record. When the record was near finished, we knew it was gonna be a good one. We were about as excited as we were burned out when we decided to take time off to begin with."

As is their method, Hood and Cooley wrote their contributions separately. But their songs dovetail in a way that indicates the endurance of their nearly 29-year partnership. "There's a ton of common ground," Hood says. "It's happened before, but never to this extent. The songs kind of interlock with each other."
Indeed, Cooley's "Made Up English Oceans" dwells on G.O.P. lifer Lee Atwater (who, strangely enough, also recorded with BB King, Carla Thomas, The Memphis Horns, and other soul luminaries), while Hood's "Part of Him" observes an Atwater-like character from a different angle: "He was elected, wingnut raised and corn fed/Teabags dragging on the chamber floor."'۬And there's the shared imagery of apron strings in Hood's "Hanging On" and Cooley's "Primer Coat," phrasing Hood speculates they both might have picked up from their respective grandmothers.
"It comes natural," Cooley says of the shared lyrical ground. There's always been a certain amount of that. This time it's just more obvious because we're the only two writers on it this time. We didn't plan any of it. We've always crossed paths thematically, but it's way more obvious on this album than before."
The album's highlight is its closer, "Grand Canyon," penned by Hood after the death of Truckers "family member" and merch man, Craig Lieske. He passed away in January 2013, after performing at a homecoming gig at the 40 Watt Club. Hood eulogizes Lieske with passion, explaining that he was both a confidant and a critic when it came to Truckers' songs. Hood wrote the song on the back of the bus after a performance in New Orleans, mediating on a day that he and Lieske spent in Flagstaff, Arizona, and at the Grand Canyon.
"He'd have been pissed if I didn't write a song about him," Hood laughs, "and it'd have to be a good one."
It is a good one. "We probably didn't say anything 'til the sunset turned to night/We let the spirits do the talking with cascades of faded light," Hood sings. While much of the album speaks to a leaner, tighter Truckers' lineup, "Grand Canyon" demonstrates the delicate touch of a group of a musicians who not only know what they're doing, but who've also honed their ability to truly feel it. It's a gorgeous song, with a waltzing beat and an emotive slide guitar solo. It is the kind of song that songwriters crave to write.
"As soon as it started coming together this way, it had a more lean sound," Cooley says of the renewed band. "It's more organized. It's tight. Focused. You can actually hear every individual thing. Clearer than I've ever heard it before."
"It definitely reconfirmed all my reasons for not wanting to end this band now," Hood says. "Us two old guys can do this, you know? We've been doing this for so long you can almost take it for granted." words / j woodbury
Drive-By Truckers :: Shit Shots Count
Related: Diversions :: Patterson Hood on Eddie Hinton's Mighty Field of Vision