(The summer of 1974 found Van Morrison in flux. Between the largesse of The Caledonia Soul Orchestra and what would become a three year hiatus (with a quick stop in San Francisco for The Last Waltz), Van was, by some accounts, a mess. More moody than mood-altering, his songs were sadder — the punctuation and preciseness of what had culminated in It's Too Late To Stop Now, gone. A recent divorce, a creative impasse.)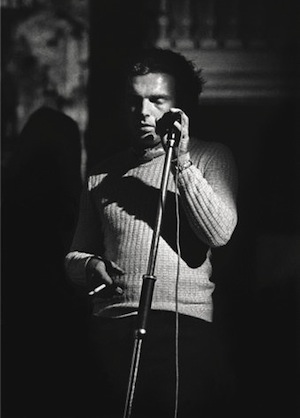 Van Morrison only toured in a four-piece configuration once. You can't even really call it a tour. You can't even technically say it was the same band on the two-to-three nights that Van was on sax, Jerome Rimson on bass, Pete Wingfield on keys and either Dallas Taylor or Peter Van Hooke on drums.
The band, if you can call it that, was put together by the promoter of the 1974 Montreaux Jazz Festival (at which the first of the nights was recorded for Live at Montreaux) when Morrison showed up with only his girlfriend and manager in tow. But sometimes necessity truly is the mother of invention, as it worked. And well. The stripped down quartet tackled a mix songs to be released that fall on Veedon Fleece, along with other material only found on Morrison bootlegs.
Making an appearance a few weeks later on the German television program Musikladen, Morrison is distracted, the band is tight, and the arrangements and interplay are airy, funky and different. Aside from a forgettable version of "Into The Mystic," they play only one other known quantity — "Warm Love." Hooke's drums are marching, his eyes transfixed on Van's notorious jerks and snaps. Wingfield is out-there, right down to his Hard Nose The Highway  inspired-or-inspiring shirt; he's playing funk, he's playing blues, ripping up and down the blacks and whites. Rimson is steady, in lock with Hooke, and with Wingfield creates a beautiful vocal harmony, particularly in the last minute of the track.
And then there is Van on sax. Morrison never looked at home on a guitar; saxophone was his original instrument; on Musikladen the instrument lays across his chest, more scarf than horn. Like an afterthought, he begins to play an ungodly deep bellow, pressed to his lips almost comically. He puts so much into each sequence, dipping back when in need of breath like a quill into ink, producing an even deeper, unholy blow. For a minute he stabs, bouncing in and out of the rhythm, a truly revelatory performance. And then, with preciseness, he rejoins the band for a single line in unison, bringing it all back on home. words / b kramer