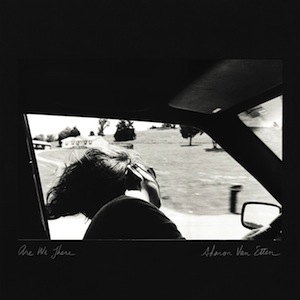 "You told me the day / that you show me your face / we'd be in trouble for a long time. / I can't wait / 'til we're afraid / of nothing." This is how Sharon Van Etten opens her fourth album – with people who are afraid of revealing themselves. When Van Etten sings later in the song that her counterpart responds to her with a meek "wait shit out," she replies "you're a little late. / I need you / to be afraid of nothing."
It's a brilliant set of lines. On the one hand, Van Etten seems to chastise. On the other, she seems dependent. Does she need them to be afraid of nothing – like her – or does she need them to be that way because she isn't? And if the latter, is it okay to get angry and criticize them for not being something that we fail to be as well? It sets a tone that works itself into nearly every moment across Are We There's 43 minutes. Look at the title itself – a question, with no question mark. When everything is questionable – even whether questions themselves exist – how easy is it to work through what you see?
For anyone who has followed Van Etten's career, or even just read Amanda Petrusich's recent piece on her for Pitchfork, it's hard not to look for elements of her past experiences in an abusive relationship. Songwriters are often tasked with creating universal themes out of the specific, and Van Etten bears that burden brilliantly. When she sings "I see your backhand again" in "Our Love," it can be hard not to assume what she's referring to. But by the song's second verse, when she talks about someone giving her an escape from a personal nadir, only to be unsure what she has discovered in the process, the song has radiated out into countless personal experiences for us, the listener — something that happens again and again throughout course of the album.
In terms of production, Van Etten's compositions are tremendous on this album. Bringing in producer Stewart Lerman, who has worked on the majority of both Loudon Wainwright III and Antony and the Johnsons' recordings over the last decade, her songs emerge in ways she has not previously explored. The aforementioned "Our Love" is the album's unquestioned pop highlight with its silken, minimal guitar lines filtering Van Etten through something distantly akin to the majestic pop of Sade. "Tarifa" deftly employs horns and tidal-rhythm guitars to replicate the day in question at the titular Spanish coastal town. And the dominating "Your Love Is Killing Me" – perhaps the album's centerpiece, despite being only the third track – uses its distant, martial timpani and snares to drive the song towards Van Etten's title declaration. So much of Are We There has this massive feel – even the comparatively sparse closer, "Every Time the Sun Comes Up," – a song that feels much larger than the sum of its parts.
With Are We There, Van Etten stands on the verge of a larger commercial breakthrough. A lyrically challenging record full of sharp thorns and turns, it's also her most engagingly produced album yet – one whose results demand a much larger place in the spotlight. words / j neas
Sharon Van Etten :: Every Time The Sun Comes Up
Aquarium Drunkard is powered by our patrons. Keep the servers humming and help us continue doing it by pledging your support via our Patreon page.