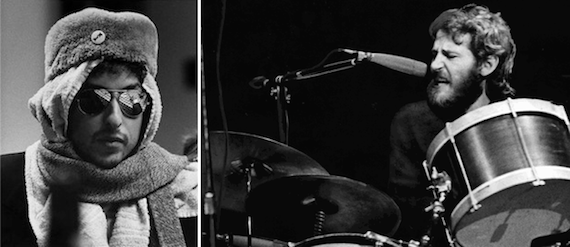 Seven and half years off the road, Dylan returns with the Band. Oakland Coliseum Stadium Feb 11, 1974.
Bob Dylan And The Band :: Oakland, CA 1974 (zipped folder, external link)

Most Likely You Go Your Way (And I'll Go Mine)
Lay Lady Lay
Just Like Tom Thumb's Blues
Rainy Day Women #12 & 35
It Ain't Me Babe
Ballad Of A Thin Man
Stage Fright [The Band]
Night They Drove Old Dixie Down [The Band]
King Harvest [The Band]
When You Awake
Up On Cripple Creek [The Band]
All Along The Watchtower
Ballad Of Hollis Brown
Knockin' On Heaven's Door
The Times They Are A Changin'
Don't Think Twice
Gates Of Eden
Just Like A Woman
Its Alright Ma (I'm Only Bleeding)
Rag Mama Rag [The Band]
This Wheel's On Fire [The Band]
The Shape I'm In [The Band]
The Weight [The Band]
Forever Young
Highway 61 Revisited
Like A Rolling Stone
Maggie's Farm
Blowin' In the Wind
Aquarium Drunkard is powered by our patrons. Keep the servers humming and help us continue doing it by pledging your support via our Patreon page. For heads, by heads.