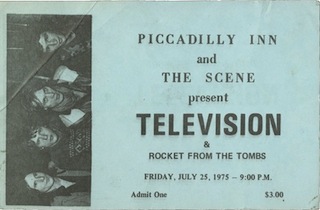 One hell of a night in Cleveland. Television played its first out-of-town shows deep in the heart of Ohio in the summer of '75. The opening band was Rocket From The Tombs, a band that would soon splinter into Pere Ubu and Dead Boys (You can hear the RFTT set from this night on the the officially-released The Day the Earth Met Rocket From The Tombs). Television had been doing some splintering of late as well, having bid adieu to their original bassist / songwriter/ vocalist Richard Hell just a few months earlier. His replacement, Fred Smith (stolen away from the then-fledgling Blondie) made a big difference in the sound.
"All I know is when we got Fred it clicked immediately," Tom Verlaine said. "At the first rehearsal me and Lloyd [were] looking at each other and thinking 'God, this is a real relief.' It was like having a lightning rod you could spark around. Something was there that wasn't there before."
This Piccadilly tape is proof positive of the band's newly found prowess. Gone are the lurching rhythms and the cluttered arrangements that sometimes marred the Hell era of the band; in their place is pure majestic sound. There are still some rough spots, and these songs would still go through some changes before being recorded, but all in all, this is one of the greatest Television live performances.
Check out the 10-minute "Breakin' In My Heart" here, a tune I've always thought of as Television's entry in the "Sister Ray"/"Roadrunner" riff sweepstakes. It's a song the band never got around to recording (Verlaine returned to it on his first solo album), but that's no loss – this version is definitive, with a mindbending intro, an improv-ed narration from Verlaine and an explosive finish. At some point you can hear some gobsmacked Clevelander exclaim, simply: "WOW." There are a few other tunes here that never made it to the studio: the slinky "Hard On Love," the tortured "Poor Circulation" and the rave-up to end all rave-ups, "Kingdom Come." After a season in hell, Television sounds positively celestial. words / t wilcox
Download: Television :: Piccadilly Inn — Cleveland, July 25, 1975 (zipped folder/mediafire link)
1. Fire Engine 2. Hard On Love 3. Poor Circulation 4. Friction 5. Marquee Moon 6. Breakin' In My Heart 7. Venus 8. Prove It 9. Careful 10. Little Johnny Jewel 11. Foxhole 12. Kingdom Come