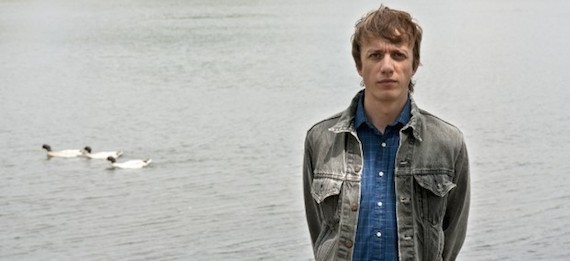 With 2013's Time Off, guitarist Steve Gunn took a leap that often proves disastrous for guitar soli performers: he started singing.
His albums had featured vocals before, but Time Off was different. On it, Gunn embraced proper songcraft, echoing the timeless strains of the Grateful Dead, Rob Galbraith, and J.J. Cale, pairing impressionistic lyrics and his smoky voice with Appalachian drones, cyclical riffs, and long-form boogies. Gunn was terrific as an instrumental bandleader and improviser; he proved to be an even better songwriter.
Ever prolific, Gunn followed the album with works more rooted in the instrumental realm, Melodies For a Savage Fix with Mike Gangloff, Cat Mask at Huggie Temple with Desert Heat, and Cantos De Lisboa, recorded with British folk guitarist Mike Cooper. But his new long player, Way Out Weather, is indeed the proper follow up to Time Off, a continuation of that record's transformative ideas.
"Time Off was us kind of getting more comfortable in a studio," Gunn says over the phone from New York, speaking in the same deliberate tones as he sings his songs. "Most of the recordings that I made previous to that were live or kind of home recordings… recording live shows or setting up a rat trap of microphones in my apartment."
Gunn says Time Off was an extension of his work with drummer John Truscinski, freeform jams drawing from a wealth of deep music the two shared: early sixties electric blues from Chicago, Malian blues by Ali Farka Touré and Boubacar Traoré, the sounds of Musa Ma'rufi, tanbur player Ostad Elahi, sitarist Nikhil Banerjee, and the Dagar Brothers.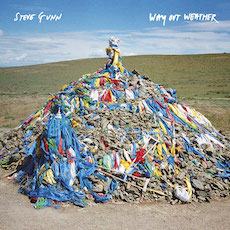 Working in at Black Dirt Studios in upstate New York with Jason Meagher, Gunn, Truscinski, and Justin Tripp took those vibes and added in elements of West Coast psychedelia and sterling J.J. Cale grooves. With a proper singer/songwriter album under his belt, Gunn invited an even larger band to Black Dirt to fill out Way Out Weather: Truscinski and Tripp returned, along with stringman Nathan Bowles, harpist Mary Lattimore, Meagher on bass, James Elkington on lap steel and Jimy Seitang playing synth. Tripp served as producer, arranging parts while others tracked.
"Everyone was workshopping things while we were tracking other things," Gunn explains. "It was really a kind of awesome process. People would just kind of drop in and accompany what I was doing." Gunn and the band had discussions about specific studios — Capricorn, Fame and Muscle Shoals Sound Studios — and players, like the Wrecking Crew and Ron Elliott, the guitarist and arranger on some of Gunn's favorite records: Candlestick Maker, the Beau Brummels' Bradley's Barn, and the Everly Brothers' Roots. "We got real interested in approaching things influenced by some of the records we were freaking out about," Gunn says.
With a larger ensemble in tow, Way Out Weather is more colorful than its predecessor, evoking the full band interplay of Fairport Convention or Van Morrison and band live at Montreux in 1974. The band sounds exuberant, like prime Dead on "Milly's Garden," playfully ornate on "Shadow Bros," evoking the haunting layers of Frippertronics on "Wildwood," and gets ominously groovy on the album's stunning closer, "Tommy's Congo," where Gunn intones, "Never look down at what you need to do," over a looping drumbeat and swaggering bass.
Lyrically, Gunn drew on his experiences on the road. "I traveled a ton," he says, "more than I ever have in my life, in the last year. I was gone from home more than half the year, and I started thinking about it."
The album's title isn't meant to reference climate change — not directly, at least, though he cites it as an ever-growing concern — but rather the way that weather can be used as introduction to dialog, a kind of conversational shorthand.
"I enjoy traveling, and I really enjoy meeting people, meeting strangers on train platforms…the weather is usually the first topic people talk about," Gunn says. "It's a concern, but it's also like this social mechanism where you can relate to someone without having to pry into their personal business."
Time Off's lyrics were centered on his immediate surroundings, Gunn says, but just as his arrangements and band have bloomed and expanded on Way Out Weather, so has his lyrical focus.
"I wanted to be a bit more open-ended," Gunn says. "Time Off was so specific…[there] was a thread going through it. This one is more about being out there, floating, and dealing with it on those terms: hanging out with strangers, making friends, talking about common things."
It's that unguarded openness that defines the record, musically and lyrically. Way Out Weather feels like a lively chat, one where Gunn seems to be asking the right questions as much as sharing the answers he's found. The talk is warm and thoughtful, and Gunn, formerly content to say a great deal without words, proves to be an increasingly charming conversationalist. words / j woodbury
Previously: Wooden Wand Interviews Steve Gunn (2013)
For Heads, by heads. Aquarium Drunkard is powered by its patrons. Keep the servers humming and help us continue doing it by pledging your support via our Patreon page.