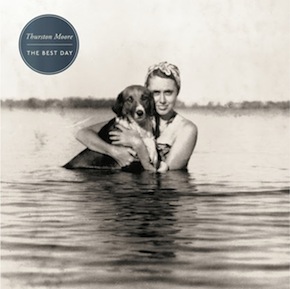 Thurston Moore's solo records have always been an interesting barometer to his state of mind outside of Sonic Youth. Psychic Hearts, his solo debut, was the most Sonic Youth of any of his solo albums, but that was also 1995, a time when his main gig was riding some of its highest commercial presence. It may not have made sense to deviate too much from the norm, especially with videos on MTV.
But by the time he returned with another proper solo album, it was 2007 and Sonic Youth was something different. 2011's Demolished Thoughts was gorgeously fragile and had more in common with a singer-songwriter turn for a frontman than a natural extension of his band. And then everything came crashing down. His divorce from wife and long-time band mate Kim Gordon did away with Sonic Youth, he started a new band, Chelsea Light Moving, and put his foot in his mouth a few times in the press. And now his first solo record since before all of that sounds an awful lot like a late period Sonic Youth album. And it makes perfect sense.
With the muscularity of Rather Ripped crossed with the long-running, wandering feel of Murray Street, The Best Day is a huge gift for fans of that time in the band's history. Opening tracks "Speak to the Wild" and "Forevermore" take up 20 of the 50 minutes of the album. It's a testament to the way that Moore has always been able to make long songs like that feel engaging, hypnotic and not the cardinal sin of such things, boring. Albums in the 50 to 80 minute range rarely have these few number of tracks anymore, but I always get a little excited when I see that kind of tracklisting. It's one of the reasons why Murray Street remains one of my top three Sonic Youth albums : compactness that feels wide in scope. The Best Day has that same quality.
And there's something different in Moore's voice this time around, too. His delivery hasn't changed that dramatically – a career built on a dryly disaffected voice that sounds tailor made to deliver small bursts of manic truth isn't going to disappear overnight. But the title track displays some of the most active singing Moore has done in some time, the ends of lines quickly vibrating. Then the end of the song has a small instrumental section that sounds like a beefed up rendition of something off of a Fairport Convention album. It's breathtaking in that it sounds like the man who is almost the epitome of the music-historian-slash-geek-turned-musician really letting that knowledge loose and also letting it find a natural home amongst a sound he has found and refined over nearly 35 years of recording.
The problem with these types of records is that there is no room for filler. This isn't an album structure built to let the minor throw-aways make the bangers stand out in relief. This is the definition of an album that relies on all its parts to build a whole and The Best Day does just that. It closes with one of its best songs – not an easy title to win on this album – "Germs Burn." It spirals out into chaos, coming back to chugging riffs and going out on a squall of noise, all while Moore gives a taut, chant-shout vocal that hovers above it all. It's a relatively quick and sudden finish to a record that takes its time luring you in, but it seems only natural and fitting. There's an impish grin that underlies all of this – a grin that knows it still has some relevant mischief to unspool. words / j neas