(Welcome to Videodrome. A monthly column plumbing the depths of vintage underground cinema – from cult, exploitation, trash and grindhouse to sci-fi, horror, noir and beyond.)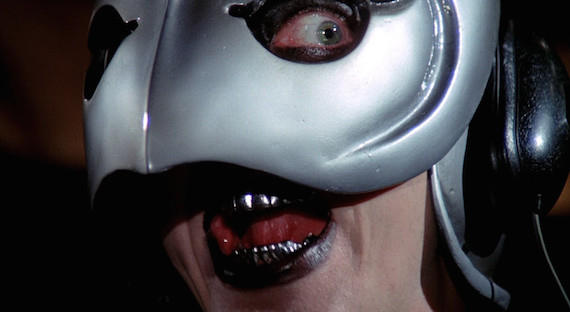 While Halloween goes hand in hand with horror, perhaps nothing captures the playfully gruesome spirit of the season quite like a musical horror comedy.
But blending laughter, tunes and good old-fashioned human slaughter is not an easy trick to pull off–nor are there many treats in this underserved genre. Beyond Sweeney Todd and the Rocky Horror Picture Show, fans face the prospect of quenching their music-horror cravings with tremendous schlock stupidity like Hillbillys in a Haunted House or Jesus Christ Vampire Hunter. Thankfully, a recent high definition update of Brian De Palma's wild glam-goth spectacle Phantom of the Paradise makes a worthy addition to this exclusive category, and a fine choice for your haunted harvest viewing pleasure.
The plot focuses on Winslow Leach (William Finley) an idealistic but talented young composer who is hoodwinked by the shadowy music mogul Swan, framed for drug crimes and imprisoned, then maimed, disfigured and forgotten. Re-emerging as the Phantom, he stalks the nooks and crannies of Swan's Paradise Theater sabotaging sets and offing those who defy his musical aesthetic, before being tricked into writing a magnum opus for his muse, the beautiful, vocally endowed Phoenix (played by Jessica Harper, later of Suspiria fame).
Subbing in rock 'n roll and a scurrilous music industry backdrop, the film offers a remix on Phantom of the Opera, while stitching references from works such as Doctor Faustus and Psycho together with themes from classical Gothic horror and high show biz satire.
Culminating in a bloody, campy, cheap effects-driven cacophony of electric guitar haze, dancing, screaming and 70s fashion, Phantom cuts a visually arresting exploration of the corrupt and creepy, with a soundtrack that sticks in your head. It's also early evidence of the budding talent and filmmaking passion of De Palma, who hints at some of his later, bloodier work (Scarface, Carrie) while demonstrating heart and a sense of humor.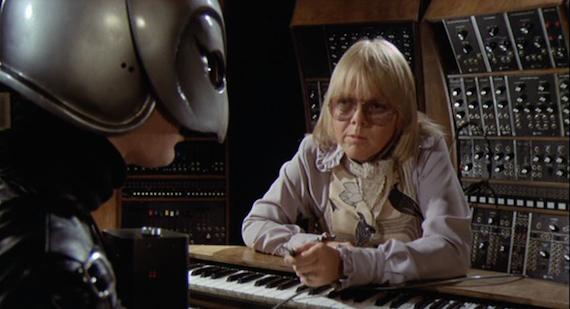 Of course, as can be expected from a B-movie of this era, the acting is unremarkable. From a technical standpoint, the film's low budget nature is evident throughout. But no matter. The real highlight is a bizarre and captivating mix of songs and performances that artfully aids and abets the Phantom's mad, music-fueled quest for vengeance.

Offering a send up of musical genres ranging from doo-wop to surf rock to punk and prog rock, Phantom features a quality score and soundtrack composed by Paul Williams, whose efforts garnered nominations for both Academy and Golden Globe awards. In case you didn't know, Williams was steady crushing it around that time, writing hit songs during the period for artists like David Bowie, Three Dog Night, Barbra Streisand and the Muppets. His work here is dark, mysterious and memorable.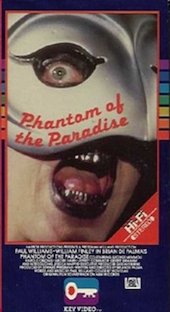 Williams, by the way, also manages the lead villain role of Swan, a nefarious and eccentric record producer in the Phil Spector mold who proposes a Faustian bargain that lies at the center of the film. His impish face and small stature are perfect complements for a vile character that at one point claims, "You know I abhor perfection in anyone but myself."
Despite an earlier release and superior musical depth, the film never achieved the notoriety of Rocky Horror nor, with the exception of a rabid Winnipeg-based cult fan movement, the crazy costume wearing following. But don't let that fool you. Pound for pound, Phantom of the Paradise surpasses Rocky Horror as a standalone piece of thoughtful and creative filmmaking. This fact is reflected in the story's earnest attempt to explore complex subject matter (i.e. talent exploitation, drug abuse and fame) and produce moments of genuine suspense, while keeping things consistently wacky.
It deserves added props for an outrageous protagonist that looks like the Mouth of Sauron and characters that must have influenced the likes of Daft Punk, the Misfits, Kiss and countless shock rock performers of the glam movement. In simpler terms, if you created a set list of favorites from the Carpenters, Grease and T. Rex and commissioned GWAR to play it for a sold out audience in a medieval castle, you might get a close approximation of the substance of this movie. For that reason, we recommend you spend the 92 minutes it takes to check it out.
Re-released by Scream Factory on Blu-ray this past August, the two-disc set comes chock full of special features, interviews and bonus material. It looks and sounds a lot better than many who saw it as kids will remember. All in all, a true rock opera classic with a light sprinkling of gore. words / j campbell
Previously: Videodrome: Ghouls, Grind, Gothic & Gore: A Halloween Helper
Only the good shit. Aquarium Drunkard is powered by its patrons. Keep the servers humming and help us continue doing it by pledging your support via our Patreon page.