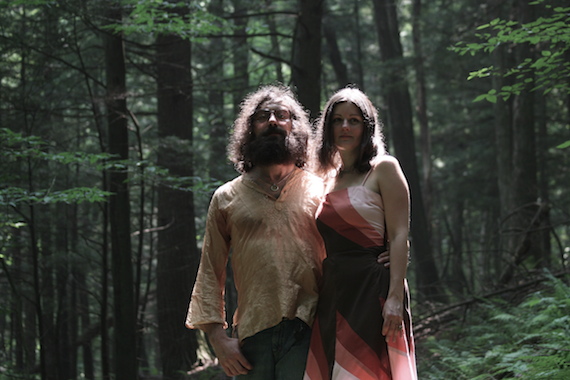 I have already sung the praises of Matt "MV" Valentine elsewhere. For the Google-averse, I can sum it up by saying that MV's music–both with and without his partner, co-conspirator and constant foil Erika "EE" Elder–has been as crucial a catalyst for my development as a listener as I imagine the Stooges, Big Star, or the Velvets might have been to crate-diggers of a previous generation. Though the influence of MV & EE can clearly be heard throughout various strains of nth wave psychedelia and folk, the duo is rarely name-checked alongside contemporaneous true-originators like Ben Chasny, Jack Rose, or the brothers Bishop, nor evoked in discussions of similarly singular lifer-artists like American Tapes' John Olson.
MV & EE's music seamlessly assimilates raga, blues, folk, punk, free improv, drone, and avant garde disciplines while maintaining close, perhaps compulsory, ties to so-called "classic rock" (Canned Heat, the Dead, Dylan, Neil, etc). Their work seems to abide the Muse while ignoring–even as it predicts–subcultural trending (MV was making "guitar soli" albums over a decade ago). In many ways, MV is to free folk–a term he invented, by the way–what Thelonious Monk is to jazz: individualist among individualists, stranger to orthodoxy, and spiritual link to the music's very essence.
It seems obvious to me that the only logical explanation for the continued obscurity of MV & EE music is that the group are the victims of a deep and diabolical conspiracy. Perhaps MV is, as Steve Aylett wrote of rogue (fictional) science fiction author Jeff Lint, "so far ahead of his time that his existence has had to be disregarded so as not to screw up the continuity."
I spoke to MV about the great new MV & EE album Alpha Lyrae (the first vinyl release on the duo's long-running C.O.M. label), his defiantly Utopian approach to gear, and unpopular Neil Young albums.
Wooden Wand: C.O.M. was one of the very first CDR labels, and is also one of the longest-operating, having been established in 1999 following the dissolution of your previous label, Superlux. Alpha Lyrae is the label's first vinyl release. Why the decision to release vinyl now?
Matt Valentine: It just seemed to align with everything. For once we felt in sync with the times, not ahead or coma slow. We were so deeply involved with all aspects of the album's creation we figured, why not go all the way? Every note matters, so why not touch as much of it as possible? It feels good. Hopefully that translates. Every sound means something.
Wooden Wand: Alpha Lyrae is my favorite MV and EE 'high art' release since Space Homestead. This one reminds me, in spirit, of the Bummer Road / Golden Road era, an era that saw your records become more community-based, despite being recorded with various personnel over vast expanses of terrain. Is this an accurate description?
MV: That's cool you hear that. In a way, a lotta the "road" crew are on this one, even the Spanish Wolfman! (Spanish Wolfman was a founding member, alongside MV, of both Tower Recordings and Memphis Luxure. —Ed.) Erika and I wanted to have as many of our favorite players as we possibly could on this single LP, even though she and I mostly play everything. P.G. Six was on a bunch of tracks that we working on, but they just didn't get finished in time.

Wooden Wand: You have said you consider the CDR format underrated. How so?
MV: I really dig the CDR. We might sell more CDRs than records! It is the perfect medium for our Heroine label, and I like the immediacy of it for C.O.M. We have had very few "faulty" discs in 15 years. Trademark of quality.
I also really dig the CD being able to capture the extended play. For example, John Coltrane's Live in Seattle is much more pleasant to listen to on CD than vinyl. I don't want to hear an edit or have to flip a side while he is in flight. Same with ragas and any long-form sonics. Some of the music I listen to most often is Ali Akbar Khan's All India Radio archives on CD. They really transport me "there." It would be a major drag to have him interrupted by the format during the jhala.
Wooden Wand: Please explain the Heroine series.
MV: Heroine at this point has become a vehicle for our live concerts; it is a "sanctioned" bootleg label in a sense. The releases are pretty much snapshots of the concerts. We do however constantly invest money (usually from the sale of Heroines!) into making the live recordings sound better. In the beginning they were mostly audience tapes with lo-fi mics, but now we bring out a whole rack system just so we can get multi-track recordings of the shows and beyond so we have a bit more control. Even in a rushed setting we still get a 3-track recording, which gives a real groovy picture of what went down; a sweet stereo image and the vocals up the middle.
There was a time where we issued "digital 78s" on the Heroine imprint, most notably with our Lunar Blues record where we did different takes of each song from the full length, usually in a radically different and extended fashion, and paired the track (each on their own CDR) with an unreleased composition, usually with a musical guest involved: Chris Corsano, Willie Lane, Samara Lubelski…We did the same thing with one of Dredd Foole's C.O.M.'s with Heroines. Guests included Ed Yazijian, Christina Carter…these all were deep and prime cuts. Two of those Foole Heroine "digital 78s" got reissued via Rafi Bookstaber's Humito imprint. Killer jams.
So, at the core, Herione Celestial Agriculture is kinda primitive and modeled in many ways after beat chapbooks, with an archival library stance. We title each one based on some kinda sign or signifier from that day, or wordage from the show. The covers are also formulated in the same fashion. It makes for a nice memory for me, and an even better scrapbook. They sound hip and the audience and enthusiasm for them continues to grow. It wouldn't have the same tangibility if it was download-only or even a cassette because of the length of some of the shows.
Wooden Wand: C.O.M. has mostly been a vessel for MV & EE music, though there have been a few releases by artists like Dredd Foole and Willie Lane, both of whom are very closely associated with C.O.M., and you appear, in some form, on each of those. What's your criteria for a non-MV & EE C.O.M. release? Will we see more of these?
MV: I've been working with Willie (Lane) on follow up to his Recliner Ragas LP, as well as an expanded reissue of a tape release from Paul Grimes, which would be a full length on C.O.M.. Paul is a member of what Erika and I refer to as the wolfpack: he and Rafi (Bookstaber). Those dudes were in combos called Death Chants and Aswara, and they currently play in a bacchanalian groove outfit called Mendocino that slays.
Ideally, all the C.O.M.s should see some kind of vinyl treatment one day, but back around 2010 I embarked on a digital campaign with Revolver / Midheaven to get nugs of the C.O.M. / Heroine axis up and available for download. There is no rhyme or reason to what gets issued or when; it seems to be governed by some kinda otherworldly transmission or zonkoid time / space philosophy depending on your slant, but really I just prepare them as the movement moves me.
Wooden Wand: I've noticed your willingness to embrace terms that might be considered by some to be pejorative: "jam band," "free folk" (a term you coined, and not to be confused with 'freak folk,'), etc. Is this a way of reclaiming these words from their negative connotations? Do you ever worry that these words might repel certain types who might otherwise enjoy the music?
MV: Go ask the gypsy, who knows? In the days of Myspace when I said MV & EE action was a jam unit (blues/psychedelic/jam band), people thought I was whacked. There was no irony and I certainly haven't strayed far from that path. I might've chosen "real people" if it was genre.
Wooden Wand: Along these lines, MV and EE seem to me a very populist group. I've watched you guys play feedback to drunken rednecks and left them literally screaming for more. There don't appear to be many "bummer gigs" for MV & EE, as far as I can tell. How do you keep from getting jaded?
MV: Show us a show. I guess we're always looking for the "DO OVER!" We just try to play to the room and I always "show up" for the gig. I mean, if we are plummeting, we try to at least make it intriguing. Funny thing is that some of the performances that I really feel are substandard, enthusiasts of our music really dig.
Wooden Wand: I enjoy the mythology that runs through your work, the overlapping themes and ideas. For instance, the recurring early characters Jerk Off Orion and Cocola (who I have always interpreted as a Muse — is this correct?). Few artists maintain these sorts of threads over multiple albums. I know you're a fan of Rucker, Dick, et al. Do you attribute your serialist tendencies to these influences?
MV: Thanks for noticing. Yep, Cocola can be a muse. She comes round…sometimes get involved with Coot Moon, that dude is a trip. He says he used to get baked with Boone and Jocko in the mines. Not sure what war or record store.
Sure, the sci-fi thing probably has something to do with my continuity, but I get that "technique" more from film, I think. I always felt we are a sonic parallel to the Kuchar Brothers.
I really dig how PK Dick "works." The dude had jobs, had to write. Even though he had "hits," he still wrote. I love how Rucker does much of the same, infernal drive. Plus his non fiction angle, and mathematics, and art. A quad threat. People with skills like that are attractive to me. I enjoy making things, I'd feel kinda lazy if I played it safe.
Wooden Wand: Were you ever into comics?
MV: I liked Marvel comics as a tween. Once had X-Men #1. Also Cerebus and Love & Rockets. There were comic book stores when I was growing up and I spent a lotta time loitering. I dug this one that had a fountain counter, so I'd get an egg cream and chill, flip pages. Then I discovered (NYC zine shop) See Hear…
Wooden Wand: When you guys moved to rural Vermont, I remember you saying that one of the reasons was so you could better "hear the intervals,' or something along those lines. At the time I didn't understand what you meant, but I recently attended a silent retreat here in Kentucky and, while there, I remember thinking that I finally understood what you were talking about. How do you reconcile country life with its attendant isolation, especially given the heavy community-vibe of so much of your work?
MV: It might seem as though there is a communal vibe–really COM-munal–and there is, usually at the moment of creation to tape or on stage, but it is more than that. Goes deep. In some ways though it pretty much has always been about Erika and I. As much magic and fascination which gets captured from the group mind and the "unknown," there is so much deeper work applied behind the scenes by Erika and myself and that is what preserves the jam. The isolation affords that time for us to reincarnate the tapes for others to really feel that same inspiration. Of course, there have been super key contributions from our friends who are massive players. We all channeled that. Knew the spaces, cracked the code. Meta.
We dig jamming with other likeminded folks. MV & EE action has been fortunate to have had sweet players in the Bummer / Golden Road. Is it a coincidence? Lately we've mainly been focusing on the "duo exchange" musically and the fam scene in private. Both those things and an extended long term recording project for my next solo LP and the next MV & EE release more than occupy my need for heaviness in the community. Living in the forest still very much helps me hear the intervals in ways I wouldn't otherwise. The days of bringing gimongous 8-piece co-ed / co-de units overseas are the glory of embers for the moment.
Wooden Wand: There's an old music biz adage: "we play for free — we get paid to travel." For a very long time, you didn't seem to tour much, and then at some point in the early or mid 2000s, it seemed like you were touring all the time. Do you get off on the traveling part? Do you view it as a time to get into the groupmind, listen to jams, and see sights, or is it a tedious means to an end?
MV: I like to get paid to play, rather than the inverse. It's a lotta work for us to take the "show on the road."
Wooden Wand: Speaking of travel, tell me about Spectra, and the practicalities and impracticalities of traveling with your very own Wall of Sound. When I saw what was involved with this meticulous set-up the last time you guys came through town, I predicted an inevitable hiatus to follow, in the tradition of a certain band you and I have a very deep appreciation for. It must be difficult to maintain such a large amount of equipment every night.
MV: It's more like a midden of sound than a wall. Yeah, you never know when the hiatus is gonna come. Spectra has its moments…something to look forward to. We just issued an 8- disc set called BIG BUZZ – no. offcuts on C.O.M. that in many ways is the dawn of our higher-fi Spectra coming to life on tape. It's centered around shows from 2010 but springboards forward and back. Offcuts, as in some gigs that were not part of a specific tour. There are many embryonic techniques deployed, amp realms…multi track…matrix applications…that are the seeds to where we are currently at with the Heroines. It ain't too bad for the 3rd best local band…
Wooden Wand: Your custom built SG has some unique attributes. What's your pickup situation? Do you really toggle between three different ones?
MV: The SG is something I built with my good friend Barry Weisblat. He also designed the bantar, a bunch of fuzzes, ring mod, compressor, and other effects that we use. The SG is a monster. Like a Frankenstein, or maybe frankincense. Three pickups. I sourced all the parts and components individually and bought them over a long period time as the finances and muses hit me, starting with the body: one-piece set neck, which is unique in that it is chambered, and has a cool charcoal black flame finish. It has a single coil in the neck from the first Fender I ever owned, an early 70s Strat. I regret selling that guitar but I kept the original pickup, which always lived in the case because it stopped working. It was re-wound by Lindy Fralin and now sounds awesome. The middle pickup is a PAF styled humbucker, late 60s Japanese, and the bridge is a Bill Lawrence "Blade." Each pickup has its own "techy" controls when appropriate–coil tap/phase reversal/filtering–and I can turn them all on or off. I can get a lotta sounds out of it. Most of the stuff I do is all in the fingers anyway. With this guitar and a good amp, I can cover a lotta ground. There is a master volume and tone knob.
Wooden Wand: In addition to the constant activity of MV & EE and C.O.M., you've been doing some mastering work recently, have made a few guest appearances, collaborating with J Mascis (on the album Several Shades Of Why) and Egg, Eggs (on the album The Cleansing Power Of Fruit), and even did a short tour as a member of Woods. What do you get out of this? When do you rest?
MV: Glory…ha. Maybe I rest too much? Sometimes I like to listen to music I've been working on right before I hit REM sleep; it frees me. I also like to hike and test out effects pedals. I just finished mastering a great Richard Youngs release called May for an LP reissue. I do [mastering] when people find me and it seems to be the right fit. Sometimes I get the call to sit in or guest; I'm always psyched. It puts me in a completely different headspace. Playing with Woods and with J Mascis was a real honor. I mean, J calling me up to play guitar…he and I just did a bunch of jamming for a solo LP I'm working on. We mainly played live in his super cool home studio. Hot chords. Aimed to just do one tune and we got so into it we tracked five. We also did a Stooges tribute gig; I did my best Watt.
Wooden Wand: Finally, for my own edification, do you really dig Are You Passionate?, or were you just pulling my leg? To me, that is one of only a handful of barely listenable Neil albums. What do you like about it?
MV: Yeah, totally dig. I thought that band he had with Booker T was really burnin'. Some killer mellow guitar tones and talking solos. Great songs…but there's one I always skip.
Wooden Wand: I bet I know which one that is. Thanks, MV. Always a pleasure.
Related: Wooden Wand Interviews Steve Gunn