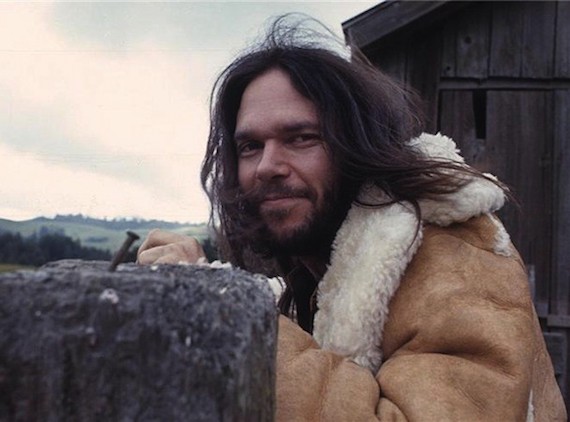 What do you play during the holidays? Besides, you know, 'holiday' music. A friend posed this question a couple of days before 24 of us descended upon his Echo Park home for Thanksgiving. Arlo Guthrie's "Alice's Restaurant" and The Last Waltz immediately came to mind; both of which have firmly secured their place in the pantheon of American Thanksgiving traditions over the past four decades. I also tend to pull out Dylan and the Band's The Basement Tapes….and lots of America's favorite Canadian import, the Northern California, ranch-living, Neil Young.
Which brings us to 'The Old Homestead' – a twenty track Neil Young Thanksgiving mix. And I'm using Thanksgiving loosely here, as, really, this mix was designed to play throughout the holidays until New Year's Eve. Downtempo in tone, it's largely comprised of deeper album cuts. Per atmosphere (bear with with me, here) – think: fireplaces, family, kids, dogs.
We kick off with "Don't Cry No More Tears", pulled from the Zuma LP, the most rousing track featured herein, before settling into "For The Turnstiles" which dictates the tone for the next nineteen tracks. Oh, and speaking of fireplaces, that is indeed a crackling fire accompanying Neil on "Will To Love".
Neil Young :: The Old Homestead / A Medley (1969-2005) (spotify)
Related: Aquarium Drunkard — The Neil Young Archives
Aquarium Drunkard is powered by our patrons. Keep the servers humming and help us continue doing it by pledging your support via our Patreon page.