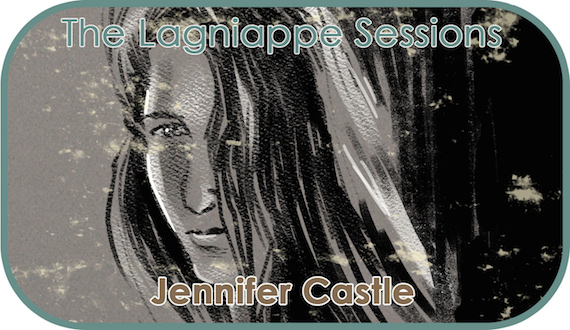 Lagniappe (la ·gniappe) noun 'lan-ˌyap,' — 1. An extra or unexpected gift or benefit. 2. Something given or obtained as a gratuity or bonus.
At once fragile, delicate and rugged, Jennifer Castle's Pink City  is one of the more beautifully crafted records of the year. For her contribution to the  Lagniappe Sessions, Castle takes on the melancholy country charm of The Flatlanders (Jimmie Dale Gilmore forever, folks) and an oft-covered rarity from a young, ramblin' Bob Dylan. Castle, in her own words, below.
__________________________________________________________________________________
Jennifer Castle :: Keeper Of The Mountain (The Flatlanders)
I know very little about the Flatlanders, but the first time I heard this Texan song I fell in love with it. My friend Davida used to play it when we would hang out in her basement in Toronto when we were in our 20's.   I often feel like I take nature personally, for better or for worse. It's a struggle for me not to project  my interiors onto the natural world. I've never felt like the Keeper of a Mountain or a Morning Flower per say, but I have spent much time trying to let the river be the river and not my personal melancholic soundtrack.
Jennifer Castle :: Walkin' Down The Line (Bob Dylan)
Dylan's simple songs always stick with me the most. I was revisiting some of his music recently while I was on tour alone.   Driving myself around the American mid-west I had a lot of listening time.   I'm a heavy headed gal and most my friends are too.   I like to hear us patiently described in his verse.   Adrienne Rich said "a thinking woman sleeps with monsters, the beak that grips her she becomes" which I like to believe alludes to the 'heavy-headedness' he speaks of.   Plus, my money comes and goes, it literally rolls and flows and rolls and flows through the holes of the pockets of my clothes.   Songs like this play on long after the record is done and become more like truths to me: "Lord, I'm Walking Down The Line!
Lagniappe Sessions Archives / original illustration  for aquarium drunkard by Ben Towle.