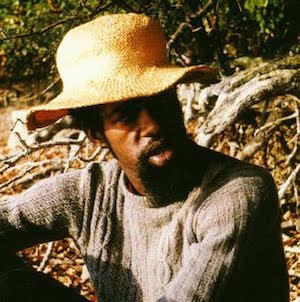 1968 free-jazz, psychedelic, art rock-funk. Sure, and from who else but Can. Culled from the still vital Lost Tapes compilation, "Midnight Sky" is one of the group's earliest rarities, featuring their first vocalist, the New York City-based singer (and sculptor) Malcolm Mooney. As the band builds a tense, driving rhythm, Mooney riffs and scats, announcing, "This is just how I feel today, my man," before launching into a feverish rant about getting too high, nearly dying, being broke and The Daily News –– all the while maintaining that "everything gonna come out right." Very post-Summer of Love.
The following year, Mooney and co. essentially invented post-punk, with another, absolutely brilliant rarity entitled "The Empress and the Ukraine King." Amongst wiry bass, raggedy grooving guitar and something called a "schizophone," there is a deeper, more mysterious and mesmerizing tapestry of instrumentation laid down, including tropical sounding percussion and frantic saxophone skronk. Mooney delivers a spoken word stream of consciousness, a lyrical puzzle that is both Victorian and modern, touching on jesters, congressmen and "coded traffic cream." The taut, repetitive rhythm opens into a free folk melody before ultimately breaking into a free jazz, freak show jam. It's a remarkable piece, clearly inspired by The Velvet Underground and modal jazz while laying down the template for everything from Pere Ubu to Parquet Courts.
Can :: The Empress and the Ukraine King
Mooney would leave the band the following year, returning to America on the advice of a psychiatrist, having been told that getting away from the chaotic music of Can would be better for his mental health. The liner notes of the band's 1969 debut lp, Monster Movie, claim that Mooney suffered a nervous breakdown ("caught in a Can groove"), shouting "upstairs, downstairs" repeatedly. words / c depasquale
Elsewhere: Dig this incredible, full-concert footage of Can, now with vocalist Damo Suzuki, performing in Germany in 1970. A fraction of the crowd seems to get it, the rest seem baffled. Their loss.