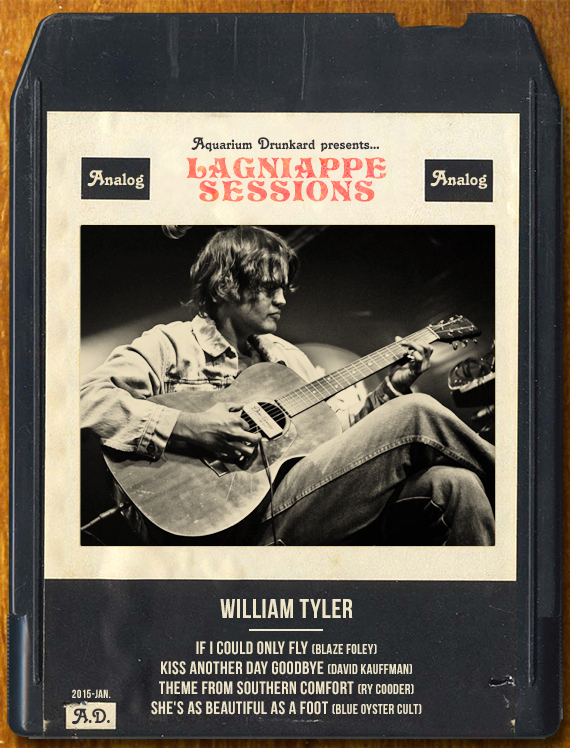 Lagniappe (la ·gniappe) noun 'lan-ˌyap,' — 1. An extra or unexpected gift or benefit. 2. Something given or obtained as a gratuity or bonus.
Whether solo, with Lambchop, Silver Jews and beyond, I've been following William Tyler's career, in one form or another, for over a decade. This week, the Lagniappe Sessions find the Nashville based artist taking on four covers – from the stylistically simpatico to Blue Oyster Cult. Tyler, in his own words, below…
I am pretty big fan of every era of Ry Cooder, but this piece of music is my favorite thing he ever composed. I wanted to reinterpret with a different color, even slightly, so i chose to play it acoustic and imagine it as a folk ballad, maybe like the rolling stones' "Play With Fire".
This is one of the most devastating songs ever. Blaze was a true ragged outlier, so tweaked and damaged that even Townes Van Zandt thought he was crazy. I haven't heard any other versions of this song but I imagined what it would sound like with a more upbeat arrangement, like the amazing rhythm aces covering it.
William Tyler :: Kiss Another Day Goodbye (David Kauffman)
I first heard this song on the Wayfaring Strangers compilation on Numero Group. it's from an lp credited to David Kauffman and Eric Caboor called Songs From Suicide Bridge. The whole album is pretty incredible, a very confident version of extreme downer folk with just a few traces of bizarre late seventies/early eighties production. But this song is such a standout, I think it belongs up there with the eeriest moments of solo Chris Bell, Skip Spence, or Tonight's The Night.
William Tyler :: She's As Beautiful As A Foot (Blue Oyster Cult)
Buck Dharma is probably my favorite all time rock guitarist, and whenever I want to mess with people a little who aren't familiar with the mightiness of BOC, I put on their first album and let it roll without explaining who it is. All credit for this cover goes to Mr. James Mcnew who played me the album about four years ago on tour and got me hooked.
Recorded by Loney Hutchins. Drums and percussion by Brian Kotzur.
Lagniappe Sessions Archives / imagery via d norsen.
Dig this flavor of culture reportage? If so, support us through Patreon. Help us continue to produce mixtapes, podcasts, radio shows, a/v joints, interviews, features, and much more.