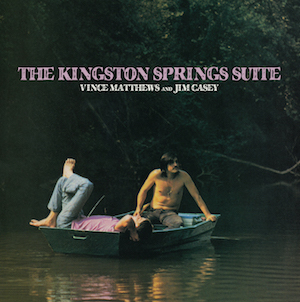 If things had worked out differently, Vince Matthews and Jim Casey's 1972 album The Kingston Springs Suite might be heralded as an outlaw country standard, alongside conceptual records like Red Headed Stranger, Will the Circle Be Unbroken, and Bitter Tears. Produced by Shel Silverstein in association with Johnny Cash, "Cowboy" Jack Clement, and Kris Kristofferson, it's an example of down-home high art, a love letter to the small rural town for which its named, southwest of a thriving Nashville in the early '70s, when an infusion of energy by longhaired rock & rollers emboldened some of the town's biggest names to explore traditional roots music with a newfound poetic freedom.
But that's not how things shook out. While some of its songs would find suitable homes — Waylon Jennings recorded "Laid Back Country Picker," Johnny Cash picked up "Melva's Wine"— the album never saw release. Until now, that is, as the Delmore Recording Society has finally pushed it through. Matthews passed away in 2003, but his vision and Casey's dogged belief in it has been vindicated after all these years. It was an "off the wall, daring thing to do," Casey says, driven by the coursing outlaw spirit that was roaring through country music in those days. "We all had the feeling that, 'Man, things are changing. They're even going to be more wide open.'"
Even as The Kingston Springs Suite explored the long player album format, with sound clips, interview segments, and even greater designs for an expansive film project to accompany it, Matthews and Casey's sights stayed trained on the real life people of Kingston Springs, population 510. There's the old preacher and philosopher "Mr. Soul," the railroad man in "Mr. Sam," with his pickup truck painted red "so it'll go faster," the "Old Man and the Boy," exploring the distances between generations and offering up the theme of the album: that there are traditions worth saving, that there's a beauty to the preservation of moments and places.
Confederate ghosts and oak trees loom over the record, about people and a town in transition, grappling with the heritage of their past and the uncertainty of their future. It's all rooted in the "healing waters" of Kingston Springs, where Casey and Matthews lived. "It really was connected to the heart of the people," Casey says. "That's why we were writing the whole thing. It was about real people where we lived." The duo couldn't have written these songs cooped up in Music Row offices, Casey says. Instead, the two composed wildly, on location, taking pictures, hanging out on porches, interviewing the old timers of Kingston Springs. "Running around, smoking dope, drinking beer, and doing crazy shit," Casey laughs.
Matthews was known in those days for his prodigious taste for speed, but he got clean –"mostly," Casey clarifies — to make the record. He believed that this was his big shot, and though he scaled back his drug use, he wasn't about to reign in his ambitions. He wrote a treatment for The Johnny Cash Show based on the town and the album, and got as far as filming some footage — at least until a mix up resulted in a freight train crashing into a cherry picker Matthews had procured for a videographer.
Things were changing in Nashville as the two finished the album, and the fortunes of many of their benefactors, Cash and Clement chiefly, were in flux. Without a strong hand on the business side, the record failed to find receptive ears at the labels. Maybe its message was too rooted in the counter culture. "We all thought we were hippies, only because we didn't have any money," Casey laughs. Or perhaps the suits in charge couldn't get past Matthews' craggy voice, sometimes at odds with the more palatable tones of Casey, Rita Coolidge, or the Gary Paxton Singers on the record. "Vince was not known for his singing prowess," Casey chuckles. "If you asked somebody back then, he was legendary for his bad singing."
But Casey knew there was something to the recordings. When Clement ended up tossing the tape reels out onto his front lawn, Casey collected and saved them. His relationship with Matthews soured and their partnership fell apart. They both stayed busy: Casey's songs would be cut by the likes of the Oak Ridge Boys and Ritchie Havens, while Matthews wrote songs recorded by Gene Watson and Crystal Gayle. The two mended their friendship before Matthews' passing, but all the while The Kingston Springs Suite sat on Casey's shelf, waiting decades for reappraisal.
To the songwriter, the record offers a snapshot of those early days, when songwriters could congregate at Matthews' place in Kingston Springs. "Vince's yard in Kingston Springs, you know, it was the scene of so many, many people on a daily basis," Casey says. "Billy Joe Shaver would be there one day, Kristofferson might come by on the weekend. Just different people all the time. Earl Scruggs sons were out there, Guy Clark [would show up], and they're going, 'Holy crap, there's gold in them there hills.'"
The record's liner notes feature an essay Matthew's penned for Country Music magazine in August, 1975. In the rambling story, he highlights details and moments that dot the record and define his time in Kingston Springs. "Anyway, the era passed," he concludes, noting the dissolution of his marriage to Melva and the arrival of "the factory," representative of progress and industry arriving in Kingston Springs. Indeed, all eras pass and all places change, but not every town gets a document like The Kingston Springs Suite. Only the lucky ones. words / j woodbury