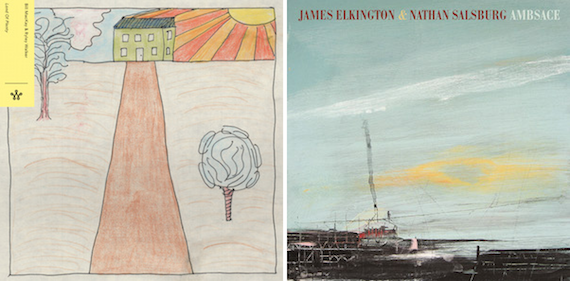 With John Renbourn passing into the great unknown this year to join his six-string brother in arms Bert Jansch, it's a good time to be reminded of the wonderful sounds two acoustic guitarists in joyous communion can make. These two recent LPs are more than worthy additions to the tradition. Bert and John would be proud.
James Elkington & Nathan Salsburg :: Great Big God of Hands
Since his excellent 2013 solo LP Hard For To Win And Can't Be Won, Nathan Salsburg has been busy backing up the great Joan Shelley, as well as producing some truly amazing reissues of field recordings by the Georgia Sea Singers and JB Smith, among others. His partner for the stellar Ambsace, James Elkington, has been heard in a wide variety of settings recently, from last year's Tweedy album to Richard Thompson's and Steve Gunn's latest efforts to Eleventh Dream Day's electrifying  Works For Tomorrow. Together, the pair weave an intoxicating, intricate web that calls to mind the Renbourn/Jansch axis without being slavishly devoted to it. Nodding towards britfolk and blues forms, the album throws a few curveballs into the mix with covers of the Smiths and Duke Ellington — their reinterpretation of the moody Ellington/Mingus/Roach classic "La Fleurette Africane" is a surprisingly perfect fit.   Wherever Salsburg and Elkington go, it's always a pleasure.
Bill Mackay & Ryley Walker :: Land of Plenty
Usually, saying a piece of music is "meandering" isn't meant as a compliment. But "It Takes A Quilt," the 11-minute leadoff track on Bill Mackay and Ryley Walker's  Land of Plenty, meanders beautifully, as the pair trade lines like old friends deep in conversation, just following the flow wherever it leads. Recorded live during a weekly residency at Chicago's Whistler club earlier this year, the album is a laid-back, casual affair, but plenty of sparks still fly — check out the breakneck fox chase of "Gold Season," or the slightly psychedelic vibes of "Blues for Arthur." A perfect jazz-folk chaser to Walker's more singer-songwriter styled Primrose Green LP from earlier this year. words / t wilcox