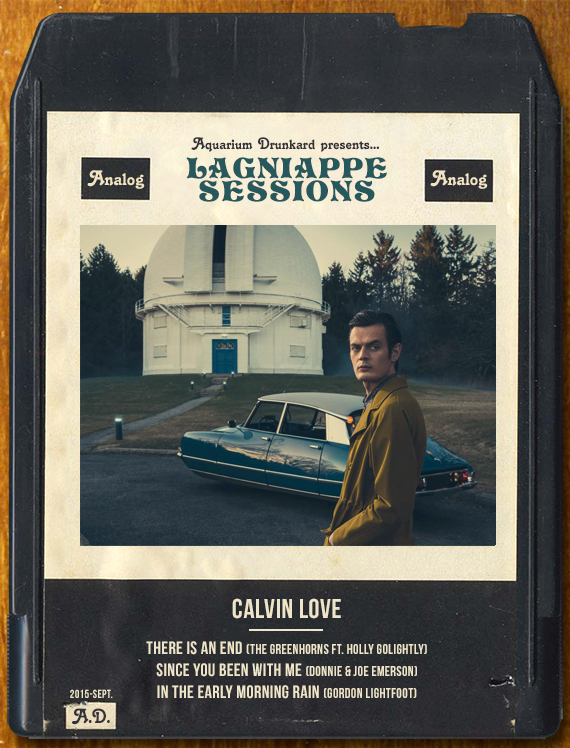 Lagniappe (la ·gniappe) noun 'lan-ˌyap,' — 1. An extra or unexpected gift or benefit. 2. Something given or obtained as a gratuity or bonus.
The record is entitled Super Future — Calvin Love's follow-up to 2012's New Radar. Like Radar — a record whose focused, slender arrangements were populated by thin guitars, electronic drums, and vintage synthesizers — the new lp bathes in gauzy, electro-pop psychedelia. Only bigger / multidimensional.
Much like his own muse, Love's selections for this week's installment of the Lagniappe Sessions (save the Greenhorns' cover) retro-fit the past; an alchemy that repurposes the 70s folk-rock of fellow Canadian troubadour Gordon Lightfoot, and pays tribute to the re-discovered bedroom pop duo Donnie & Joe Emerson. The artist, in his own words, below . . .
____________________________________________________________________
Calvin Love :: There Is An End (The Greenhorns, ft. Holly Golightly)
I first heard this song via the Broken Flowers soundtrack, and was instantly gripped by the guitar hook and vocal melody. I think the songwriting and lyrics are beautiful. I recorded this track with two of my bandmates one afternoon — Kyle McCrea on the Twang reverb guitar & Andrew Heule on the drums. I played the bass, added a few guitar parts through out the verses, and had a blast singing it.
Calvin Love :: Since You Been With Me (Donnie & Joe Emerson)
Donnie & Joe Emerson's record Still Dreamin Wild is a fine piece of magic. When I heard this track, it put me in a reflective state. I liked the repetitive bass and drum parts and the dark vibe it carries, and I'm a sucker for 80s synth drum machine stuff. While recording it I kept to the basic structure of the original, But then added my own guitar parts.
Calvin Love :: In The Early Morning Rain (Gordon Lightfoot)
This is one of my all-time favourite songs, I had the pleasure to catch Gordon Lightfoot in concert a few months ago in Toronto at Massey Hall. He is so beautiful, he was up there singing his soul out. At 80 years old. I wanted to cover this song and sing and play it the best I could. I recorded it on a rainy day, with a Tascam 4-track cassette — one mic for guitar and one mic for vocals. I couldn't change anything about this song. Its more of a tribute to the man and the songwriter. Big love, Gordon.
Lagniappe Sessions Archives / imagery via d norsen.