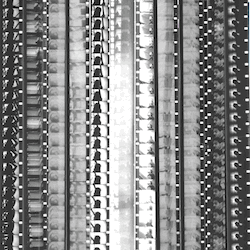 In 2012, Dylan Sharp and Carrie Keith of Gun Outfit moved from Olympia, Washington, where the weather had grown "oppressive," and headed down to Los Angeles. The change in locale seemed to seep into the band's sounds: the paisley folk rock of the excellent Dream All Over, released in 2015 by Paradise of Bachelors, echoed the cinematic weirdness of L.A. and found Sharp and Keith drifting into a temporal lull. "In L.A., the time situation is different – the speed of things," Sharp says. "Trends come and go really fast…it makes time accelerate and draw out…the environment affected my perception of time."
The band's followup EP, Two Way Player, due out February 21 on via Wharf Cat Records, continues a luxurious sink into the western scene, where Keith and Sharp find themselves not only inspired by Los Angeles, but by the surrounding deserts, the beach, the forests, and the Sierra Nevada mountains. And it continues to play with the listener's sense of time. "The songs are very vibe heavy, creating an environment or a feeling," Sharp says. "The expansiveness is what we're going for."
Two Way Player opens with the spacey "Expansion Pact," its spidery guitar lines tangled up under Sharp's baritone. "I did a lot of drifting," Sharp sings. "Oh no, I ain't fond of that no more." On the languid "Drive Off," Keith's voice cracks between waves of spring reverb. On the crashing "Our Time," the group locks into a gentle drone. It's a mellow and sublime follow up to the band's latest LP.
Though originally associated with punk and hardcore scenes, Gun Outfit hasn't adhered to any stylistic guidelines, incorporating various strands of folk, drone, and country. "Making the music is a very routine part of our lives and we're always writing," Keith says. "That shapes the records. Some people are performing songs they wrote five years ago, but we have to continue with the next thing, or otherwise it would all fall apart."
The group's "punkness" is ideological, evoking groups for whom punk represented musical freedom, not a genre box to fit into. "Old SST bands like the Minutemen, the Meat Puppets; they're all these different bands. That's a thing that was inspiring," Sharp says. "It's always been a part of that."
There's also a leanness to the sound, the result of keeping things deliberately bare bones in the studio. "We're working under pretty limited [circumstances]," Keith says. "We're using an eight-track and doing it analog. In the scope of digital recording…we're making records with quite a bit of restrictions." Two Way Player was recorded with David Harris of Milk Music on bass, Joe Denardo of Growing on guitar, drummer Daniel Swire, and Will Lawrence, whose electric piano adds melodic counterpoints similar to those of Henry Barnes' sitar on Dream All Over.
Working with this sparse template, the band's restrictions translate to an economic use of sound. Keith and Sharp liken it to the work of their favorites directors and their shared interest and work in film. "It's about what you put in and take out in order to create a given space," Keith says. "I think all the time about Tarkovsky and how he's created his sound, and basically how he's created silence [in his work]."
"There's also an aspect of that that has to do with psychedelics, the journey, the movement from one space to another," Sharp says. "A trip always reminds me of a movie." words/ j woodbury