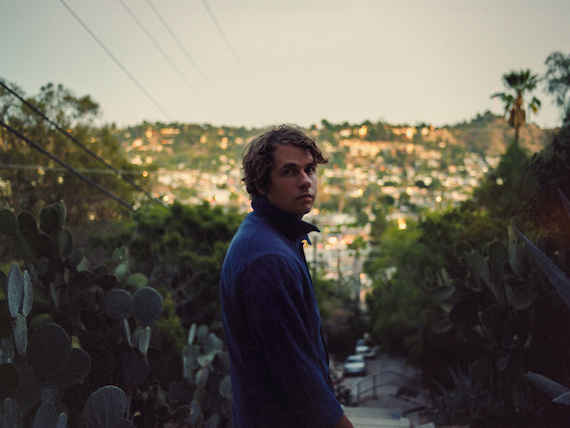 Kevin Morby sings like a man who's seen things.
His latest, Singing Saw, out April 15th via Dead Oceans, is his third solo album, and like its predecessors, it's an excellent recording. Morby's world is lived-in and worn, with bouncing country rock, spooky folk, and urgent, apocalyptic proclamations. There are moments of lightness to balance out his darkest stuff, but Morby is often concerned with intensity. "Birds will gather at my side, tears will gather in my eyes, throw my head and cry, as vultures circle in the sky," Morby sings in the opening ballad, "Cut Me Down," recalling Leonard Cohen or Bob Dylan singing about Abraham and Isaac at the altar.
Over the phone, from his place in the Mount Washington neighborhood in the San Rafael Hills, Morby doesn't sound so dire. Discussing albums by the Band and choice quotes from Keith Richards' autobiography, Morby, who was a member of Woods and The Babies before embarking on a solo career with 2013's Harlem River, sounds positively laid back, his midwestern geniality coupled with a California chill. He's not exactly sure where the darkness in his songs comes from.
"I don't know," Morby says of his interest in "eventually doomed" characters. "It's something I'm always attracted to in books or film."
Morby didn't grow up churched, but he did grow up in the Bible belt, where "Not going to church was as much as a statement as going." He imagines maybe the surroundings informed his subconscious, drawing him closer to "tales of tragedy."
But Singing Saw was not born solely from theological or fantastic dreads. It's subjects are rooted in our own reality, as disconcerting as any old parable. On the electric "I Have Been to the Mountain," Morby sings about the death of Eric Garner, the 43-year-old black man choked to death by police officer Daniel Pantaleo on Staten Island in 2014. "That man lived in this town/til' that pig took him down," Morby sings.
Though it was recorded in New York with Sam Cohen, the record was born in Los Angeles, conceived in Morby's adopted home town, where for the first time in his life, he settled down. He'd sit at the piano in his Mount Washington place and write, inspired by the comfort he'd found — when he wasn't moved by terrible headlines, at least.

"The first two records, and even the last Babies album, those were written very much in transit," Morby says. "Even when I was writing from wherever I was living at the time…Where I live now, I'm with my girlfriend. It's very comfortable, as rural as you can be in Los Angeles. There's no distractions, it's like a little paradise."
After writing all day, he'd go on walks, taking in the environment – an old willow tree, howling coyotes, the weird tinge things take on at sunset.
"I made it a point that every night I'd go on an hour walk, as the sun went down, before it'd get too dark," Morby says. "So, I'd go walking around, and like anything, it kind of gets creepy in the dark…I think that's the thing about Los Angeles in general. At night, something creepy happens to it. I like that."
The resulting album seems to have some of that dusk in its grooves. The title track recalls the haunted tone of Bill Fay's Time of the Last Persecution, "Water" feels like a Dylan outtake, something pulled from that Basement Tapes Complete collection. There's a reverb-drenched slow jam, "Drunk and On A Star," and a excellent rocker, "Dorothy." Morby envisioned "cowboy choirs, strings, and horns," a "cinematic" sweep to the music, and he's succeeded without sounding ponderous.
"I've never had this much of a home before," Morby says. "I'm really happy with what came out of it, because the fear for an artist, someone like me who's never been tied down to something – [who's] always moving from different cities and apartments – the fear is, 'If I settle down I'll make my worst work.' [but] being fully submerged in [Mount Washington] I was able to come out with my cohesive record. I live in this sort of cabin [like] house. It's almost like I ended up in a fairy tale land." words / j woodbury
Previously: The Lagniappe Sessions: Kevin Morby covers The Germs, Dylan and Silver Jews